Lemorn Tooling OÜ

,

Estonia

,

Tallinn

,

Lasnamäe linnaosa, Majaka tn 26

,

11412
Since founded in 1982,
YG-1
has been growing as a leading global manufacturer in the cutting tool industry. YG-1 operates its global business through 9 overseas production sites and 30 sales subsidiaries providing premium cutting tools to 75 countries. YG-1 will continuously do its best to maximize customer satisfaction through the integrated management of the global business network combined with logistic centers in key area.
YG-1 has grown to be a strong and firm company recognized globally in the cutting tool industry. With outstanding human resources and distinguished technology, YG-1 is always looking towards the future.
YG-1 maintains a tight quality inspection level.
YG-1 has gained continuous trust from customers by virtue of obtaining an efficient logistics system and also a shortening delivery date system.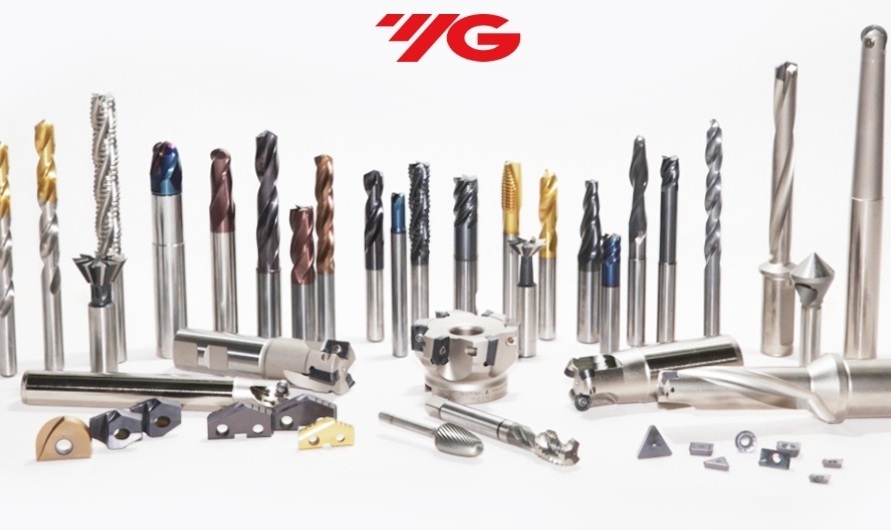 YG-1 preserves flexibility and customer satisfaction by constantly investing on R&D and human resources.
YG-1 is one of the world's 5 major companies in the End Mill manufacture and sales industry and also the largest in the Republic of Korea Based on its 38 years of know-how, YG-1 is expanding diversification of items.
Milling tools are recognized to be one of the most cost efficient cutting tools in the world, satisfying many users by providing a mass increase in productivity. It is also well known for its outstanding performances and its wide variety of products. Making it possible to cover a vast range of work materials and also numerous applications.
Holemaking tools are well known for its low tolerance and high technology, continuously impressing various manufacturers around the world. Its advance designed geometry brings out extraordinary performances, creating a longer tool life with outstanding productivity. Also a variety of size and shapes are available for multiple applications.
Threading tools are highly acclaimed of its excellent quality and unique design, constantly remaining as the No.1 choice. Maintained by YG-1's tight quality control Its unique geometry prevents over-feeding and also thin threading problems, achieving a shorter cycle time and higher productivity.
Turning tools are the most cost effective cutting tools for various machining applications and gives longer tool life for customers productivity. It shows excellent cutting performance in general applications and also under harsh machining condition.
— Reamers
,
Countersinks
,
Counterbores
,
Rotaryburrs
.
T7109249 Gew.bohrer M4X0.7 6H 45.0LHand
T7109209 Gew.bohrer M3X0.5 6H 40.0LHand
T7109199 Gew.bohrer M2.3X0.4 6H 36.0LHand
T7109709 Gew.bohrer M20X2.5 6H 95.0LHand
T7109789 Gew.bohrer M24X3.0 6H 110.0LHand
T7109229 Gew.bohrer M3.5X0.6 6H 45.0LHand
T7109659 Gew.bohrer M18X2.5 6H 95.0LHand
T7109949 Gew.bohrer M30X3.5 6H 125.0LHand
T7109C09 Gew.bohrer M39X4.0 6H 150.0LHand
T7109869 Gew.bohrer M27X3.0 6H 110.0LHand
T7109C89 Gew.bohrer M42X4.5 6H 150.0LLHand
T7109A49 Gew.bohrer M33X3.5 6H 125.0LHand
T7109E29 Gew.bohrer M48X5.0X6H 180.0LHand
T7109D59 Gew.bohrer M45X4.5 6H 160.0LHand
T7109F39 Gew.bohrer M52X5.0X6H 180.0LHand
T7109B39 Gew.bohrer M36X4.0 6H 150.0LHand
T7109609 Gew.bohrer M16X2.0 6H 80.0LHand
T7109749 Gew.bohrer M22X2.5 6H 100.0LHand
T7109139 Gew.bohrer M2X0.4 6H 36.0LHand
T7109549 Gew.bohrer M14X2.0 6H 80.0LHand
T7109269 Gew.bohrer M4.5X0.75 6H 50.0LHand
T7109289 Gew.bohrer M5X0.8 6H 52.0LHand
T7109469 Gew.bohrer M11X1.5 6H 70.0LHand
T7109509 Gew.bohrer M12X1.75 6H 80.0LHand
T7109349 Gew.bohrer M7X1.0 6H 56.0LHand
T7109369 Gew.bohrer M8X1.25 6H 63.0LHand
T7109159 Gew.bohrer M2.2X0.45 6H 36.0LHand
T7109319 Gew.bohrer M6X1.0 6H 56.0LHand
T7109N69 Gew.bohrer M5.5X0.9 6H 56.0LHand
T7109399 Gew.bohrer M9X1.25 6H 63.0LHand
T7109429 Gew.bohrer M10X1.5 6H 70.0LHand
T7109179 Gew.bohrer M2.5X0.45 6H 40.0LHand
T7109499 Gew.bohrer M2.6X0.45 6H 40.0LHand
T7709209 Gew.bohrer G1/8-28 63.0L
T7709489 Gew.bohrer G3/8-19 70.0L
T7709029 Gew.bohrer G1/16-28 56.0L
T7709949 Gew.bohrer G1_1/2-11 140.0L
T7709789 Gew.bohrer G1"-11 100.0L
T7709869 Gew.bohrer G1_1/4-11 125.0L
T7709409 Gew.bohrer G1/4-19 70.0L
T7709709 Gew.bohrer G3/4-14 90.0L
T7709569 Gew.bohrer G1/2-14 80.0L
TC224320 Gew.bohrer W3/16-24 70.0L
TC224360 Gew.bohrer W7/32-24 80.0L
TC224400 Gew.bohrer W1/4-20 80.0L
TC224480 Gew.bohrer W3/8-16 100.0L
TC224440 Gew.bohrer W5/16-18 90.0L
TC224200 Gew.bohrer W1/8-40 56.0L
TC224280 Gew.bohrer W5/32-32 63.0L
TC134320 Gew.bohrer W3/16-24 70.0L
TC134360 Gew.bohrer W7/32X24 80.0L
TC134400 Gew.bohrer W1/4-20 80.0L
TC134440 Gew.bohrer W5/16-18 90.0L
TC134480 Gew.bohrer W3/8-16 100.0L
TC134640 Gew.bohrer W5/8-11 110.0L
TC134740 Gew.bohrer W7/8-9 140.0L
TC134780 Gew.bohrer W1"-8 160.0L
TC134820 Gew.bohrer W1_1/8-7 180.0L
TC134700 Gew.bohrer W3/4-10 125.0L
TC134600 Gew.bohrer W9/16-12 110.0L
TC134520 Gew.bohrer W7/16-14 100.0L
TC134560 Gew.bohrer W1/2-12 110.0L
TC134200 Gew.bohrer W1/8-40 56.0L
TC134280 Gew.bohrer W5/32-32 63.0L
TC224520 Gew.bohrer W7/16-14 100.0L
TC224560 Gew.bohrer W1/2-12 110.0L
TC224640 Gew.bohrer W5/8-11 110.L
TC224740 Gew.bohrer W7/8-9 140.0L
TC224820 Gew.bohrer W1_1/8-7 180.0L
TC224780 Gew.bohrer W1"-8 160.0L
TC224700 Gew.bohrer W3/4-10 125.0L
TC224600 Gew.bohrer W9/16-12 110.0L
TC353209 Gew.bohrer M3X0.5 6H 40.0LHand
TC353249 Gew.bohrer M4X0.7 6H 45.0LHand
TC353229 Gew.bohrer M3.5X0.6 6H 45.0LHand
TB373269 Gew.bohrer M4.5X0.75 6HX 50.0LHand
TB373369 Gew.bohrer M8X1.25 6HX 63.0LHand
TC353609 Gew.bohrer M16X2.0 6H 80.0LHand
TB373509 Gew.bohrer M12X1.75 6HX 80.0LHand
TC353429 Gew.bohrer M10X1.5 6H 70.0LHand
TB373289 Gew.bohrer M5X0.8 6HX 52.0LHand
TC353269 Gew.bohrer M4.5X0.75 6H 50.0LHand
TB373429 Gew.bohrer M10X1.5 6HX 70.0LHand
TC353709 Gew.bohrer M20X2.5 6H 95.0LHand
TB373549 Gew.bohrer M14X2.0 6HX 80.0LHand
TB373709 Gew.bohrer M20X2.5 6HX 95.0LHand
TC353659 Gew.bohrer M18X2.5 6H 95.0LHand
TC353549 Gew.bohrer M14X2.0 6H 80.0LHand
TC353319 Gew.bohrer M6X1.0 6H 56.0LHand
TB373609 Gew.bohrer M16X2.0 6HX 80.0LHand
TC353509 Gew.bohrer M12X1.75 6H 80.0LHand
TB373319 Gew.bohrer M6X1.0 6HX 56.0LHand
TB373659 Gew.bohrer M18X2.5 6HX 95.0LHand
TB373229 Gew.bohrer M3.5X0.6 6HX 45.0LHand
TB373209 Gew.bohrer M3X0.5 6HX 40.0LHand
TB373249 Gew.bohrer M4X0.7 6HX 45.0LHand
TC353289 Gew.bohrer M5X0.8 6H 52.0LHand
TC353369 Gew.bohrer M8X1.25 6H 63.0LHand
TC122286 Gew.bohrer M5X0.8 6H 52.0L
TC122546 Gew.bohrer M14X2.0 6H 80.0L
TC122176 Gew.bohrer M2.5X0.45 6H 40.0L
TC122366 Gew.bohrer M8X1.25 6H 63.0L
TC122426 Gew.bohrer M10X1.5 6H 70.0L
TC122606 Gew.bohrer M16X2.0 6H 80.0L
TC122506 Gew.bohrer M12X1.75 6H 80.0L
TC122206 Gew.bohrer M3X0.5 6H 40.0L
TC122246 Gew.bohrer M4X0.7 6H 45.0L
TC122136 Gew.bohrer M2X0.4 6H 36.0L
TC122316 Gew.bohrer M6X1.0 6H 56.0L
TC803366 Gew.bohrer M8X1.25 6H 125.0L
TC803506 Gew.bohrer M12X1.75 6H 180.0L
TC803426 Gew.bohrer M10X1.5 6H 140.0L
TC803246 Gew.bohrer M4X0.7 6H 90.0L
TC803286 Gew.bohrer M5X0.8 6H 100.0L
TC803316 Gew.bohrer M6X1.0 6H 110.0L
TC803706 Gew.bohrer M20X2.5 6H 250.0L
TC803606 Gew.bohrer M16X2.0 6H 200.0L
TC803656 Gew.bohrer M18X2.5 6H 220.0L
TC803546 Gew.bohrer M14X2.0 6H 200.0L
TC244522 Gew.bohrer 7/16-14UNC 2B 100.0L
TC244562 Gew.bohrer 1/2-13UNC 2B 110.0L
TC244642 Gew.bohrer 5/8-11UNC 2B 110.0L
TC244742 Gew.bohrer 7/8-9UNC 2B 140.0L
TC244782 Gew.bohrer 1"-8UNC 2B 160.0L
TC244702 Gew.bohrer 3/4-10UNC 2B 125.0L
TC244602 Gew.bohrer 9/16-12UNC 2B 110.0L
TC814266 Gew.bohrer M4.5X0.75 6H 70.0L
TC814286 Gew.bohrer M5X0.8 6H 70.0L
TC814316 Gew.bohrer M6X1.0 6H 80.0L
TD814496 Gew.bohrer M2.6X0.45 6H 50.0L
TD814396 Gew.bohrer M9X1.25 6H 90.0L
TC814206 Gew.bohrer M3X0.5 6H 56.0L
TC814246 Gew.bohrer M4X0.7 6H 63.0L
TD814346 Gew.bohrer M7X1.0 6H 80.0L
TC814156 Gew.bohrer M2.2X0.45 6H 45.0L
TC814136 Gew.bohrer M2X0.4 6H 45.0L
TC814176 Gew.bohrer M2.5X0.45 6H 50.0L
TD814206 Gew.bohrer M3X0.5 6H 56.0L
TD814156 Gew.bohrer M2.2X0.45 6H 45.0L
TD814136 Gew.bohrer M2X0.4 6H 45.0L
TC814346 Gew.bohrer M7X1.0 6H 80.0L
TD814176 Gew.bohrer M2.5X0.45 6H 50.0L
TD814426 Gew.bohrer M10X1.5 6H 100.0L
TD814366 Gew.bohrer M8X1.25 6H 90.0L
TC814396 Gew.bohrer M9X1.25 6H 90.0L
TC814426 Gew.bohrer M10X1.5 6H 100.0L
TD814246 Gew.bohrer M4X0.7 6H 63.0L
TD814196 Gew.bohrer M2.3X0.4 6H 45.0L
TC814366 Gew.bohrer M8X1.25 6H 90.0L
TD814266 Gew.bohrer M4.5X0.75 6H 70.0L
TD814286 Gew.bohrer M5X0.8 6H 70.0L
TD814316 Gew.bohrer M6X1.0 6H 80.0L
TD814226 Gew.bohrer M3.5X0.6 6H 56.0L
TC814226 Gew.bohrer M3.5X0.6 6H 56.0L
TC804496 Gew.bohrer M2.6X0.45 6H 50.0L
TC804266 Gew.bohrer M4.5X0.75 6H 70.0L
TC804286 Gew.bohrer M5X0.8 6H 70.0L
TC804316 Gew.bohrer M6X1.0 6H 80.0L
TD804496 Gew.bohrer M2.6X0.45 6H 50.0L
TD804396 Gew.bohrer M9X1.25 6H 90.0L
TC804176 Gew.bohrer M2.5X0.45 6H 50.0L
TC804206 Gew.bohrer M3X0.5 6H 56.0L
TC804246 Gew.bohrer M4X0.7 6H 63.0L
TD804346 Gew.bohrer M7X1.0 6H 80.0L
TC804196 Gew.bohrer M2.3X0.4 6H 45.0L
TC804136 Gew.bohrer M2X0.4 6H 45.0L
TD804176 Gew.bohrer M2.5X0.45 6H 50.0L
TD804206 Gew.bohrer M3X0.5 6H 56.0L
TD804196 Gew.bohrer M2.3X0.4 6H 45.0L
TD804136 Gew.bohrer M2X0.4 6H 45.0L
TD804426 Gew.bohrer M10X1.5 6H 100.0L
TD804366 Gew.bohrer M8X1.25 6H 90.0L
TC804396 Gew.bohrer M9X1.25 6H 90.0L
TC804426 Gew.bohrer M10X1.5 6H 100.0L
TD804246 Gew.bohrer M4X0.7 6H 63.0L
TD804156 Gew.bohrer M2.2X0.45 6H 45.0L
TC804346 Gew.bohrer M7X1.0 6H 80.0L
TC804366 Gew.bohrer M8X1.25 6H 90.0L
TC804156 Gew.bohrer M2.2X0.45 6H 45.0L
TD804266 Gew.bohrer M4.5X0.75 6H 70.0L
TD804286 Gew.bohrer M5X0.8 6H 70.0L
TD804316 Gew.bohrer M6X1.0 6H 80.0L
TD804226 Gew.bohrer M3.5X0.6 6H 56.0L
TC804226 Gew.bohrer M3.5X0.6 6H 56.0L
TD834282 Gew.bohrer #8-32UNC 2B 63.0L
TD834482 Gew.bohrer 3/8-16UNC 2B 100.0L
TD834242 Gew.bohrer #6-32UNC 2B 56.0L
TD834162 Gew.bohrer #4-40UNC 2B 56.0L
TD834322 Gew.bohrer #10-24UNC 2B 70.0L
TD834362 Gew.bohrer #12-24UNC 2B 80.0L
TD834402 Gew.bohrer 1/4-20UNC 2B 80.0L
TD834442 Gew.bohrer 5/16-18UNC 2B 90.0L
TD834202 Gew.bohrer #5-40UNC 2B 56.0L
TC834442 Gew.bohrer 5/16-18UNC 2B 90.0L
TC834242 Gew.bohrer #6-32UNC 2B 56.0L
TC834322 Gew.bohrer #10-24UNC 2B 70.0L
TC834362 Gew.bohrer #12-24UNC 2B 80.0L
TC834402 Gew.bohrer 1/4-20UNC 2B 80.0L
TC834162 Gew.bohrer #4-40UNC 2B 56.0L
TC834482 Gew.bohrer 3/8-16UNC 2B 100.0L
TC834202 Gew.bohrer #5-40UNC 2B 56.0L
TC834282 Gew.bohrer #8-32UNC 2B 63.0L
TD824282 Gew.bohrer #8-32UNC 2B 63.0L
TD824162 Gew.bohrer #4-40UNC 2B 56.0L
TD824442 Gew.bohrer 5/16-18UNC 2B 90.0L
TD824482 Gew.bohrer 3/8-16UNC 2B 100.0L
TD824322 Gew.bohrer #10-24UNC 2B 70.0L
TD824362 Gew.bohrer #12-24UNC 2B 80.0L
TD824402 Gew.bohrer 1/4-20UNC 2B 80.0L
TD824202 Gew.bohrer #5-40UNC 2B 56.0L
TD824242 Gew.bohrer #6-32UNC 2B 56.0L
TC824162 Gew.bohrer #4-40UNC 2B 56.0L
TC824202 Gew.bohrer #5-40UNC 2B 56.0L
TC824242 Gew.bohrer #6-32UNC 2B 56.0L
TC824282 Gew.bohrer #8-32UNC 2B 63.0L
TC824442 Gew.bohrer 5/16-18UNC 2B 90.0L
TC824482 Gew.bohrer 3/8-16UNC 2B 100.0L
TC824322 Gew.bohrer #10-24UNC 2B 70.0L
TC824362 Gew.bohrer #12-24UNC 2B 80.0L
TC824402 Gew.bohrer 1/4-20UNC 2B 80.0L
TC874222 Gew.bohrer #5-44UNF 2B 56.0L
TC874262 Gew.bohrer #6-40UNF 2B 56.0L
TC874302 Gew.bohrer #8-36UNF 2B 63.0L
TC874382 Gew.bohrer #12-28UNF 2B 80.0L
TC874422 Gew.bohrer 1/4-28UNF 2B 80.0L
TC874502 Gew.bohrer 3/8-24UNF 2B 100.0L
TC874342 Gew.bohrer #10-32UNF 2B 70.0L
TC874182 Gew.bohrer #4-48UNF 2B 56.0L
TC874462 Gew.bohrer 5/16-24UNF 2B 90.0L
TC864182 Gew.bohrer #4-48UNF 2B 56.0L
TC864462 Gew.bohrer 5/16-24UNF 2B 90.0L
TC864542 Gew.bohrer 7/16-20UNF 2B 100.0L
TC864222 Gew.bohrer #5-44UNF 2B 56.0L
TC864262 Gew.bohrer #6-40UNF 2B 56.0L
TC864302 Gew.bohrer #8-36UNF 2B 63.0L
TC864382 Gew.bohrer #12-28UNF 2B 80.0L
TC864422 Gew.bohrer 1/4-28UNF 2B 80.0L
TC864502 Gew.bohrer 3/8-24UNF 2B 100.0L
TC864342 Gew.bohrer #10-32UNF 2B 70.0L
TD874222 Gew.bohrer #5-44UNF 2B 56.0L
TD874262 Gew.bohrer #6-40UNF 2B 56.0L
TD874462 Gew.bohrer 5/16-24UNF 2B 90.0L
TD874342 Gew.bohrer #10-32UNF 2B 70.0L
TD874502 Gew.bohrer 3/8-24UNF 2B 100.0L
TD874182 Gew.bohrer #4-48UNF 2B 56.0L
TD874302 Gew.bohrer #8-36UNF 2B 63.0L
TD874382 Gew.bohrer #12-28UNF 2B 80.0L
TD874422 Gew.bohrer 1/4-28UNF 2B 80.0L
TD864462 Gew.bohrer 5/16-24UNF 2B 90.0L
TD864342 Gew.bohrer #10-32UNF 2B 70.0L
TD864182 Gew.bohrer #4-48UNF 2B 56.0L
TD864502 Gew.bohrer 3/8-24UNF 2B 100.0L
TD864802 Gew.bohrer 1"-12UNF 2B 140.0L
TD864222 Gew.bohrer #5-44UNF 2B 56.0L
TD864262 Gew.bohrer #6-40UNF 2B 56.0L
TD864302 Gew.bohrer #8-36UNF 2B 63.0L
TD864382 Gew.bohrer #12-28UNF 2B 80.0L
TD864422 Gew.bohrer 1/4-28UNF 2B 80.0L
TD703496 Gew.former M2.6X0.45 6HX 50.0L
TY703176 Gew.former M2.5X0.45 6HX 50.0L
TD713286 Gew.former M5X0.8 6GX 70.0L
TD713316 Gew.former M6X1.0 6GX 80.0L
TY703206 Gew.former M3X0.5 6HX 56.0L
TY703246 Gew.former M4X0.7 6HX 63.0L
TD703226 Gew.former M3.5X0.6 6HX 56.0L
TY703366 Gew.former M8X1.25 6HX 90.0L
TD703176 Gew.former M2.5X0.45 6HX 50.0L
TD703196 Gew.former M2.3X0.4 6HX 45.0L
TD703136 Gew.former M2X0.4 6HX 45.0L
TD713346 Gew.former M7X1.0 6GX 80.0L
TD713176 Gew.former M2.5X0.45 6GX 50.0L
TD703506 Gew.former M12X1.75 6HX 110.0L
TD703546 Gew.former M14X2.0 6HX 110.0L
TY703286 Gew.former M5X0.8 6HX 70.0L
TD703706 Gew.former M20X2.5 6HX 140.0L
TD713156 Gew.former M2.2X0.45 6GX 45.0L
TD713136 Gew.former M2X0.4 6GX 45.0L
TD703346 Gew.former M7X1.0 6HX 80.0L
TD703156 Gew.former M2.2X0.45 6HX 45.0L
TD703656 Gew.former M18X2.5 6HX 125.0L
TD703466 Gew.former M11X1.5 6HX 100.0L
TD703366 Gew.former M8X1.25 6HX 90.0L
TD713426 Gew.former M10X1.5 6GX 100.0L
TD703396 Gew.former M9X1.25 6HX 90.0L
TY703316 Gew.former M6X1.0 6HX 80.0L
TD703426 Gew.former M10X1.5 6HX 100.0L
TD713226 Gew.former M3.5X0.6 6GX 56.0L
TD703606 Gew.former M16X2.0 6HX 110.0L
TY703136 Gew.former M2X0.4 6HX 45.0L
TD713206 Gew.former M3X0.5 6GX 56.0L
TD713246 Gew.former M4X0.7 6GX 63.0L
TY703346 Gew.former M7X1.0 6HX 80.0L
TY703226 Gew.former M3.5X0.6 6HX 56.0L
TD703206 Gew.former M3X0.5 6HX 56.0L
TD703246 Gew.former M4X0.7 6HX 63.0L
TY703426 Gew.former M10X1.5 6HX 100.0L
TD713366 Gew.former M8X1.25 6GX 90.0L
TD703266 Gew.former M4.5X0.75 6HX 70.0L
TD703286 Gew.former M5X0.8 6HX 70.0L
TD703316 Gew.former M6X1.0 6HX 80.0L
TC973206 EG M3X0.5 6H MOD 63.0L
TC973226 EG M3.5X0.6 6H MOD 70.0L
TC973286 EG M5X0.8 6H MOD 80.0L
TC973316 EG M6X1.0 6H MOD 90.0L
TC973366 EG M8X1.25 6H MOD 100.0L
TC973176 EG M2.5X0.45 6H MOD 56.0L
TC973246 EG M4X0.7 6H MOD 70.0L
TC909246 EG M4X0.7 6H MOD 70.0L
TC909286 EG M5X0.8 6H MOD 80.0L
TC909316 EG M6X1.0 6H MOD 90.0L
TC909226 EG M3.5X0.6 6H MOD 70.0L
TC909176 EG M2.5X0.45 6H MOD 56.0L
TC909206 EG M3X0.5 6H MOD 63.0L
TC909366 EG M8X1.25 6H MOD 100.0L
TC433286 Gew.bohrer M5X0.8 6H 70.0L
TC463176 Gew.bohrer M2.5X0.45 6H 50.0L
TC463366 Gew.bohrer M8X1.25 6H 90.0L
TC433206 Gew.bohrer M3X0.5 6H 56.0L
TC433246 Gew.bohrer M4X0.7 6H 63.0L
TC433426 Gew.bohrer M10X1.5 6H 100.0L
TC433136 Gew.bohrer M2X0.4 6H 45.0L
TC463286 Gew.bohrer M5X0.8 6H 70.0L
TC463316 Gew.bohrer M6X1.0 6H 80.0L
TC433316 Gew.bohrer M6X1.0 6H 80.0L
TC433366 Gew.bohrer M8X1.25 6H 90.0L
TC433176 Gew.bohrer M2.5X0.45 6H 50.0L
TC463136 Gew.bohrer M2X0.4 6H 45.0L
TC463426 Gew.bohrer M10X1.5 6H 100.0L
TC433226 Gew.bohrer M3.5X0.6 6H 56.0L
TC463206 Gew.bohrer M3X0.5 6H 56.0L
TC463246 Gew.bohrer M4X0.7 6H 63.0L
TE821266 Gew.bohrer M4.5X0.75 6HX 70.0L
TE821286 Gew.bohrer M5X0.8 6HX 70.0L
TE821316 Gew.bohrer M6X1.0 6HX 80.0L
TD821246 Gew.bohrer M4X0.7 6HX 63.0L
TE821156 Gew.bohrer M2.2X0.45 6HX 45.0L
TE821496 Gew.bohrer M2.6X0.45 6HX 50.0L
TE821226 Gew.bohrer M3.5X0.6 6HX 56.0L
TD821286 Gew.bohrer M5X0.8 6HX 70.0L
TD821316 Gew.bohrer M6X1.0 6HX 80.0L
TD821466 Gew.bohrer M11X1.5 6HX 100.0L
TE821396 Gew.bohrer M9X1.25 6HX 90.0L
TE821426 Gew.bohrer M10X1.5 6HX 100.0L
TY821246 Gew.bohrer M4X0.7 6HX 63.0L
TY821316 Gew.bohrer M6X1.0 6HX 80.0L
TY821366 Gew.bohrer M8X1.25 6HX 90.0L
TY821136 Gew.bohrer M2X0.4 6HX 45.0L
TE821196 Gew.bohrer M2.3X0.4 6HX 45.0L
TE821136 Gew.bohrer M2X0.4 6HX 45.0L
TD821366 Gew.bohrer M8X1.25 6HX 90.0L
TY821176 Gew.bohrer M2.5X0.45 6HX 50.0L
TE821206 Gew.bohrer M3X0.5 6HX 56.0L
TY821426 Gew.bohrer M10X1.5 6HX 100.0L
TY821206 Gew.bohrer M3X0.5 6HX 56.0L
TE821176 Gew.bohrer M2.5X0.45 6HX 50.0L
TE821346 Gew.bohrer M7X1.0 6HX 80.0L
TE821366 Gew.bohrer M8X1.25 6HX 90.0L
TD821426 Gew.bohrer M10X1.5 6HX 100.0L
TY821346 Gew.bohrer M7X1.0 6HX 80.0L
TY821286 Gew.bohrer M5X0.8 6HX 70.0L
TE821246 Gew.bohrer M4X0.7 6HX 63.0L
TD821266 Gew.bohrer M4.5X0.75 6HX 70.0L
TD821346 Gew.bohrer M7X1.0 6HX 80.0L
TD821396 Gew.bohrer M9X1.25 6HX 90.0L
TB623266 Gew.bohrer M4.5X0.75 6HX 70.0L
TB623286 Gew.bohrer M5X0.8 6HX 70.0L
TB623316 Gew.bohrer M6X1.0 6HX 80.0L
TC127496 Gew.bohrer M2.6X0.45 6H 50.0L
TC127226 Gew.bohrer M3.5X0.6 6H 56.0L
TC127396 Gew.bohrer M9X1.25 6H 90.0L
TC127426 Gew.bohrer M10X1.5 6H 100.0L
TC127346 Gew.bohrer M7X1.0 6H 80.0L
TC127196 Gew.bohrer M2.3X0.4 6H 45.0L
TC127466 Gew.bohrer M11X1.5 6H 100.0L
TC127506 Gew.bohrer M12X1.75 6H 110.0L
TB623226 Gew.bohrer M3.5X0.6 6HX 56.0L
TC127136 Gew.bohrer M2X0.4 6H 45.0L
TB623396 Gew.bohrer M9X1.25 6HX 90.0L
TB623426 Gew.bohrer M10X1.5 6HX 100.0L
TB623196 Gew.bohrer M2.3X0.4 6HX 45.0L
TC127176 Gew.bohrer M2.5X0.45 6H 50.0L
TC127156 Gew.bohrer M2.2X0.45 6H 45.0L
TC127206 Gew.bohrer M3X0.5 6H 56.0L
TC127246 Gew.bohrer M4X0.7 6H 63.0L
TB623156 Gew.bohrer M2.2X0.45 6HX 45.0L
TB623136 Gew.bohrer M2X0.4 6HX 45.0L
TB623176 Gew.bohrer M2.5X0.45 6HX 50.0L
TC127366 Gew.bohrer M8X1.25 6H 90.0L
TB623346 Gew.bohrer M7X1.0 6HX 80.0L
TB623366 Gew.bohrer M8X1.25 6HX 90.0L
TB623206 Gew.bohrer M3X0.5 6HX 56.0L
TB623246 Gew.bohrer M4X0.7 6HX 63.0L
TC127266 Gew.bohrer M4.5X0.75 6H 70.0L
TC127286 Gew.bohrer M5X0.8 6H 70.0L
TC127316 Gew.bohrer M6X1.0 6H 80.0L
TC283286 Gew.bohrer M5X0.8 6H 70.0L
TC283316 Gew.bohrer M6X1.0 6H 80.0L
TC422496 Gew.bohrer M2.6X0.45 6H 50.0L
TC422226 Gew.bohrer M3.5X0.6 6H 56.0L
TD127266 Gew.bohrer M4.5X0.75 6H 70.0L
TD127286 Gew.bohrer M5X0.8 6H 70.0L
TD127316 Gew.bohrer M6X1.0 6H 80.0L
TC422396 Gew.bohrer M9X1.25 6H 90.0L
TC422426 Gew.bohrer M10X1.5 6H 100.0L
TD127156 Gew.bohrer M2.2X0.45 6H 45.0L
TC622226 Gew.bohrer M3.5X0.6 6H 56.0L
TC422346 Gew.bohrer M7X1.0 6H 80.0L
TC422196 Gew.bohrer M2.3X0.4 6H 45.0L
TY422176 Gew.bohrer M2.5X0.45 6H 50.0L
TD127426 Gew.bohrer M10X1.5 6H 100.0L
TCH23426 Gew.bohrer M10X1.5 6HX 100.0L
TC622266 Gew.bohrer M4.5X0.75 6H 70.0L
TC622286 Gew.bohrer M5X0.8 6H 70.0L
TC622316 Gew.bohrer M6X1.0 6H 80.0L
TD127206 Gew.bohrer M3X0.5 6H 56.0L
TD127246 Gew.bohrer M4X0.7 6H 63.0L
TCH23206 Gew.bohrer M3X0.5 6HX 56.0L
TCH23246 Gew.bohrer M4X0.7 6HX 63.0L
TC622206 Gew.bohrer M3X0.5 6H 56.0L
TC622246 Gew.bohrer M4X0.7 6H 63.0L
TC422136 Gew.bohrer M2X0.4 6H 45.0L
TD127506 Gew.bohrer M12X1.75 6H 110.0L
TD127346 Gew.bohrer M7X1.0 6H 80.0L
TD127176 Gew.bohrer M2.5X0.45 6H 50.0L
TD127466 Gew.bohrer M11X1.5 6H 100.0L
TY422136 Gew.bohrer M2X0.4 6H 45.0L
TC283156 Gew.bohrer M2.2X0.45 6H 45.0L
TC283136 Gew.bohrer M2X0.4 6H 45.0L
TC622396 Gew.bohrer M9X1.25 6H 90.0L
TC622426 Gew.bohrer M10X1.5 6H 100.0L
TCH23176 Gew.bohrer M2.5X0.45 6HX 50.0L
TD127196 Gew.bohrer M2.3X0.4 6H 45.0L
TD127396 Gew.bohrer M9X1.25 6H 90.0L
TC622156 Gew.bohrer M2.2X0.45 6H 45.0L
TY422426 Gew.bohrer M10X1.5 6H 100.0L
TCH23136 Gew.bohrer M2X0.4 6HX 45.0L
TC422176 Gew.bohrer M2.5X0.45 6H 50.0L
TY422226 Gew.bohrer M3.5X0.6 6H 56.0L
TY422316 Gew.bohrer M6X1.0 6H 80.0L
TY422396 Gew.bohrer M9X1.25 6H 90.0L
TC622496 Gew.bohrer M2.6X0.45 6H 50.0L
TC422156 Gew.bohrer M2.2X0.45 6H 45.0L
TC283426 Gew.bohrer M10X1.5 6H 100.0L
TD127226 Gew.bohrer M3.5X0.6 6H 56.0L
TC422206 Gew.bohrer M3X0.5 6H 56.0L
TC422246 Gew.bohrer M4X0.7 6H 63.0L
TC422266 Gew.bohrer M4.5X0.75 6H 70.0L
TC622176 Gew.bohrer M2.5X0.45 6H 50.0L
TY422206 Gew.bohrer M3X0.5 6H 56.0L
TY422246 Gew.bohrer M4X0.7 6H 63.0L
TY422266 Gew.bohrer M4.5X0.75 6H 70.0L
TY422496 Gew.bohrer M2.6X0.45 6H 50.0L
TC622196 Gew.bohrer M2.3X0.4 6H 45.0L
TCH23226 Gew.bohrer M3.5X0.6 6HX 56.0L
TCH23316 Gew.bohrer M6X1.0 6HX 80.0L
TCH23366 Gew.bohrer M8X1.25 6HX 90.0L
TC283176 Gew.bohrer M2.5X0.45 6H 50.0L
TY422366 Gew.bohrer M8X1.25 6H 90.0L
TY422286 Gew.bohrer M5X0.8 6H 70.0L
TY422196 Gew.bohrer M2.3X0.4 6H 45.0L
TC622346 Gew.bohrer M7X1.0 6H 80.0L
TC622366 Gew.bohrer M8X1.25 6H 90.0L
TY422156 Gew.bohrer M2.2X0.45 6H 45.0L
TCH23286 Gew.bohrer M5X0.8 6HX 70.0L
TD127136 Gew.bohrer M2X0.4 6H 45.0L
TD127366 Gew.bohrer M8X1.25 6H 90.0L
TC422366 Gew.bohrer M8X1.25 6H 90.0L
TC622136 Gew.bohrer M2X0.4 6H 45.0L
TC283366 Gew.bohrer M8X1.25 6H 90.0L
TD127496 Gew.bohrer M2.6X0.45 6H 50.0L
TC283206 Gew.bohrer M3X0.5 6H 56.0L
TC283246 Gew.bohrer M4X0.7 6H 63.0L
TC422286 Gew.bohrer M5X0.8 6H 70.0L
TC422316 Gew.bohrer M6X1.0 6H 80.0L
TCH23266 Gew.bohrer M4.5X0.75 6HX 70.0L
TY283496 Gew.bohrer M2.6X0.45 6H 50.0L
TY283206 Gew.bohrer M3X0.5 6H 56.0L
TY283246 Gew.bohrer M4X0.7 6H 63.0L
TY283176 Gew.bohrer M2.5X0.45 6H 50.0L
TY283156 Gew.bohrer M2.2X0.45 6H 45.0L
TY283426 Gew.bohrer M10X1.5 6H 100.0L
TY283136 Gew.bohrer M2X0.4 6H 45.0L
TY283396 Gew.bohrer M9X1.25 6H 90.0L
TY283226 Gew.bohrer M3.5X0.6 6H 56.0L
TY283286 Gew.bohrer M5X0.8 6H 70.0L
TY283366 Gew.bohrer M8X1.25 6H 90.0L
TY283346 Gew.bohrer M7X1.0 6H 80.0L
TY283316 Gew.bohrer M6X1.0 6H 80.0L
TY283266 Gew.bohrer M4.5X0.75 6H 70.0L
TC312496 Gew.bohrer M2.6X0.45 6H 50.0L
TC312396 Gew.bohrer M9X1.25 6H 90.0L
TC312426 Gew.bohrer M10X1.5 6H 100.0L
TC312156 Gew.bohrer M2.2X0.45 6H 45.0L
TC312136 Gew.bohrer M2X0.4 6H 45.0L
TC312196 Gew.bohrer M2.3X0.4 6H 45.0L
TC312226 Gew.bohrer M3.5X0.6 6H 56.0L
TC312206 Gew.bohrer M3X0.5 6H 56.0L
TC312246 Gew.bohrer M4X0.7 6H 63.0L
TC312346 Gew.bohrer M7X1.0 6H 80.0L
TC312366 Gew.bohrer M8X1.25 6H 90.0L
TC312176 Gew.bohrer M2.5X0.45 6H 50.0L
TC312266 Gew.bohrer M4.5X0.75 6H 70.0L
TC312286 Gew.bohrer M5X0.8 6H 70.0L
TC312316 Gew.bohrer M6X1.0 6H 80.0L
TB711206 Gew.bohrer M3X0.5 6H 56.0L
TB711246 Gew.bohrer M4X0.7 6H 63.0L
TB914246 Gew.bohrer M4X0.7 6H 63.0L
TB312496 Gew.bohrer M2.6X0.45 6H 50.0L
TB313266 Gew.bohrer M4.5X0.75 6H 70.0L
TB313286 Gew.bohrer M5X0.8 6H 70.0L
TB313316 Gew.bohrer M6X1.0 6H 80.0L
TC711496 Gew.bohrer M2.6X0.45 6H 50.0L
TC163176 Gew.bohrer M2.5X0.45 6H 50.0L
TD312266 Gew.bohrer M4.5X0.75 6H 70.0L
TD312286 Gew.bohrer M5X0.8 6H 70.0L
TD312316 Gew.bohrer M6X1.0 6H 80.0L
TB312396 Gew.bohrer M9X1.25 6H 90.0L
TB312426 Gew.bohrer M10X1.5 6H 100.0L
TC711396 Gew.bohrer M9X1.25 6H 90.0L
TC711426 Gew.bohrer M10X1.5 6H 100.0L
TC163396 Gew.bohrer M9X1.25 6H 90.0L
TC163426 Gew.bohrer M10X1.5 6H 100.0L
TD312156 Gew.bohrer M2.2X0.45 6H 45.0L
TD711366 Gew.bohrer M8X1.25 6H 90.0L
TY313496 Gew.bohrer M2.6X0.45 6H 50.0L
TD312226 Gew.bohrer M3.5X0.6 6H 56.0L
TC711156 Gew.bohrer M2.2X0.45 6H 45.0L
TD711136 Gew.bohrer M2X0.4 6H 45.0L
TY313156 Gew.bohrer M2.2X0.45 6H 45.0L
TCH14226 Gew.bohrer M3.5X0.6 6H 56.0L
TD312426 Gew.bohrer M10X1.5 6H 100.0L
TY313426 Gew.bohrer M10X1.5 6H 100.0L
TB711346 Gew.bohrer M7X1.0 6H 80.0L
TB711366 Gew.bohrer M8X1.25 6H 90.0L
TB913176 Gew.bohrer M2.5X0.45 6H 50.0L
TD312206 Gew.bohrer M3X0.5 6H 56.0L
TD312246 Gew.bohrer M4X0.7 6H 63.0L
TY313206 Gew.bohrer M3X0.5 6H 56.0L
TY313246 Gew.bohrer M4X0.7 6H 63.0L
TB313196 Gew.bohrer M2.3X0.4 6H 45.0L
TB913206 Gew.bohrer M3X0.5 6H 56.0L
TB913246 Gew.bohrer M4X0.7 6H 63.0L
TB914156 Gew.bohrer M2.2X0.45 6H 45.0L
TCH14496 Gew.bohrer M2.6X0.45 6H 50.0L
TCH14396 Gew.bohrer M9X1.25 6H 90.0L
TB313226 Gew.bohrer M3.5X0.6 6H 56.0L
TB914206 Gew.bohrer M3X0.5 6H 56.0L
TCH14136 Gew.bohrer M2X0.4 6H 45.0L
TB312136 Gew.bohrer M2X0.4 6H 45.0L
TC163346 Gew.bohrer M7X1.0 6H 80.0L
TC163366 Gew.bohrer M8X1.25 6H 90.0L
TC711136 Gew.bohrer M2X0.4 6H 45.0L
TB914346 Gew.bohrer M7X1.0 6H 80.0L
TB914366 Gew.bohrer M8X1.25 6H 90.0L
TCH14196 Gew.bohrer M2.3X0.4 6H 45.0L
TD312346 Gew.bohrer M7X1.0 6H 80.0L
TD711496 Gew.bohrer M2.6X0.45 6H 50.0L
TB313156 Gew.bohrer M2.2X0.45 6H 45.0L
TCH14246 Gew.bohrer M4X0.7 6H 63.0L
TY313396 Gew.bohrer M9X1.25 6H 90.0L
TCH14426 Gew.bohrer M10X1.5 6H 100.0L
TC163156 Gew.bohrer M2.2X0.45 6H 45.0L
TC711196 Gew.bohrer M2.3X0.4 6H 45.0L
TY312176 Gew.bohrer M2.5X0.45 6H 50.0L
TB312226 Gew.bohrer M3.5X0.6 6H 56.0L
TC163206 Gew.bohrer M3X0.5 6H 56.0L
TC163246 Gew.bohrer M4X0.7 6H 63.0L
TC711226 Gew.bohrer M3.5X0.6 6H 56.0L
TD312396 Gew.bohrer M9X1.25 6H 90.0L
TY312426 Gew.bohrer M10X1.5 6H 100.0L
TB914466 Gew.bohrer M11X1.5 6H 100.0L
TC163226 Gew.bohrer M3.5X0.6 6H 56.0L
TB913396 Gew.bohrer M9X1.25 6H 90.0L
TB913426 Gew.bohrer M10X1.5 6H 100.0L
TY312316 Gew.bohrer M6X1.0 6H 80.0L
TCH14346 Gew.bohrer M7X1.0 6H 80.0L
TY312396 Gew.bohrer M9X1.25 6H 90.0L
TY313196 Gew.bohrer M2.3X0.4 6H 45.0L
TB711286 Gew.bohrer M5X0.8 6H 70.0L
TB711316 Gew.bohrer M6X1.0 6H 80.0L
TB711136 Gew.bohrer M2X0.4 6H 45.0L
TB914496 Gew.bohrer M2.6X0.45 6H 50.0L
TD711226 Gew.bohrer M3.5X0.6 6H 56.0L
TCH14366 Gew.bohrer M8X1.25 6H 90.0L
TC163136 Gew.bohrer M2X0.4 6H 45.0L
TB914266 Gew.bohrer M4.5X0.75 6H 70.0L
TB914286 Gew.bohrer M5X0.8 6H 70.0L
TB914316 Gew.bohrer M6X1.0 6H 80.0L
TC163496 Gew.bohrer M2.6X0.45 6H 50.0L
TD711396 Gew.bohrer M9X1.25 6H 90.0L
TB312206 Gew.bohrer M3X0.5 6H 56.0L
TB312246 Gew.bohrer M4X0.7 6H 63.0L
TC711206 Gew.bohrer M3X0.5 6H 56.0L
TC711246 Gew.bohrer M4X0.7 6H 63.0L
TCH14266 Gew.bohrer M4.5X0.75 6H 70.0L
TCH14286 Gew.bohrer M5X0.8 6H 70.0L
TY313346 Gew.bohrer M7X1.0 6H 80.0L
TY312136 Gew.bohrer M2X0.4 6H 45.0L
TB711426 Gew.bohrer M10X1.5 6H 100.0L
TD711176 Gew.bohrer M2.5X0.45 6H 50.0L
TY312206 Gew.bohrer M3X0.5 6H 56.0L
TY312246 Gew.bohrer M4X0.7 6H 63.0L
TB913266 Gew.bohrer M4.5X0.75 6H 70.0L
TB913286 Gew.bohrer M5X0.8 6H 70.0L
TB913316 Gew.bohrer M6X1.0 6H 80.0L
TD711196 Gew.bohrer M2.3X0.4 6H 45.0L
TD711426 Gew.bohrer M10X1.5 6H 100.0L
TCH14206 Gew.bohrer M3X0.5 6H 56.0L
TY313226 Gew.bohrer M3.5X0.6 6H 56.0L
TY313316 Gew.bohrer M6X1.0 6H 80.0L
TB711176 Gew.bohrer M2.5X0.45 6H 50.0L
TY313366 Gew.bohrer M8X1.25 6H 90.0L
TB914396 Gew.bohrer M9X1.25 6H 90.0L
TB914426 Gew.bohrer M10X1.5 6H 100.0L
TCH14316 Gew.bohrer M6X1.0 6H 80.0L
TD711156 Gew.bohrer M2.2X0.45 6H 45.0L
TY313176 Gew.bohrer M2.5X0.45 6H 50.0L
TD711206 Gew.bohrer M3X0.5 6H 56.0L
TD711246 Gew.bohrer M4X0.7 6H 63.0L
TD312196 Gew.bohrer M2.3X0.4 6H 45.0L
TB913136 Gew.bohrer M2X0.4 6H 45.0L
TD312176 Gew.bohrer M2.5X0.45 6H 50.0L
TY313136 Gew.bohrer M2X0.4 6H 45.0L
TY312366 Gew.bohrer M8X1.25 6H 90.0L
TB313396 Gew.bohrer M9X1.25 6H 90.0L
TB313426 Gew.bohrer M10X1.5 6H 100.0L
TD711346 Gew.bohrer M7X1.0 6H 80.0L
TB914196 Gew.bohrer M2.3X0.4 6H 45.0L
TY312346 Gew.bohrer M7X1.0 6H 80.0L
TY312286 Gew.bohrer M5X0.8 6H 70.0L
TB914136 Gew.bohrer M2X0.4 6H 45.0L
TCH14176 Gew.bohrer M2.5X0.45 6H 50.0L
TCH14156 Gew.bohrer M2.2X0.45 6H 45.0L
TB313136 Gew.bohrer M2X0.4 6H 45.0L
TB913346 Gew.bohrer M7X1.0 6H 80.0L
TB913366 Gew.bohrer M8X1.25 6H 90.0L
TB914226 Gew.bohrer M3.5X0.6 6H 56.0L
TD711266 Gew.bohrer M4.5X0.75 6H 70.0L
TD711286 Gew.bohrer M5X0.8 6H 70.0L
TD711316 Gew.bohrer M6X1.0 6H 80.0L
TC163196 Gew.bohrer M2.3X0.4 6H 45.0L
TD312136 Gew.bohrer M2X0.4 6H 45.0L
TY313266 Gew.bohrer M4.5X0.75 6H 70.0L
TY313286 Gew.bohrer M5X0.8 6H 70.0L
TD312366 Gew.bohrer M8X1.25 6H 90.0L
TB914176 Gew.bohrer M2.5X0.45 6H 50.0L
TB312346 Gew.bohrer M7X1.0 6H 80.0L
TB312366 Gew.bohrer M8X1.25 6H 90.0L
TC711346 Gew.bohrer M7X1.0 6H 80.0L
TC711366 Gew.bohrer M8X1.25 6H 90.0L
TB313176 Gew.bohrer M2.5X0.45 6H 50.0L
TB313346 Gew.bohrer M7X1.0 6H 80.0L
TB313366 Gew.bohrer M8X1.25 6H 90.0L
TD312496 Gew.bohrer M2.6X0.45 6H 50.0L
TB313206 Gew.bohrer M3X0.5 6H 56.0L
TB313246 Gew.bohrer M4X0.7 6H 63.0L
TC163266 Gew.bohrer M4.5X0.75 6H 70.0L
TC163286 Gew.bohrer M5X0.8 6H 70.0L
TC163316 Gew.bohrer M6X1.0 6H 80.0L
TB312176 Gew.bohrer M2.5X0.45 6H 50.0L
TB711496 Gew.bohrer M2.6X0.45 6H 50.0L
TC711176 Gew.bohrer M2.5X0.45 6H 50.0L
TB312286 Gew.bohrer M5X0.8 6H 70.0L
TB312316 Gew.bohrer M6X1.0 6H 80.0L
TC711266 Gew.bohrer M4.5X0.75 6H 70.0L
TC711286 Gew.bohrer M5X0.8 6H 70.0L
TC711316 Gew.bohrer M6X1.0 6H 80.0L
TY313466 Gew.bohrer M11X1.5 6H 100.0L
TC517496 Gew.bohrer M2.6X0.45 6H 50.0L
TC517396 Gew.bohrer M9X1.25 6H 90.0L
TC517426 Gew.bohrer M10X1.5 6H 100.0L
TC517156 Gew.bohrer M2.2X0.45 6H 45.0L
TC517196 Gew.bohrer M2.3X0.4 6H 45.0L
TC517136 Gew.bohrer M2X0.4 6H 45.0L
TC517226 Gew.bohrer M3.5X0.6 6H 56.0L
TC517176 Gew.bohrer M2.5X0.45 6H 50.0L
TC517206 Gew.bohrer M3X0.5 6H 56.0L
TC517246 Gew.bohrer M4X0.7 6H 63.0L
TC517346 Gew.bohrer M7X1.0 6H 80.0L
TC517366 Gew.bohrer M8X1.25 6H 90.0L
TC517266 Gew.bohrer M4.5X0.75 6H 70.0L
TC517286 Gew.bohrer M5X0.8 6H 70.0L
TC517316 Gew.bohrer M6X1.0 6H 80.0L
TB264322 Gew.bohrer #10-24UNC 2B 70.0L
TB264362 Gew.bohrer #12-24UNC 2B 80.0L
TB264402 Gew.bohrer 1/4-20UNC 2B 80.0L
TB264202 Gew.bohrer #5-40UNC 2B 56.0L
TB264282 Gew.bohrer #8-32UNC 2B 63.0L
TB264442 Gew.bohrer 5/16-18UNC 2B 90.0L
TB264242 Gew.bohrer #6-32UNC 2B 56.0L
TB264162 Gew.bohrer #4-40UNC 2B 56.0L
TB264482 Gew.bohrer 3/8-16UNC 2B 100.0L
TC214322 Gew.bohrer #10-24UNC 2B 70.0L
TC214362 Gew.bohrer #12-24UNC 2B 80.0L
TC214402 Gew.bohrer 1/4-20UNC 2B 80.0L
TC244322 Gew.bohrer #10-24UNC 2B 70.0L
TC244362 Gew.bohrer #12-24UNC 2B 80.0L
TC244402 Gew.bohrer 1/4-20UNC 2B 80.0L
TC214242 Gew.bohrer #6-32UNC 2B 56.0L
TC244242 Gew.bohrer #6-32UNC 2B 56.0L
TC214482 Gew.bohrer 3/8-16UNC 2B 100.0L
TC244482 Gew.bohrer 3/8-16UNC 2B 100.0L
TC214162 Gew.bohrer #4-40UNC 2B 56.0L
TC244162 Gew.bohrer #4-40UNC 2B 56.0L
TC214442 Gew.bohrer 5/16-18UNC 2B 90.0L
TC244442 Gew.bohrer 5/16-18UNC 2B 90.0L
TC214202 Gew.bohrer #5-40UNC 2B 56.0L
TC214282 Gew.bohrer #8-32UNC 2B 63.0L
TC244202 Gew.bohrer #5-40UNC 2B 56.0L
TC244282 Gew.bohrer #8-32UNC 2B 63.0L
TB904442 Gew.bohrer 5/16-18UNC 2B 90.0L
TC144322 Gew.bohrer #10-24UNC 2B 70.0L
TC144402 Gew.bohrer 1/4-20UNC 2B 80.0L
TC174322 Gew.bohrer #10-24UNC 2B 70.0L
TC174362 Gew.bohrer #12-24UNC 2B 80.0L
TC174402 Gew.bohrer 1/4-20UNC 2B 80.0L
TB904162 Gew.bohrer #4-40UNC 2B 56.0L
TC144442 Gew.bohrer 5/16-18UNC 2B 90.0L
TC174442 Gew.bohrer 5/16-18UNC 2B 90.0L
TB904322 Gew.bohrer #10-24UNC 2B 70.0L
TB904362 Gew.bohrer #12-24UNC 2B 80.0L
TB904402 Gew.bohrer 1/4-20UNC 2B 80.0L
TC144482 Gew.bohrer 3/8-16UNC 2B 100.0L
TC174482 Gew.bohrer 3/8-16UNC 2B 100.0L
TB904482 Gew.bohrer 3/8-16UNC 2B 100.0L
TB904202 Gew.bohrer #5-40UNC 2B 56.0L
TB904242 Gew.bohrer #6-32UNC 2B 56.0L
TB904282 Gew.bohrer #8-32UNC 2B 63.0L
TC144162 Gew.bohrer #4-40UNC 2B 56.0L
TC174162 Gew.bohrer #4-40UNC 2B 56.0L
TC144202 Gew.bohrer #5-40UNC 2B 56.0L
TC144242 Gew.bohrer #6-32UNC 2B 56.0L
TC144282 Gew.bohrer #8-32UNC 2B 63.0L
TC174202 Gew.bohrer #5-40UNC 2B 56.0L
TC174242 Gew.bohrer #6-32UNC 2B 56.0L
TC174282 Gew.bohrer #8-32UNC 2B 63.0L
TC234342 Gew.bohrer #10-32UNF 2B 70.0L
TC254342 Gew.bohrer #10-32UNF 2B 70.0L
TC234222 Gew.bohrer #5-44UNF 2B 56.0L
TC234262 Gew.bohrer #6-40UNF 2B 56.0L
TC234302 Gew.bohrer #8-36UNF 2B 63.0L
TC234382 Gew.bohrer #12-28UNF 2B 80.0L
TC234422 Gew.bohrer 1/4-28UNF 2B 80.0L
TC254222 Gew.bohrer #5-44UNF 2B 56.0L
TC254262 Gew.bohrer #6-40UNF 2B 56.0L
TC254302 Gew.bohrer #8-36UNF 2B 63.0L
TC254382 Gew.bohrer #12-28UNF 2B 80.0L
TC254422 Gew.bohrer 1/4-28UNF 2B 80.0L
TC234462 Gew.bohrer 5/16-24UNF 2B 90.0L
TC254462 Gew.bohrer 5/16-24UNF 2B 90.0L
TC234502 Gew.bohrer 3/8-24UNF 2B 100.0L
TC254502 Gew.bohrer 3/8-24UNF 2B 100.0L
TC234182 Gew.bohrer #4-48UNF 2B 56.0L
TC254182 Gew.bohrer #4-48UNF 2B 56.0L
TB924422 Gew.bohrer 1/4-28UNF 2B 80.0L
TB924262 Gew.bohrer #6-40UNF 2B 56.0L
TB924302 Gew.bohrer #8-36UNF 2B 63.0L
TB924462 Gew.bohrer 5/16-24UNF 2B 90.0L
TB924502 Gew.bohrer 3/8-24UNF 2B 100.0L
TB924342 Gew.bohrer #10-32UNF 2B 70.0L
TB924222 Gew.bohrer #5-44UNF 2B 56.0L
TD854256 Gew.bohrer M4X0.5 6H 63.0L
TD854326 Gew.bohrer M6X0.75 6H 80.0L
TD844296 Gew.bohrer M5X0.5 6H 70.0L
TD844336 Gew.bohrer M6X0.5 6H 79.2L
TD844516 Gew.bohrer M12X1.5 6H 100.0L
TD844436 Gew.bohrer M10X1.25 6H 100.0L
TD854356 Gew.bohrer M7X0.75 6H 80.0L
TD844556 Gew.bohrer M14X1.5 6H 100.0L
TD844676 Gew.bohrer M18X1.5 6H 110.0L
TD854376 Gew.bohrer M8X1.0 6H 90.0L
TD854726 Gew.bohrer M20X1.5 6H 125.0L
TD844626 Gew.bohrer M16X1.0 6H 100.0L
TD844456 Gew.bohrer M10X0.75 6H 90.0L
TD854796 Gew.bohrer M24X2.0 6H 140.0L
TD854916 Gew.bohrer M28X1.5 6H 140.0L
TD844966 Gew.bohrer M30X2.0 6H 150.0L
TD844876 Gew.bohrer M27X2.0 6H 140.0L
TD844776 Gew.bohrer M22X1.0 6H 125.0L
TD854566 Gew.bohrer M14X1.25 6H 100.0L
TD854736 Gew.bohrer M20X1.0 6H 125.0L
TD844916 Gew.bohrer M28X1.5 6H 140.0L
TD854766 Gew.bohrer M22X1.5 6H 125.0L
TD854296 Gew.bohrer M5X0.5 6H 70.0L
TD854336 Gew.bohrer M6X0.5 6H 80.0L
TD844686 Gew.bohrer M18X1.0 6H 110.0L
TD844526 Gew.bohrer M12X1.25 6H 100.0L
TD844886 Gew.bohrer M27X1.5 6H 140.0L
TD854556 Gew.bohrer M14X1.5 6H 100.0L
TD854526 Gew.bohrer M12X1.25 6H 100.0L
TD854806 Gew.bohrer M24X1.5 6H 140.0L
TD844856 Gew.bohrer M26X1.5 6H 140.0L
TD844726 Gew.bohrer M20X1.5 6H 125.0L
TD844616 Gew.bohrer M16X1.5 6H 100.0L
TD854976 Gew.bohrer M30X1.5 6H 150.0L
TD844356 Gew.bohrer M7X0.75 6H 80.0L
TD844536 Gew.bohrer M12X1.0 6H 100.0L
TD854456 Gew.bohrer M10X0.75 6H 90.0L
TD844806 Gew.bohrer M24X1.5 6H 140.0L
TD854876 Gew.bohrer M27X2.0 6H 140.0L
TD844976 Gew.bohrer M30X1.5 6H 150.0L
TD844446 Gew.bohrer M10X1.0 6H 90.0L
TD854686 Gew.bohrer M18X1.0 6H 110.0L
TD854966 Gew.bohrer M30X2.0 6H 150.0L
TD854856 Gew.bohrer M26X1.5 6H 140.0L
TD854616 Gew.bohrer M16X1.5 6H 100.0L
TD854886 Gew.bohrer M27X1.5 6H 140.0L
TD844766 Gew.bohrer M22X1.5 6H 125.0L
TD854446 Gew.bohrer M10X1.0 6H 90.0L
TD854676 Gew.bohrer M18X1.5 6H 110.0L
TD844736 Gew.bohrer M20X1.0 6H 125.0L
TD854436 Gew.bohrer M10X1.25 6H 100.0L
TD844576 Gew.bohrer M14X1.0 6H 100.0L
TD854776 Gew.bohrer M22X1.0 6H 125.0L
TD854516 Gew.bohrer M12X1.5 6H 100.0L
TD844796 Gew.bohrer M24X2.0 6H 140.0L
TD854626 Gew.bohrer M16X1.0 6H 100.0L
TD844566 Gew.bohrer M14X1.25 6H 100.0L
TD854576 Gew.bohrer M14X1.0 6H 100.0L
TD844256 Gew.bohrer M4X0.5 6H 63.0L
TD844386 Gew.bohrer M8X0.75 6H 80.0L
TD844326 Gew.bohrer M6X0.75 6H 80.0L
TD844376 Gew.bohrer M8X1.0 6H 90.0L
TD854386 Gew.bohrer M8X0.75 6H 80.0L
TD854536 Gew.bohrer M12X1.0 6H 100.0L
TC854446 Gew.bohrer M10X1.0 6H 90.0L
TC854356 Gew.bohrer M7X0.75 6H 80.0L
TC854386 Gew.bohrer M8X0.75 6H 80.0L
TC854376 Gew.bohrer M8X1.0 6H 90.0L
TC854516 Gew.bohrer M12X1.5 6H 100.0L
TC854576 Gew.bohrer M14X1.0 6H 100.0L
TC854776 Gew.bohrer M22X1.0 6H 125.0L
TC854436 Gew.bohrer M10X1.25 6H 100.0L
TC854616 Gew.bohrer M16X1.5 6H 100.0L
TC854626 Gew.bohrer M16X1.0 6H 100.0L
TC854256 Gew.bohrer M4X0.5 6H 63.0L
TC854326 Gew.bohrer M6X0.75 6H 80.0L
TC854876 Gew.bohrer M27X2.0 6H 140.0L
TC854566 Gew.bohrer M14X1.25 6H 100.0L
TC854536 Gew.bohrer M12X1.0 6H 100.0L
TC854966 Gew.bohrer M30X2.0 6H 150.0L
TC854976 Gew.bohrer M30X1.5 6H 150.0L
TC854806 Gew.bohrer M24X1.5 6H 140.0L
TC854886 Gew.bohrer M27X1.5 6H 140.0L
TC854556 Gew.bohrer M14X1.5 6H 100.0L
TC854726 Gew.bohrer M20X1.5 6H 125.0L
TC854686 Gew.bohrer M18X1.0 6H 110.0L
TC854736 Gew.bohrer M20X1.0 6H 125.0L
TC854676 Gew.bohrer M18X1.5 6H 110.0L
TC854916 Gew.bohrer M28X1.5 6H 140.0L
TC854856 Gew.bohrer M26X1.5 6H 140.0L
TC854766 Gew.bohrer M22X1.5 6H 125.0L
TC854796 Gew.bohrer M24X2.0 6H 140.0L
TC854526 Gew.bohrer M12X1.25 6H 100.0L
TC854456 Gew.bohrer M10X0.75 6H 90.0L
TC854296 Gew.bohrer M5X0.5 6H 70.0L
TC854336 Gew.bohrer M6X0.5 6H 80.0L
TC844376 Gew.bohrer M8X1.0 6H 90.0L
TC844436 Gew.bohrer M10X1.25 6H 100.0L
TC844526 Gew.bohrer M12X1.25 6H 100.0L
TC844536 Gew.bohrer M12X1.0 6H 100.0L
TC844626 Gew.bohrer M16X1.0 6H 100.0L
TC844446 Gew.bohrer M10X1.0 6H 90.0L
TC844566 Gew.bohrer M14X1.25 6H 100.0L
TC844776 Gew.bohrer M22X1.0 6H 125.0L
TC844806 Gew.bohrer M24X1.5 6H 140.0L
TC844686 Gew.bohrer M18X1.0 6H 110.0L
TC844966 Gew.bohrer M30X2.0 6H 150.0L
TC844876 Gew.bohrer M27X2.0 6H 140.0L
TC844796 Gew.bohrer M24X2.0 6H 140.0L
TC844516 Gew.bohrer M12X1.5 6H 100.0L
TC844736 Gew.bohrer M20X1.0 6H 125.0L
TC844886 Gew.bohrer M27X1.5 6H 140.0L
TC844726 Gew.bohrer M20X1.5 6H 125.0L
TC844556 Gew.bohrer M14X1.5 6H 100.0L
TC844766 Gew.bohrer M22X1.5 6H 125.0L
TC844856 Gew.bohrer M26X1.5 6H 140.0L
TC844976 Gew.bohrer M30X1.5 6H 150.0L
TC844676 Gew.bohrer M18X1.5 6H 110.0L
TC844256 Gew.bohrer M4X0.5 6H 63.0L
TC844616 Gew.bohrer M16X1.5 6H 100.0L
TC844916 Gew.bohrer M28X1.5 6H 140.0L
TC844576 Gew.bohrer M14X1.0 6H 100.0L
TC844356 Gew.bohrer M7X0.75 6H 80.0L
TC844326 Gew.bohrer M6X0.75 6H 80.0L
TC844386 Gew.bohrer M8X0.75 6H 80.0L
TC844296 Gew.bohrer M5X0.5 6H 70.0L
TC844336 Gew.bohrer M6X0.5 6H 80.0L
TC844456 Gew.bohrer M10X0.75 6H 90.0L
TC874542 Gew.bohrer 7/16-20UNF 2B 100.0L
TC874582 Gew.bohrer 1/2-20UNF 2B 100.0L
TC874662 Gew.bohrer 5/8-18UNF 2B 100.0L
TC874762 Gew.bohrer 7/8-14UNF 2B 125.0L
TC874622 Gew.bohrer 9/16-18UNF 2B 100.0L
TC874722 Gew.bohrer 3/4-16UNF 2B 110.0L
TC874802 Gew.bohrer 1"-12UNF 2B 140.0L
TC864622 Gew.bohrer 9/16-18UNF 2B 100.0L
TC864762 Gew.bohrer 7/8-14UNF 2B 125.0L
TC864582 Gew.bohrer 1/2-20UNF 2B 100.0L
TC864802 Gew.bohrer 1"-12UNF 2B 140.0L
TC864662 Gew.bohrer 5/8-18UNF 2B 100.0L
TC864722 Gew.bohrer 3/4-16UNF 2B 110.0L
TD874542 Gew.bohrer 7/16-20UNF 2B 100.0L
TD874762 Gew.bohrer 7/8-14UNF 2B 125.0L
TD874622 Gew.bohrer 9/16-18UNF 2B 100.0L
TD874662 Gew.bohrer 5/8-18UNF 2B 100.0L
TD874802 Gew.bohrer 1"-12UNF 2B 140.0L
TD874582 Gew.bohrer 1/2-20UNF 2B 100.0L
TD874722 Gew.bohrer 3/4-16UNF 2B 110.0L
TD864622 Gew.bohrer 9/16-18UNF 2B 100.0L
TD864542 Gew.bohrer 7/16-20UNF 2B 100.0L
TD864762 Gew.bohrer 7/8-14UNF 2B 125.0L
TD864722 Gew.bohrer 3/4-16UNF 2B 110.0L
TD864662 Gew.bohrer 5/8-18UNF 2B 100.0L
TD864582 Gew.bohrer 1/2-20UNF 2B 100.0L
TD733256 Gew.former M4X0.5 6HX 63.0L
TD733326 Gew.former M6X0.75 6HX 80.0L
TD733556 Gew.former M14X1.5 6HX 100.0L
TD733386 Gew.former M8X0.75 6HX 80.0L
TD733456 Gew.former M10X0.75 6HX 90.0L
TD733446 Gew.former M10X1.0 6HX 90.0L
TD733356 Gew.former M7X0.75 6HX 80.0L
TD733436 Gew.former M10X1.25 6HX 100.0L
TD733726 Gew.former M20X1.5 6HX 125.0L
TD733536 Gew.former M12X1.0 6HX 100.0L
TD733296 Gew.former M5X0.5 6HX 70.0L
TD733336 Gew.former M6X0.5 6HX 80.0L
TD733566 Gew.former M14X1.25 6HX 100.0L
TD733676 Gew.former M18X1.5 6HX 110.0L
TD733526 Gew.former M12X1.25 6HX 100.0L
TD733616 Gew.former M16X1.5 6HX 100.0L
TD733376 Gew.former M8X1.0 6HX 90.0L
TD733516 Gew.former M12X1.5 6HX 100.0L
TC222446 Gew.bohrer M10X1.0 6H 90.0L
TD222386 Gew.bohrer M8X0.75 6H 80.0L
TD222296 Gew.bohrer M5X0.5 6H 70.0L
TC222936 Gew.bohrer M8X0.5 6H 80.0L
TC222256 Gew.bohrer M4X0.5 6H 63.0L
TC222326 Gew.bohrer M6X0.75 6H 80.0L
TC222576 Gew.bohrer M14X1.0 6H 100.0L
TC222676 Gew.bohrer M18X1.5 6H 110.0L
TC222766 Gew.bohrer M22X1.5 6H 125.0L
TD222566 Gew.bohrer M14X1.25 6H 100.0L
TC222566 Gew.bohrer M14X1.25 6H 100.0L
TC222686 Gew.bohrer M18X1.0 6H 110.0L
TC222456 Gew.bohrer M10X0.75 6H 90.0L
TD222376 Gew.bohrer M8X1.0 6H 90.0L
TD222626 Gew.bohrer M16X1.0 6H 100.0L
TC222616 Gew.bohrer M16X1.5 6H 100.0L
TC222736 Gew.bohrer M20X1.0 6H 125.0L
TD263536 Gew.bohrer M12X1.0 6H 100.0L
TC222796 Gew.bohrer M24X2.0 6H 140.0L
TD222736 Gew.bohrer M20X1.0 6H 125.0L
TD222576 Gew.bohrer M14X1.0 6H 100.0L
TD263556 Gew.bohrer M14X1.5 6H 100.0L
TC222726 Gew.bohrer M20X1.5 6H 125.0L
TD222516 Gew.bohrer M12X1.5 6H 100.0L
TD222726 Gew.bohrer M20X1.5 6H 125.0L
TD263376 Gew.bohrer M8X1.0 6H 90.0L
TD263616 Gew.bohrer M16X1.5 6H 100.0L
TC222976 Gew.bohrer M30X1.5 6H 150.0L
TD222676 Gew.bohrer M18X1.5 6H 110.0L
TC222916 Gew.bohrer M28X1.5 6H 140.0L
TC222806 Gew.bohrer M24X1.5 6H 140.0L
TD222776 Gew.bohrer M22X1.0 6H 125.0L
TD222446 Gew.bohrer M10X1.0 6H 90.0L
TD222796 Gew.bohrer M24X2.0 6H 140.0L
TD222766 Gew.bohrer M22X1.5 6H 125.0L
TC222776 Gew.bohrer M22X1.0 6H 125.0L
TC222966 Gew.bohrer M30X2.0 6H 150.0L
TC222886 Gew.bohrer M27X1.5 6H 140.0L
TC222526 Gew.bohrer M12X1.25 6H 100.0L
TD222856 Gew.bohrer M26X1.5 6H 140.0L
TC222876 Gew.bohrer M27X2.0 6H 140.0L
TD222686 Gew.bohrer M18X1.0 6H 110.0L
TD222436 Gew.bohrer M10X1.25 6H 100.0L
TC222356 Gew.bohrer M7X0.75 6H 80.0L
TC222536 Gew.bohrer M12X1.0 6H 100.0L
TD222616 Gew.bohrer M16X1.5 6H 100.0L
TC222856 Gew.bohrer M26X1.5 6H 140.0L
TD222806 Gew.bohrer M24X1.5 6H 140.0L
TD263446 Gew.bohrer M10X1.0 6H 90.0L
TD222556 Gew.bohrer M14X1.5 6H 100.0L
TC222386 Gew.bohrer M8X0.75 6H 80.0L
TC222626 Gew.bohrer M16X1.0 6H 100.0L
TD222526 Gew.bohrer M12X1.25 6H 100.0L
TD263676 Gew.bohrer M18X1.5 6H 110.0L
TC222436 Gew.bohrer M10X1.25 6H 100.0L
TD222256 Gew.bohrer M4X0.5 6H 63.0L
TD222326 Gew.bohrer M6X0.75 6H 80.0L
TD222456 Gew.bohrer M10X0.75 6H 90.0L
TD222536 Gew.bohrer M12X1.0 6H 100.0L
TD263516 Gew.bohrer M12X1.5 6H 100.0L
TC222376 Gew.bohrer M8X1.0 6H 90.0L
TC222516 Gew.bohrer M12X1.5 6H 100.0L
TD263326 Gew.bohrer M6X0.75 6H 80.0L
TC222296 Gew.bohrer M5X0.5 6H 70.0L
TC222336 Gew.bohrer M6X0.5 6H 80.0L
TD263436 Gew.bohrer M10X1.25 6H 100.0L
TC222556 Gew.bohrer M14X1.5 6H 100.0L
TD413326 Gew.bohrer M6X0.75 6H 80.0L
TC411296 Gew.bohrer M5X0.5 6H 70.0L
TC411336 Gew.bohrer M6X0.5 6H 80.0L
TC413386 Gew.bohrer M8X0.75 6H 80.0L
TC411356 Gew.bohrer M7X0.75 6H 80.0L
TC411576 Gew.bohrer M14X1.0 6H 100.0L
TD413446 Gew.bohrer M10X1.0 6H 90.0L
TC413526 Gew.bohrer M12X1.25 6H 100.0L
TD413516 Gew.bohrer M12X1.5 6H 100.0L
TC411936 Gew.bohrer M8X0.5 6H 80.0L
TC411856 Gew.bohrer M26X1.5 6H 140.0L
TC413676 Gew.bohrer M18X1.5 6H 110.0L
TC413326 Gew.bohrer M6X0.75 6H 80.0L
TC411966 Gew.bohrer M30X2.0 6H 150.0L
TD413726 Gew.bohrer M20X1.5 6H 125.0L
TC411516 Gew.bohrer M12X1.5 6H 100.0L
TC413356 Gew.bohrer M7X0.75 6H 80.0L
TC411456 Gew.bohrer M10X0.75 6H 90.0L
TC411726 Gew.bohrer M20X1.5 6H 125.0L
TD413436 Gew.bohrer M10X1.25 6H 100.0L
TC413806 Gew.bohrer M24X1.5 6H 140.0L
TC411736 Gew.bohrer M20X1.0 6H 125.0L
TC411686 Gew.bohrer M18X1.0 6H 110.0L
TC413376 Gew.bohrer M8X1.0 6H 90.0L
TC411796 Gew.bohrer M24X2.0 6H 140.0L
TC411626 Gew.bohrer M16X1.0 6H 100.0L
TC411386 Gew.bohrer M8X0.75 6H 80.0L
TD413536 Gew.bohrer M12X1.0 6H 100.0L
TC413456 Gew.bohrer M10X0.75 6H 90.0L
TC411886 Gew.bohrer M27X1.5 6H 140.0L
TC411556 Gew.bohrer M14X1.5 6H 100.0L
TC413766 Gew.bohrer M22X1.5 6H 125.0L
TC411876 Gew.bohrer M27X2.0 6H 140.0L
TD413386 Gew.bohrer M8X0.75 6H 80.0L
TC411916 Gew.bohrer M28X1.5 6H 140.0L
TC411616 Gew.bohrer M16X1.5 6H 100.0L
TC413296 Gew.bohrer M5X0.5 6H 70.0L
TC413336 Gew.bohrer M6X0.5 6H 80.0L
TD413556 Gew.bohrer M14X1.5 6H 100.0L
TC411326 Gew.bohrer M6X0.75 6H 80.0L
TD413376 Gew.bohrer M8X1.0 6H 90.0L
TC411806 Gew.bohrer M24X1.5 6H 140.0L
TC411766 Gew.bohrer M22X1.5 6H 125.0L
TC413446 Gew.bohrer M10X1.0 6H 90.0L
TC411446 Gew.bohrer M10X1.0 6H 90.0L
TC413616 Gew.bohrer M16X1.5 6H 100.0L
TC413726 Gew.bohrer M20X1.5 6H 125.0L
TC411976 Gew.bohrer M30X1.5 6H 150.0L
TD413616 Gew.bohrer M16X1.5 6H 100.0L
TC413556 Gew.bohrer M14X1.5 6H 100.0L
TC411436 Gew.bohrer M10X1.25 6H 100.0L
TC411566 Gew.bohrer M14X1.25 6H 100.0L
TC413566 Gew.bohrer M14X1.25 6H 100.0L
TC413516 Gew.bohrer M12X1.5 6H 100.0L
TC411376 Gew.bohrer M8X1.0 6H 90.0L
TD413526 Gew.bohrer M12X1.25 6H 100.0L
TC411526 Gew.bohrer M12X1.25 6H 100.0L
TD413356 Gew.bohrer M7X0.75 6H 80.0L
TC411676 Gew.bohrer M18X1.5 6H 110.0L
TC413536 Gew.bohrer M12X1.0 6H 100.0L
TC411536 Gew.bohrer M12X1.0 6H 100.0L
TC411256 Gew.bohrer M4X0.5 6H 63.0L
TC413436 Gew.bohrer M10X1.25 6H 100.0L
TC413256 Gew.bohrer M4X0.5 6H 63.0L
TB183446 Gew.bohrer M10X1.0 6H 90.0L
TB183256 Gew.bohrer M4X0.5 6H 63.0L
TB183376 Gew.bohrer M8X1.0 6H 90.0L
TB183536 Gew.bohrer M12X1.0 6H 100.0L
TB183386 Gew.bohrer M8X0.75 6H 80.0L
TB183356 Gew.bohrer M7X0.75 6H 80.0L
TB183806 Gew.bohrer M24X1.5 6H 140.0L
TB183526 Gew.bohrer M12X1.25 6H 100.0L
TB183616 Gew.bohrer M16X1.5 6H 100.0L
TB183556 Gew.bohrer M14X1.5 6H 100.0L
TB183676 Gew.bohrer M18X1.5 6H 110.0L
TB183726 Gew.bohrer M20X1.5 6H 125.0L
TB183436 Gew.bohrer M10X1.25 6H 100.0L
TB183766 Gew.bohrer M22X1.5 6H 125.0L
TB183516 Gew.bohrer M12X1.5 6H 100.0L
TB183456 Gew.bohrer M10X0.75 6H 90.0L
TB183326 Gew.bohrer M6X0.75 6H 80.0L
TB183566 Gew.bohrer M14X1.25 6H 100.0L
TB183296 Gew.bohrer M5X0.5 6H 70.0L
TB183336 Gew.bohrer M6X0.5 6H 80.0L
TC234542 Gew.bohrer 7/16-20UNF 2B 100.0L
TC234582 Gew.bohrer 1/2-20UNF 2B 100.0L
TC254542 Gew.bohrer 7/16-20UNF 2B 100.0L
TC254582 Gew.bohrer 1/2-20UNF 2B 100.0L
TC234762 Gew.bohrer 7/8-14UNF 2B 125.0L
TC254762 Gew.bohrer 7/8-14UNF 2B 125.0L
TC234622 Gew.bohrer 9/16-18UNF 2B 100.0L
TC254622 Gew.bohrer 9/16-18UNF 2B 100.0L
TC234722 Gew.bohrer 3/4-16UNF 2B 110.0L
TC254722 Gew.bohrer 3/4-16UNF 2B 110.0L
TC234802 Gew.bohrer 1"-12UNF 2B 140.0L
TC254802 Gew.bohrer 1"-12UNF 2B 140.0L
TC234662 Gew.bohrer 5/8-18UNF 2B 100.0L
TC254662 Gew.bohrer 5/8-18UNF 2B 100.0L
TC234842 Gew.bohrer 1_1/8-12UNF 2B 150.0L
TC254842 Gew.bohrer 1_1/8-12UNF 2B 150.0L
TB924582 Gew.bohrer 1/2-20UNF 2B 100.0L
TB924722 Gew.bohrer 3/4-16UNF 2B 110.0L
TB924842 Gew.bohrer 1_1/8-12UNF 2B 150.0L
TB924762 Gew.bohrer 7/8-14UNF 2B 125.0L
TB924542 Gew.bohrer 7/16-20UNF 2B 100.0L
TB924622 Gew.bohrer 9/16-18UNF 2B 100.0L
TB924662 Gew.bohrer 5/8-18UNF 2B 100.0L
TC814496 Gew.bohrer M2.6x0.45 6H 50.0L
TC814546 Gew.bohrer M14X2.0 6H 110.0L
TD814506 Gew.bohrer M12X1.75 6H 110.0L
TC814196 Gew.bohrer M2.3X0.4 6H 45.0L
TC814786 Gew.bohrer M24X3.0 6H 160.0L
TD814946 Gew.bohrer M30X3.5 6H 180.0L
TC814706 Gew.bohrer M20X2.5 6H 140.0L
TC814746 Gew.bohrer M22X2.5 6H 140.0L
TD814746 Gew.bohrer M22X2.5 6H 140.0L
TD814606 Gew.bohrer M16X2.0 6H 110.0L
TC814946 Gew.bohrer M30X3.5 6H 180.0L
TD814866 Gew.bohrer M27X3.0 6H 160.0L
TC814866 Gew.bohrer M27X3.0 6H 160.0L
TD814786 Gew.bohrer M24X3.0 6H 160.0L
TD814656 Gew.bohrer M18X2.5 6H 125.0L
TC814656 Gew.bohrer M18X2.5 6H 125.0L
TD814706 Gew.bohrer M20X2.5 6H 140.0L
TD814546 Gew.bohrer M14X2.0 6H 110.0L
TC814506 Gew.bohrer M12X1.75 6H 110.0L
TC814606 Gew.bohrer M16X2.0 6H 110.0L
TC814466 Gew.bohrer M11X1.5 6H 100.0L
TD814466 Gew.bohrer M11X1.5 6H 100.0L
TC804546 Gew.bohrer M14X2.0 6H 110.0L
TD804506 Gew.bohrer M12X1.75 6H 110.0L
TC804946 Gew.bohrer M30X3.5 6H 180.0L
TD804706 Gew.bohrer M20X2.5 6H 140.0L
TD804866 Gew.bohrer M27X3.0 6H 160.0L
TC804656 Gew.bohrer M18X2.5 6H 125.0L
TD804656 Gew.bohrer M18X2.5 6H 125.0L
TD804786 Gew.bohrer M24X3.0 6H 160.0L
TC804866 Gew.bohrer M27X3.0 6H 160.0L
TC804786 Gew.bohrer M24X3.0 6H 160.0L
TD804606 Gew.bohrer M16X2.0 6H 110.0L
TC804746 Gew.bohrer M22X2.5 6H 140.0L
TD804946 Gew.bohrer M30X3.5 6H 180.0L
TD804746 Gew.bohrer M22X2.5 6H 140.0L
TC804706 Gew.bohrer M20X2.5 6H 140.0L
TD804546 Gew.bohrer M14X2.0 6H 110.0L
TC804466 Gew.bohrer M11X1.5 6H 100.0L
TC804506 Gew.bohrer M12X1.75 6H 110.0L
TC804606 Gew.bohrer M16X2.0 6H 110.0L
TD804466 Gew.bohrer M11X1.5 6H 100.0L
TD834642 Gew.bohrer 5/8-11UNC 2B 110.0L
TD834702 Gew.bohrer 3/4-10UNC 2B 125.0L
TD834782 Gew.bohrer 1"-8UNC 2B 160.0L
TD834602 Gew.bohrer 9/16-12UNC 2B 110.0L
TD834522 Gew.bohrer 7/16-14UNC 2B 100.0L
TD834742 Gew.bohrer 7/8-9UNC 2B 140.0L
TD834562 Gew.bohrer 1/2-13UNC 2B 110.0L
TC834742 Gew.bohrer 7/8-9UNC 2B 140.0L
TC834642 Gew.bohrer 5/8-11UNC 2B 110.0L
TC834782 Gew.bohrer 1"-8UNC 2B 160.0L
TC834702 Gew.bohrer 3/4-10UNC 2B 125.0L
TC834522 Gew.bohrer 7/16-14UNC 2B 100.0L
TC834562 Gew.bohrer 1/2-13UNC 2B 110.0L
TC834602 Gew.bohrer 9/16-12UNC 2B 110.0L
TD824562 Gew.bohrer 1/2-13UNC 2B 110.0L
TD824522 Gew.bohrer 7/16-14UNC 2B 100.0L
TD824602 Gew.bohrer 9/16-12UNC 2B 110.0L
TD824642 Gew.bohrer 5/8-11UNC 2B 110.0L
TD824702 Gew.bohrer 3/4-10UNC 2B 125.0L
TD824782 Gew.bohrer 1"-8UNC 2B 160.0L
TD824742 Gew.bohrer 7/8-9UNC 2B 140.0L
TC824522 Gew.bohrer 7/16-14UNC 2B 100.0L
TC824562 Gew.bohrer 1/2-13UNC 2B 110.0L
TC824702 Gew.bohrer 3/4-10UNC 2B 125.0L
TC824602 Gew.bohrer 9/16-12UNC 2B 110.0L
TC824642 Gew.bohrer 5/8-11UNC 2B 110.0L
TC824742 Gew.bohrer 7/8-9UNC 2B 140.0L
TC824782 Gew.bohrer 1"-8UNC 2B 160.0L
TY703506 Gew.former M12X1.75 6HX 110.0L
TD713506 Gew.former M12X1.75 6GX 110.0L
TY703706 Gew.former M20X2.5 6HX 140.0L
TD713656 Gew.former M18X2.5 6GX 125.0L
TD713546 Gew.former M14X2.0 6GX 110.0L
TD713606 Gew.former M16X2.0 6GX 110.0L
TY703546 Gew.former M14X2.0 6HX 110.0L
TY703656 Gew.former M18X2.5 6HX 125.0L
TY703606 Gew.former M16X2.0 6HX 110.0L
TC973706 EG M20X2.5 6H MOD 160.0L
TC973546 EG M14X2.0 6H MOD 110.0L
TC973606 EG M16X2.0 6H MOD 125.0L
TC973506 EG M12X1.75 6H MOD 110.0L
TC973426 EG M10X1.5 6H MOD 110.0L
TC909606 EG M16X2.0 6H MOD 125.0L
TC909506 EG M12X1.75 6H MOD 110.0L
TC909426 EG M10X1.5 6H MOD 110.0L
TC909546 EG M14X2.0 6H MOD 110.0L
TC909706 EG M20X2.5 6H MOD 160.0L
TC463546 Gew.bohrer M14X2.0 6H 110.0L
TC433506 Gew.bohrer M12X1.75 6H 110.0L
TC433546 Gew.bohrer M14X2.0 6H 110.0L
TC463506 Gew.bohrer M12X1.75 6H 110.0L
TC463706 Gew.bohrer M20X2.5 6H 140.0L
TC463866 Gew.bohrer M27X3.0 6H 160.0L
TC463746 Gew.bohrer M22X2.5 6H 140.0L
TC463786 Gew.bohrer M24X3.0 6H 160.0L
TC463946 Gew.bohrer M30X3.5 6H 180.0L
TC433606 Gew.bohrer M16X2.0 6H 110.0L
TC463656 Gew.bohrer M18X2.5 6H 125.0L
TC463606 Gew.bohrer M16X2.0 6H 110.0L
TE821466 Gew.bohrer M11X1.5 6HX 100.0L
TD821546 Gew.bohrer M14X2.0 6HX 110.0L
TD821656 Gew.bohrer M18X2.5 6HX 125.0L
TE821606 Gew.bohrer M16X2.0 6HX 110.0L
TE821506 Gew.bohrer M12X1.75 6HX 110.0L
TE821546 Gew.bohrer M14X2.0 6HX 110.0L
TE821946 Gew.bohrer M30X3.5 6HX 180.0L
TE821746 Gew.bohrer M22X2.5 6HX 140.0L
TY821546 Gew.bohrer M14X2.0 6HX 110.0L
TE821786 Gew.bohrer M24X3.0 6HX 160.0L
TY821656 Gew.bohrer M18X2.5 6HX 125.0L
TD821506 Gew.bohrer M12X1.75 6HX 110.0L
TE821866 Gew.bohrer M27X3.0 6HX 160.0L
TY821786 Gew.bohrer M24X3.0 6HX 160.0L
TE821656 Gew.bohrer M18X2.5 6HX 125.0L
TY821706 Gew.bohrer M20X2.5 6HX 140.0L
TD821606 Gew.bohrer M16X2.0 6HX 110.0L
TY821606 Gew.bohrer M16X2.0 6HX 110.0L
TY821506 Gew.bohrer M12X1.75 6HX 110.0L
TE821706 Gew.bohrer M20X2.5 6HX 140.0L
TC227346 Gew.bohrer M7X1.0 6H 80.0L
TC227466 Gew.bohrer M11X1.5 6H 100.0L
TB623606 Gew.bohrer M16X2.0 6HX 110.0L
TC227366 Gew.bohrer M8X1.25 6H 90.0L
TC227226 Gew.bohrer M3.5X0.6 6H 56.0L
TC227706 Gew.bohrer M20X2.5 6H 140.0L
TC227746 Gew.bohrer M22X2.5 6H 140.0L
TB623656 Gew.bohrer M18X2.5 6HX 125.0L
TB623866 Gew.bohrer M27X3.0 6HX 160.0L
TC227866 Gew.bohrer M27X3.0 6H 160.0L
TC227606 Gew.bohrer M16X2.0 6H 110.0L
TC227946 Gew.bohrer M30X3.5 6H 180.0L
TB623746 Gew.bohrer M22X2.5 6HX 140.0L
TB623946 Gew.bohrer M30X3.5 6HX 180.0L
TB623786 Gew.bohrer M24X3.0 6HX 160.0L
TB623466 Gew.bohrer M11X1.5 6HX 100.0L
TB623506 Gew.bohrer M12X1.75 6HX 110.0L
TC227656 Gew.bohrer M18X2.5 6H 125.0L
TC227786 Gew.bohrer M24X3.0 6H 160.0L
TB623706 Gew.bohrer M20X2.5 6HX 140.0L
TC227266 Gew.bohrer M4.5X0.75 6H 70.0L
TC227286 Gew.bohrer M5X0.8 6H 70.0L
TC227316 Gew.bohrer M6X1.0 6H 80.0L
TC227506 Gew.bohrer M12X1.75 6H 110.0L
TB623496 Gew.bohrer M2.6X0.45 6HX 50.0L
TC227546 Gew.bohrer M14X2.0 6H 110.0L
TB623546 Gew.bohrer M14X2.0 6HX 110.0L
TC227396 Gew.bohrer M9X1.25 6H 90.0L
TC227426 Gew.bohrer M10X1.5 6H 100.0L
TC227206 Gew.bohrer M3X0.5 6H 56.0L
TC227246 Gew.bohrer M4X0.7 6H 63.0L
TD227206 Gew.bohrer M3X0.5 6H 56.0L
TD227246 Gew.bohrer M4X0.7 6H 63.0L
TC283506 Gew.bohrer M12X1.75 6H 110.0L
TC422546 Gew.bohrer M14X2.0 6H 110.0L
TC422466 Gew.bohrer M11X1.5 6H 100.0L
TC283606 Gew.bohrer M16X2.0 6H 110.0L
TD227266 Gew.bohrer M4.5X0.75 6H 70.0L
TD227286 Gew.bohrer M5X0.8 6H 70.0L
TD227316 Gew.bohrer M6X1.0 6H 80.0L
TCH23546 Gew.bohrer M14X2.0 6HX 110.0L
TCH23506 Gew.bohrer M12X1.75 6HX 110.0L
TC422706 Gew.bohrer M20X2.5 6H 140.0L
TD227746 Gew.bohrer M22X2.5 6H 140.0L
TC622606 Gew.bohrer M16X2.0 6H 110.0L
TY422546 Gew.bohrer M14X2.0 6H 110.0L
TC283656 Gew.bohrer M18X2.5 6H 125.0L
TC422606 Gew.bohrer M16X2.0 6H 110.0L
TD227506 Gew.bohrer M12X1.75 6H 110.0L
TC622786 Gew.bohrer M24X3.0 6H 160.0L
TY422706 Gew.bohrer M20X2.5 6H 140.0L
TC622706 Gew.bohrer M20X2.5 6H 140.0L
TC422786 Gew.bohrer M24X3.0 6H 160.0L
TC283946 Gew.bohrer M30X3.5 6H 180.0L
TD227786 Gew.bohrer M24X3.0 6H 160.0L
TC422946 Gew.bohrer M30X3.5 6H 180.0L
TY422656 Gew.bohrer M18X2.5 6H 125.0L
TC622946 Gew.bohrer M30X3.5 6H 180.0L
TY422946 Gew.bohrer M30X3.5 6H 180.0L
TY422786 Gew.bohrer M24X3.0 6H 160.0L
TC422866 Gew.bohrer M27X3.0 6H 160.0L
TD227466 Gew.bohrer M11X1.5 6H 100.0L
TCH23746 Gew.bohrer M22X2.5 6HX 140.0L
TC283786 Gew.bohrer M24X3.0 6H 160.0L
TC422656 Gew.bohrer M18X2.5 6H 125.0L
TY422506 Gew.bohrer M12X1.75 6H 110.0L
TCH23946 Gew.bohrer M30X3.5 6HX 180.0L
TD227366 Gew.bohrer M8X1.25 6H 90.0L
TD227706 Gew.bohrer M20X2.5 6H 140.0L
TC283866 Gew.bohrer M27X3.0 6H 160.0L
TC283706 Gew.bohrer M20X2.5 6H 140.0L
TD227656 Gew.bohrer M18X2.5 6H 125.0L
TD227946 Gew.bohrer M30X3.5 6H 180.0L
TC622866 Gew.bohrer M27X3.0 6H 160.0L
TCH23866 Gew.bohrer M27X3.0 6HX 160.0L
TCH23786 Gew.bohrer M24X3.0 6HX 160.0L
TC622546 Gew.bohrer M14X2.0 6H 110.0L
TC622746 Gew.bohrer M22X2.5 6H 140.0L
TY422866 Gew.bohrer M27X3.0 6H 160.0L
TC283746 Gew.bohrer M22X2.5 6H 140.0L
TD227866 Gew.bohrer M27X3.0 6H 160.0L
TCH23706 Gew.bohrer M20X2.5 6HX 140.0L
TY422746 Gew.bohrer M22X2.5 6H 140.0L
TD227396 Gew.bohrer M9X1.25 6H 90.0L
TY422606 Gew.bohrer M16X2.0 6H 110.0L
TCH23606 Gew.bohrer M16X2.0 6HX 110.0L
TCH23656 Gew.bohrer M18X2.5 6HX 125.0L
TD227546 Gew.bohrer M14X2.0 6H 110.0L
TY422466 Gew.bohrer M11X1.5 6H 100.0L
TD227606 Gew.bohrer M16X2.0 6H 110.0L
TC622656 Gew.bohrer M18X2.5 6H 125.0L
TC422746 Gew.bohrer M22X2.5 6H 140.0L
TD227346 Gew.bohrer M7X1.0 6H 80.0L
TC283546 Gew.bohrer M14X2.0 6H 110.0L
TC622466 Gew.bohrer M11X1.5 6H 100.0L
TC622506 Gew.bohrer M12X1.75 6H 110.0L
TC422506 Gew.bohrer M12X1.75 6H 110.0L
TD227426 Gew.bohrer M10X1.5 6H 100.0L
TD227226 Gew.bohrer M3.5X0.6 6H 56.0L
TY283546 Gew.bohrer M14X2.0 6H 110.0L
TY283506 Gew.bohrer M12X1.75 6H 110.0L
TY283746 Gew.bohrer M22X2.5 6H 140.0L
TY283656 Gew.bohrer M18X2.5 6H 125.0L
TY283706 Gew.bohrer M20X2.5 6H 140.0L
TY283606 Gew.bohrer M16X2.0 6H 110.0L
TY283786 Gew.bohrer M24X3.0 6H 160.0L
TC312746 Gew.bohrer M22X2.5 6H 140.0L
TC312866 Gew.bohrer M27X3.0 6H 160.0L
TC312786 Gew.bohrer M24X3.0 6H 160.0L
TC312606 Gew.bohrer M16X2.0 6H 110.0L
TC312656 Gew.bohrer M18X2.5 6H 125.0L
TC312946 Gew.bohrer M30X3.5 6H 180.0L
TC312706 Gew.bohrer M20X2.5 6H 140.0L
TC312466 Gew.bohrer M11X1.5 6H 100.0L
TC312506 Gew.bohrer M12X1.75 6H 110.0L
TC312546 Gew.bohrer M14X2.0 6H 110.0L
TB913496 Gew.bohrer M2.6X0.45 6H 50.0L
TB914546 Gew.bohrer M14X2.0 6H 110.0L
TB711546 Gew.bohrer M14X2.0 6H 110.0L
TD711656 Gew.bohrer M18X2.5 6H 125.0L
TB313466 Gew.bohrer M11X1.5 6H 100.0L
TB313506 Gew.bohrer M12X1.75 6H 110.0L
TCH14466 Gew.bohrer M11X1.5 6H 100.0L
TD711546 Gew.bohrer M14X2.0 6H 110.0L
TB313656 Gew.bohrer M18X2.5 6H 125.0L
TB711506 Gew.bohrer M12X1.75 6H 110.0L
TB312746 Gew.bohrer M22X2.5 6H 140.0L
TC711746 Gew.bohrer M22X2.5 6H 140.0L
TD312746 Gew.bohrer M22X2.5 6H 140.0L
TD312506 Gew.bohrer M12X1.75 6H 110.0L
TD711466 Gew.bohrer M11X1.5 6H 100.0L
TB711866 Gew.bohrer M27X3.0 6H 160.0L
TB913866 Gew.bohrer M27X3.0 6H 160.0L
TB913546 Gew.bohrer M14X2.0 6H 110.0L
TB913706 Gew.bohrer M20X2.5 6H 140.0L
TY312546 Gew.bohrer M14X2.0 6H 110.0L
TB313866 Gew.bohrer M27X3.0 6H 160.0L
TB313706 Gew.bohrer M20X2.5 6H 140.0L
TB711606 Gew.bohrer M16X2.0 6H 110.0L
TB312866 Gew.bohrer M27X3.0 6H 160.0L
TC711866 Gew.bohrer M27X3.0 6H 160.0L
TD312866 Gew.bohrer M27X3.0 6H 160.0L
TCH14546 Gew.bohrer M14X2.0 6H 110.0L
TY313706 Gew.bohrer M20X2.5 6H 140.0L
TC163866 Gew.bohrer M27X3.0 6H 160.0L
TCH14606 Gew.bohrer M16X2.0 6H 110.0L
TC163946 Gew.bohrer M30X3.5 6H 180.0L
TD711606 Gew.bohrer M16X2.0 6H 110.0L
TB313786 Gew.bohrer M24X3.0 6H 160.0L
TB312786 Gew.bohrer M24X3.0 6H 160.0L
TC711786 Gew.bohrer M24X3.0 6H 160.0L
TD312466 Gew.bohrer M11X1.5 6H 100.0L
TB913786 Gew.bohrer M24X3.0 6H 160.0L
TB312606 Gew.bohrer M16X2.0 6H 110.0L
TC711606 Gew.bohrer M16X2.0 6H 110.0L
TD711866 Gew.bohrer M27X3.0 6H 160.0L
TY312946 Gew.bohrer M30X3.5 6H 180.0L
TB914786 Gew.bohrer M24X3.0 6H 160.0L
TY312506 Gew.bohrer M12X1.75 6H 110.0L
TB914506 Gew.bohrer M12X1.75 6H 110.0L
TY312786 Gew.bohrer M24X3.0 6H 160.0L
TY312606 Gew.bohrer M16X2.0 6H 110.0L
TY312866 Gew.bohrer M27X3.0 6H 160.0L
TB312656 Gew.bohrer M18X2.5 6H 125.0L
TC711656 Gew.bohrer M18X2.5 6H 125.0L
TD312786 Gew.bohrer M24X3.0 6H 160.0L
TD312946 Gew.bohrer M30X3.5 6H 180.0L
TB914946 Gew.bohrer M30X3.5 6H 180.0L
TY312746 Gew.bohrer M22X2.5 6H 140.0L
TD711746 Gew.bohrer M22X2.5 6H 140.0L
TB914866 Gew.bohrer M27X3.0 6H 160.0L
TB313946 Gew.bohrer M30X3.5 6H 180.0L
TCH14946 Gew.bohrer M30X3.5 6H 180.0L
TY313866 Gew.bohrer M27X3.0 6H 160.0L
TB312946 Gew.bohrer M30X3.5 6H 180.0L
TC711946 Gew.bohrer M30X3.5 6H 180.0L
TC163786 Gew.bohrer M24X3.0 6H 160.0L
TD711946 Gew.bohrer M30X3.5 6H 180.0L
TCH14866 Gew.bohrer M27X3.0 6H 160.0L
TY313786 Gew.bohrer M24X3.0 6H 160.0L
TB711946 Gew.bohrer M30X3.5 6H 180.0L
TB913946 Gew.bohrer M30X3.5 6H 180.0L
TD711706 Gew.bohrer M20X2.5 6H 140.0L
TB711786 Gew.bohrer M24X3.0 6H 160.0L
TY313746 Gew.bohrer M22X2.5 6H 140.0L
TCH14786 Gew.bohrer M24X3.0 6H 160.0L
TY313946 Gew.bohrer M30X3.5 6H 180.0L
TB914706 Gew.bohrer M20X2.5 6H 140.0L
TC163706 Gew.bohrer M20X2.5 6H 140.0L
TB914656 Gew.bohrer M18X2.5 6H 125.0L
TY313606 Gew.bohrer M16X2.0 6H 110.0L
TB914746 Gew.bohrer M22X2.5 6H 140.0L
TC163746 Gew.bohrer M22X2.5 6H 140.0L
TCH14746 Gew.bohrer M22X2.5 6H 140.0L
TY313656 Gew.bohrer M18X2.5 6H 125.0L
TB313606 Gew.bohrer M16X2.0 6H 110.0L
TY312706 Gew.bohrer M20X2.5 6H 140.0L
TB913746 Gew.bohrer M22X2.5 6H 140.0L
TD711786 Gew.bohrer M24X3.0 6H 160.0L
TY313506 Gew.bohrer M12X1.75 6H 110.0L
TCH14706 Gew.bohrer M20X2.5 6H 140.0L
TC163546 Gew.bohrer M14X2.0 6H 110.0L
TB914606 Gew.bohrer M16X2.0 6H 110.0L
TD312656 Gew.bohrer M18X2.5 6H 125.0L
TB313746 Gew.bohrer M22X2.5 6H 140.0L
TB711706 Gew.bohrer M20X2.5 6H 140.0L
TCH14656 Gew.bohrer M18X2.5 6H 125.0L
TC163606 Gew.bohrer M16X2.0 6H 110.0L
TD312546 Gew.bohrer M14X2.0 6H 110.0L
TB312706 Gew.bohrer M20X2.5 6H 140.0L
TC711706 Gew.bohrer M20X2.5 6H 140.0L
TB711656 Gew.bohrer M18X2.5 6H 125.0L
TB913606 Gew.bohrer M16X2.0 6H 110.0L
TD312606 Gew.bohrer M16X2.0 6H 110.0L
TCH14506 Gew.bohrer M12X1.75 6H 110.0L
TY312656 Gew.bohrer M18X2.5 6H 125.0L
TC163466 Gew.bohrer M11X1.5 6H 100.0L
TC163506 Gew.bohrer M12X1.75 6H 110.0L
TD312706 Gew.bohrer M20X2.5 6H 140.0L
TD711506 Gew.bohrer M12X1.75 6H 110.0L
TY313546 Gew.bohrer M14X2.0 6H 110.0L
TB913466 Gew.bohrer M11X1.5 6H 100.0L
TB913506 Gew.bohrer M12X1.75 6H 110.0L
TC163656 Gew.bohrer M18X2.5 6H 125.0L
TB312506 Gew.bohrer M12X1.75 6H 110.0L
TC711466 Gew.bohrer M11X1.5 6H 100.0L
TC711506 Gew.bohrer M12X1.75 6H 110.0L
TB313496 Gew.bohrer M2.6X0.45 6H 50.0L
TB313546 Gew.bohrer M14X2.0 6H 110.0L
TB312546 Gew.bohrer M14X2.0 6H 110.0L
TC711546 Gew.bohrer M14X2.0 6H 110.0L
TC517656 Gew.bohrer M18X2.5 6H 125.0L
TC517946 Gew.bohrer M30X3.5 6H 180.0L
TC517606 Gew.bohrer M16X2.0 6H 110.0L
TC517866 Gew.bohrer M27X3.0 6H 160.0L
TC517786 Gew.bohrer M24X3.0 6H 160.0L
TC517746 Gew.bohrer M22X2.5 6H 140.0L
TC517706 Gew.bohrer M20X2.5 6H 140.0L
TC517466 Gew.bohrer M11X1.5 6H 100.0L
TC517506 Gew.bohrer M12X1.75 6H 110.0L
TC517546 Gew.bohrer M14X2.0 6H 110.0L
TB264522 Gew.bohrer 7/16-14UNC 2B 100.0L
TB264562 Gew.bohrer 1/2-13UNC 2B 110.0L
TB264742 Gew.bohrer 7/8-9UNC 2B 140.0L
TB264642 Gew.bohrer 5/8-11UNC 2B 110.0L
TB264702 Gew.bohrer 3/4-10UNC 2B 125.0L
TB264602 Gew.bohrer 9/16-12UNC 2B 110.0L
TC214522 Gew.bohrer 7/16-14UNC 2B 100.0L
TC214562 Gew.bohrer 1/2-13UNC 2B 110.0L
TC214642 Gew.bohrer 5/8-11UNC 2B 110.0L
TC214742 Gew.bohrer 7/8-9UNC 2B 140.0L
TC214782 Gew.bohrer 1"-8UNC 2B 160.0L
TC214702 Gew.bohrer 3/4-10UNC 2B 125.0L
TC214602 Gew.bohrer 9/16-12UNC 2B 110.0L
TB904702 Gew.bohrer 3/4-10UNC 2B 125.0L
TC144782 Gew.bohrer 1"-8UNC 2B 160.0L
TC174782 Gew.bohrer 1"-8UNC 2B 160.0L
TB904782 Gew.bohrer 1"-8UNC 2B 160.0L
TB904602 Gew.bohrer 9/16-12UNC 2B 110.0L
TC144642 Gew.bohrer 5/8-11UNC 2B 110.0L
TC174642 Gew.bohrer 5/8-11UNC 2B 110.0L
TC144742 Gew.bohrer 7/8-9UNC 2B 140.0L
TC174742 Gew.bohrer 7/8-9UNC 2B 140.0L
TB904742 Gew.bohrer 7/8-9UNC 2B 140.0L
TC144822 Gew.bohrer 1_1/8-7UNC 2B 180.0L
TC174822 Gew.bohrer 1_1/8-7UNC 2B 180.0L
TB904642 Gew.bohrer 5/8-11UNC 2B 110.0L
TC144702 Gew.bohrer 3/4-10UNC 2B 125.0L
TC174702 Gew.bohrer 3/4-10UNC 2B 125.0L
TC144602 Gew.bohrer 9/16-12UNC 2B 110.0L
TC174602 Gew.bohrer 9/16-12UNC 2B 110.0L
TB904522 Gew.bohrer 7/16-14UNC 2B 100.0L
TB904562 Gew.bohrer 1/2-13UNC 2B 110.0L
TC144522 Gew.bohrer 7/16-14UNC 2B 100.0L
TC144562 Gew.bohrer 1/2-13UNC 2B 110.0L
TC174522 Gew.bohrer 7/16-14UNC 2B 100.0L
TC174562 Gew.bohrer 1/2-13UNC 2B 110.0L
TB514200 Gew.bohrer G1/8-28 90.0L
TB514400 Gew.bohrer G1/4-19 100.0L
TB514700 Gew.bohrer G3/4-14 140.0L
TB514480 Gew.bohrer G3/8-19 100.0L
TB514780 Gew.bohrer G1"-11 160.0L
TB514560 Gew.bohrer G1/2-14 125.0L
TC727400 Gew.bohrer G1/4-19 100.0L
TC727780 Gew.bohrer G1"-11 160.0L
TC727560 Gew.bohrer G1/2-14 125.0L
TC727700 Gew.bohrer G3/4-14 140.0L
TC727200 Gew.bohrer G1/8-28 90.0L
TC727480 Gew.bohrer G3/8-19 100.0L
TC728200 Gew.bohrer G1/8-28 90.0L
TC728700 Gew.bohrer G3/4-14 140.0L
TC729400 Gew.bohrer G1/4-19 100.0L
TC729700 Gew.bohrer G3/4-14 140.0L
TC729780 Gew.bohrer G1"-11 160.0L
TC728560 Gew.bohrer G1/2-14 125.0L
TC728400 Gew.bohrer G1/4-19 100.0L
TC728780 Gew.bohrer G1"-11 160.0L
TC729560 Gew.bohrer G1/2-14 125.0L
TC729200 Gew.bohrer G1/8-28 90.0L
TC729480 Gew.bohrer G3/8-19 100.0L
TC728480 Gew.bohrer G3/8-19 100.0L
TQ703136 Gew.former M2X0.4 6H 45.0L
TQ703206 Gew.former M3X0.5 6HX 56.0L
TQ703246 Gew.former M4X0.7 6HX 63.0L
TQ703426 Gew.former M10X1.5 6HX 100.0L
TQ703346 Gew.former M7X1.0 6H 80.0L
TQ703366 Gew.former M8X1.25 6HX 90.0L
TQ703176 Gew.former M2.5X0.45 6HX 50.0L
TQ703286 Gew.former M5X0.8 6HX 70.0L
TQ703316 Gew.former M6X1.0 6HX 80.0L
TQ703226 Gew.former M3.5X0.6 6H 56.0L
TQ723426 Gew.former M10X1.5 6HX 100.0L
TQ723136 Gew.former M2X0.4 6HX 45.0L
TQ723176 Gew.former M2.5X0.45 6HX 50.0L
TQ723206 Gew.former M3X0.5 6HX 56.0L
TQ723246 Gew.former M4X0.7 6HX 63.0L
TQ723366 Gew.former M8X1.25 6HX 90.0L
TQ723266 Gew.former M4.5X0.75 6H 70.0L
TQ723286 Gew.former M5X0.8 6HX 70.0L
TQ723316 Gew.former M6X1.0 6HX 80.0L
TZ923206 Gew.bohrer M3X0.5 6H 56.0L
TQ863226 Gew.bohrer M3.5X0.6 6H 56.0L
TQ873246 Gew.bohrer M4X0.7 6H 63.0L
TQ853246 Gew.bohrer M4X0.7 6H 63.0L
TQ863246 Gew.bohrer M4X0.7 6H 63.0L
TQ873366 Gew.bohrer M8X1.25 6H 90.0L
TQ873286 Gew.bohrer M5X0.8 6H 70.0L
TZ293206 Gew.bohrer M3X0.5 6H 56.0L
TQ863266 Gew.bohrer M4.5X0.75 6H 70.0L
TQ863286 Gew.bohrer M5X0.8 6H 70.0L
TQ873206 Gew.bohrer M3X0.5 6H 56.0L
TQ853176 Gew.bohrer M2.5X0.45 6H 50.0L
TQ853426 Gew.bohrer M10X1.5 6H 100.0L
TQ873316 Gew.bohrer M6X1.0 6H 80.0L
TQ873176 Gew.bohrer M2.5X0.45 6H 50.0L
TQ863136 Gew.bohrer M2X0.4 6H 45.0L
TQ873136 Gew.bohrer M2X0.4 6H 45.0L
TQ853316 Gew.bohrer M6X1.0 6H 80.0L
TZ293506 Gew.bohrer M12X1.75 6H 110.0L
TQ873426 Gew.bohrer M10X1.5 6H 100.0L
TZ923316 Gew.bohrer M6X1.0 6H 80.0L
TZ293366 Gew.bohrer M8X1.25 6H 90.0L
TQ853366 Gew.bohrer M8X1.25 6H 90.0L
TQ863366 Gew.bohrer M8X1.25 6H 90.0L
TZ923286 Gew.bohrer M5X0.8 6H 70.0L
TQ863426 Gew.bohrer M10X1.5 6H 100.0L
TZ293706 Gew.bohrer M20X2.5 6H 140.0L
TZ293946 Gew.bohrer M30X3.5 6H 180.0L
TQ853226 Gew.bohrer M3.5X0.6 6H 56.0L
TZ923366 Gew.bohrer M8X1.25 6H 90.0L
TZ923246 Gew.bohrer M4X0.7 6H 63.0L
TQ863156 Gew.bohrer M2.2X0.45 6H 45.0L
TZ923426 Gew.bohrer M10X1.5 6H 100.0L
TZ923136 Gew.bohrer M2X0.4 6H 45.0L
TQ853136 Gew.bohrer M2X0.4 6H 45.0L
TZ923176 Gew.bohrer M2.5X0.45 6H 50.0L
TQ853286 Gew.bohrer M5X0.8 6H 70.0L
TQ863316 Gew.bohrer M6X1.0 6H 80.0L
TZ293316 Gew.bohrer M6X1.0 6H 80.0L
TZ293246 Gew.bohrer M4X0.7 6H 63.0L
TZ293286 Gew.bohrer M5X0.8 6H 70.0L
TQ863176 Gew.bohrer M2.5X0.45 6H 50.0L
TQ853206 Gew.bohrer M3X0.5 6H 56.0L
TQ863206 Gew.bohrer M3X0.5 6H 56.0L
TQ853156 Gew.bohrer M2.2X0.45 6H 45.0L
TQ813206 Gew.bohrer M3X0.5 6H 56.0L
TR813206 Gew.bohrer M3X0.5 6H 56.0L
TQ823366 Gew.bohrer M8X1.25 6H 90.0L
TQ823266 Gew.bohrer M4.5X0.75 6H 70.0L
TQ823286 Gew.bohrer M5X0.8 6H 70.0L
TQ823316 Gew.bohrer M6X1.0 6H 80.0L
TQ823176 Gew.bohrer M2.5X0.45 6H 50.0L
TQ833316 Gew.bohrer M6X1.0 6H 80.0L
TQ823206 Gew.bohrer M3X0.5 6H 56.0L
TQ823226 Gew.bohrer M3.5X0.6 6H 56.0L
TQ823246 Gew.bohrer M4X0.7 6H 63.0L
TQ813176 Gew.bohrer M2.5X0.45 6H 50.0L
TR813176 Gew.bohrer M2.5X0.45 6H 50.0L
TQ833136 Gew.bohrer M2X0.4 6H 45.0L
TR833136 Gew.bohrer M2X0.4 6H 45.0L
TQ813136 Gew.bohrer M2X0.4 6H 45.0L
TR813136 Gew.bohrer M2X0.4 6H 45.0L
TQ833366 Gew.bohrer M8X1.25 6H 90.0L
TR833366 Gew.bohrer M8X1.25 6H 90.0L
TQ823136 Gew.bohrer M2X0.4 6H 45.0L
TQ833346 Gew.bohrer M7X1.0 6H 80.0L
TR833346 Gew.bohrer M7X1.0 6H 80.0L
TZ933426 Gew.bohrer M10X1.5 6H 100.0L
TZ933316 Gew.bohrer M6X1.0 6H 80.0L
TQ833426 Gew.bohrer M10X1.5 6H 100.0L
TR833426 Gew.bohrer M10X1.5 6H 100.0L
TQ833176 Gew.bohrer M2.5X0.45 6H 50.0L
TQ813316 Gew.bohrer M6X1.0 6H 80.0L
TR813316 Gew.bohrer M6X1.0 6H 80.0L
TQ823426 Gew.bohrer M10X1.5 6H 100.0L
TQ813346 Gew.bohrer M7X1.0 6H 80.0L
TR813346 Gew.bohrer M7X1.0 6H 80.0L
TZ933206 Gew.bohrer M3X0.5 6H 56.0L
TQ813366 Gew.bohrer M8X1.25 6H 90.0L
TR813366 Gew.bohrer M8X1.25 6H 90.0L
TR833506 Gew.bohrer M12X1.75 6H 110.0L
TQ833246 Gew.bohrer M4X0.7 6H 63.0L
TR833246 Gew.bohrer M4X0.7 6H 63.0L
TZ933366 Gew.bohrer M8X1.25 6H 90.0L
TQ833266 Gew.bohrer M4.5X0.75 6H 70.0L
TQ833286 Gew.bohrer M5X0.8 6H 70.0L
TR833286 Gew.bohrer M5X0.8 6H 70.0L
TQ813426 Gew.bohrer M10X1.5 6H 100.0L
TR813426 Gew.bohrer M10X1.5 6H 100.0L
TZ933246 Gew.bohrer M4X0.7 6H 63.0L
TZ933286 Gew.bohrer M5X0.8 6H 70.0L
TQ813246 Gew.bohrer M4X0.7 6H 63.0L
TR813246 Gew.bohrer M4X0.7 6H 63.0L
TQ813286 Gew.bohrer M5X0.8 6H 70.0L
TQ833206 Gew.bohrer M3X0.5 6H 56.0L
TR813286 Gew.bohrer M5X0.8 6H 70.0L
TR833206 Gew.bohrer M3X0.5 6H 56.0L
TR873246 Gew.bohrer M4X0.7 6H 63.0L
TR873366 Gew.bohrer M8X1.25 6H 90.0L
TR873286 Gew.bohrer M5X0.8 6H 70.0L
TR873206 Gew.bohrer M3X0.5 6H 56.0L
TR873316 Gew.bohrer M6X1.0 6H 80.0L
TR873176 Gew.bohrer M2.5X0.45 6H 50.0L
TR873136 Gew.bohrer M2X0.4 6H 45.0L
TR873426 Gew.bohrer M10X1.5 6H 100.0L
TZ903426 Gew.bohrer M10X1.5 6H 100.0L
TZ903316 Gew.bohrer M6X1.0 6H 80.0L
TZ903136 Gew.bohrer M2X0.4 6H 45.0L
TZ903206 Gew.bohrer M3X0.5 6H 56.0L
TZ903176 Gew.bohrer M2.5X0.45 6H 50.0L
TZ903366 Gew.bohrer M8X1.25 6H 90.0L
TZ903246 Gew.bohrer M4X0.7 6H 63.0L
TZ903286 Gew.bohrer M5X0.8 6H 70.0L
TQ703546 Gew.former M14X2.0 6HX 110.0L
TQ703656 Gew.former M18X2.5 6H 125.0L
TQ703706 Gew.former M20X2.5 6HX 140.0L
TQ703606 Gew.former M16X2.0 6H 110.0L
TQ703506 Gew.former M12X1.75 6HX 110.0L
TQ723656 Gew.former M18X2.5 6HX 125.0L
TQ723706 Gew.former M20X2.5 6HX 140.0L
TQ723506 Gew.former M12X1.75 6HX 110.0L
TQ723546 Gew.former M14X2.0 6HX 110.0L
TQ723606 Gew.former M16X2.0 6HX 110.0L
TZ923546 Gew.bohrer M14X2.0 6H 110.0L
TZ923786 Gew.bohrer M24X3.0 6H 160.0L
TZ923706 Gew.bohrer M20X2.5 6H 140.0L
TZ923506 Gew.bohrer M12X1.75 6H 110.0L
TZ923606 Gew.bohrer M16X2.0 6H 110.0L
TQ873506 Gew.bohrer M12X1.75 6H 110.0L
TQ853506 Gew.bohrer M12X1.75 6H 110.0L
TQ863506 Gew.bohrer M12X1.75 6H 110.0L
TQ813506 Gew.bohrer M12X1.75 6H 110.0L
TQ823506 Gew.bohrer M12X1.75 6H 110.0L
TR813506 Gew.bohrer M12X1.75 6H 110.0L
TZ933546 Gew.bohrer M14X2.0 6H 110.0L
TZ933706 Gew.bohrer M20X2.5 6H 140.0L
TZ933746 Gew.bohrer M22X2.5 6H 140.0L
TZ933866 Gew.bohrer M27X3.0 6H 160.0L
TZ933506 Gew.bohrer M12X1.75 6H 110.0L
TZ933786 Gew.bohrer M24X3.0 6H 160.0L
TZ933606 Gew.bohrer M16X2.0 6H 110.0L
TQ833506 Gew.bohrer M12X1.75 6H 110.0L
TR873506 Gew.bohrer M12X1.75 6H 110.0L
TZ903546 Gew.bohrer M14X2.0 6H 110.0L
TZ903946 Gew.bohrer M30X3.5 6H 180.0L
TZ903506 Gew.bohrer M12X1.75 6H 110.0L
TZ903606 Gew.bohrer M16X2.0 6H 110.0L
L42A1500 VHM-Gew.fräser M12X1.75 Ø9.95XØ14X27.25X89
L42A1420 VHM-Gew.fräser M10X1.5 Ø7.95XØ12X23.77X79
L42A1310 VHM-Gew.fräser M6X1.0 Ø4.75XØ8X14.68X62
L42A1540 VHM-Gew.fräser M14X2.0 Ø11.20XØ16X33.32X102
L42A1360 VHM-Gew.fräser M8X1.25 Ø6.35XØ10X18.48X74
T0993366 VHM-Gew.bohrer M8X1.25 6HX 90.0L
T0993206 VHM-Gew.bohrer M3X0.5 6HX 56.0L
T0993226 VHM-Gew.bohrer M3.5X0.6 6HX 56.0L
T0993246 VHM-Gew.bohrer M4X0.7 6HX 63.0L
T0993286 VHM-Gew.bohrer M5X0.8 6HX 70.0L
T0993316 VHM-Gew.bohrer M6X1.0 6HX 80.0L
T0993426 VHM-Gew.bohrer M10X1.5 6HX 100.0L
T0993606 VHM-Gew.bohrer M16X2.0 6HX 110.0L
T0993706 VHM-Gew.bohrer M20X2.5 6HX 140.0L
T0993656 VHM-Gew.bohrer M18X2.5 6HX 125.0L
T0993546 VHM-Gew.bohrer M14X2.0 6HX 110.0L
T0993506 VHM-Gew.bohrer M12X1.75 6HX 110.0L
L6215020 VHM-Gew.fräser Ø5.9XØ6X16.3X65 28TPI
L6215200 VHM-Gew.fräser Ø7.9XØ8X20.0X70 28TPI
L6215780 VHM-Gew.fräser Ø19.9XØ20X34.6X100 11TPI
L6215400 VHM-Gew.fräser Ø9.9XØ10X26.7X80 19TPI
L6215560 VHM-Gew.fräser Ø15.9XØ16X43.5X104 14TPI
L6215700 VHM-Gew.fräser Ø17.9XØ18X34.5X100 14TPI
L6215480 VHM-Gew.fräser Ø13.9XØ14X33.4X92 19TPI
L4272430 VHM-Gew.fräser 8.3X12X15.9X80 1.25P
L4272440 VHM-Gew.fräser 8.7X12X15.4X80 1.0P
L4272510 VHM-Gew.fräser 10.0X14X18.65X90 1.5P
L4272520 VHM-Gew.fräser 10.3X14X18.3X90 1.25P
L4272530 VHM-Gew.fräser 10.7X14X18.4X90 1.0P
L4272550 VHM-Gew.fräser 12.0X16X21.65X100 1.5P
L4272370 VHM-Gew.fräser 6.7X10X12.4X74 1.0P
L4272610 VHM-Gew.fräser 14.0X18X24.65X102 1.5P
L4271420 VHM-Gew.fräser 8.2X12X20.15X80 1.5P
L4271310 VHM-Gew.fräser 4.8X8X12.4X62 1.0P
L4271500 VHM-Gew.fräser 9.9X14X25.25X90 1.75P
L4271540 VHM-Gew.fräser 11.6X16X28.85X100 2.0P
L4271600 VHM-Gew.fräser 13.6X18X32.85X102 2.0P
L4271360 VHM-Gew.fräser 6.5X10X16.8X74 1.25P
L4276020 VHM-Gew.fräser 5.9X10X8.9X64 27TPI
L4276200 VHM-Gew.fräser 7.8X12X8.9X70 27TPI
L4276480 VHM-Gew.fräser 13.45X18X13.4X81 18TPI
L4276400 VHM-Gew.fräser 10.05X16X13.4X81 18TPI
L4273440 VHM-Gew.fräser 6.2X10X16.18X74 18TPI
L4273560 VHM-Gew.fräser 10.3X14X26.32X90 13TPI
L4273600 VHM-Gew.fräser 11.7X16X30.63X100 12TPI
L4273640 VHM-Gew.fräser 13.1X18X33.41X102 11TPI
L4273480 VHM-Gew.fräser 7.6X12X19.8X80 16TPI
L4273520 VHM-Gew.fräser 8.9X12X22.62X80 14TPI
L4273700 VHM-Gew.fräser 16.0X20X39.29X110 10TPI
L4273400 VHM-Gew.fräser 4.8X8X13.3X62 20TPI
L4274620 VHM-Gew.fräser 12.4X16X28.88X100 18TPI
L4274500 VHM-Gew.fräser 8.1X12X19.54X80 24TPI
L4274540 VHM-Gew.fräser 9.4X12X22.19X80 20TPI
L4274660 VHM-Gew.fräser 14.0X18X33.12X102 18TPI
L4274460 VHM-Gew.fräser 6.5X10X16.37X74 24TPI
L4274580 VHM-Gew.fräser 11.0X14X26.0X90 20TPI
L4274720 VHM-Gew.fräser 17.0X20X38.86X110 16TPI
L4274420 VHM-Gew.fräser 5.1X8X13.21X62 28TPI
L4211310 VHM-Gew.fräser 4.5X6X13.0X57 1.0P
L41A1360 VHM-Gew.fräser M8X1.25 Ø6.35XØ10X18.48X74
L4211700 VHM-Gew.fräser 16.0X16X42.5X105 2.5P
L41A1420 VHM-Gew.fräser M10X1.5 Ø7.95XØ12X23.77X79
L41A1540 VHM-Gew.fräser M14X2.0 Ø11.20XØ16X33.32X102
L4211600 VHM-Gew.fräser 12.0X12X34.0X92 2.0P
L4211500 VHM-Gew.fräser 9.5X10X26.25X80 1.75P
L4211540 VHM-Gew.fräser 10.0X10X30.0X83 2.0P
L41A1500 VHM-Gew.fräser M12X1.75 Ø9.95XØ14X27.25X89
L41A1310 VHM-Gew.fräser M6X1.0 Ø4.75XØ8X14.68X62
L4211420 VHM-Gew.fräser 7.5X8X21.0X72 1.5P
L4211360 VHM-Gew.fräser 6.0X6X17.5X65 1.25P
L4212510 VHM-Gew.fräser 9.5X10X19.5X72 1.5P
L4212520 VHM-Gew.fräser 9.5X10X18.75X72 1.25P
L4212530 VHM-Gew.fräser 9.5X10X19.0X72 1.0P
L4212550 VHM-Gew.fräser 10.0X10X22.5X83 1.5P
L4212570 VHM-Gew.fräser 10.0X10X22.0X83 1.0P
L4212720 VHM-Gew.fräser 16.0X16X31.5X92 1.5P
L4212730 VHM-Gew.fräser 16.0X16X31.0X92 1.0P
L4212440 VHM-Gew.fräser 8.0X8X16.0X63 1.0P
L4212610 VHM-Gew.fräser 12.0X12X25.5X83 1.5P
L4212620 VHM-Gew.fräser 12.0X12X25.0X83 1.0P
L4212670 VHM-Gew.fräser 14.0X14X28.5X92 1.5P
L4212680 VHM-Gew.fräser 14.0X14X28.0X92 1.0P
L4212370 VHM-Gew.fräser 6.0X6X13.0X57 1.0P
L4212380 VHM-Gew.fräser 6.0X6X12.75X57 0.75P
L1212370 VHM-Gew.fräser 6X6X13X57 1.0P
L1212380 VHM-Gew.fräser 6X6X12.75X57 0.75P
L1212440 VHM-Gew.fräser 8X8X16X63 1.0P
L1212510 VHM-Gew.fräser 9.5X10X19.5X72 1.5P
L1212520 VHM-Gew.fräser 9.5X10X18.75X72 1.25P
L1212530 VHM-Gew.fräser 9.5X10X19X72 1.0P
L1212550 VHM-Gew.fräser 10X10X22.5X83 1.5P
L1212570 VHM-Gew.fräser 10X10X22X83 1.0P
L1212610 VHM-Gew.fräser 12X12X25.5X83 1.5P
L1212620 VHM-Gew.fräser 12X12X25X83 1.0P
L1212720 VHM-Gew.fräser 16X16X31.5X92 1.5P
L1212730 VHM-Gew.fräser 16X16X31X92 1.0P
L1212670 VHM-Gew.fräser 14X14X28.5X92 1.5P
L1212680 VHM-Gew.fräser 14X14X28X92 1.0P
L1211200 VHM-Gew.fräser 2.2X6X5X57 0.5P
L1211240 VHM-Gew.fräser 2.9X6X7X57 0.7P
L1211280 VHM-Gew.fräser 3.8X6X8X57 0.8P
L1211310 VHM-Gew.fräser 4.5X6X13X57 1.0P
L1211420 VHM-Gew.fräser 7.5X8X21X72 1.5P
L1211500 VHM-Gew.fräser 9.5X10X26.25X80 1.75P
L1211540 VHM-Gew.fräser 10X10X30X83 2.0P
L1211600 VHM-Gew.fräser 12X12X34X92 2.0P
L1211360 VHM-Gew.fräser 6X6X17.5X65 1.25P
L1211700 VHM-Gew.fräser 16X16X42.5X105 2.5P
L1211650 VHM-Gew.fräser 14X14X37.5X92 2.5P
L1213400 VHM-Gew.fräser 4.5X6X14X57 20TPI
L1213480 VHM-Gew.fräser 7X8X20.6X72 16TPI
L1213520 VHM-Gew.fräser 8X8X23.6X72 14TPI
L1213560 VHM-Gew.fräser 9.5X10X27.4X80 13TPI
L1213600 VHM-Gew.fräser 10X10X31.8X83 12TPI
L1213700 VHM-Gew.fräser 14X14X40.6X104 10TPI
L1213640 VHM-Gew.fräser 12X12X34.6X92 11TPI
L1213440 VHM-Gew.fräser 5.8X6X16.9X65 18TPI
L1214420 VHM-Gew.fräser 5X6X13.6X57 28TPI
L1214500 VHM-Gew.fräser 8X8X20.1X72 24TPI
L1214540 VHM-Gew.fräser 8X8X24.1X72 20TPI
L1214580 VHM-Gew.fräser 10X10X26.7X80 20TPI
L1214720 VHM-Gew.fräser 14X14X39.7X104 16TPI
L1214620 VHM-Gew.fräser 12X12X29.6X83 18TPI
L1214660 VHM-Gew.fräser 12X12X33.9X92 18TPI
L1214460 VHM-Gew.fräser 6X6X16.9X65 24TPI
L12D1420 VHM-Gew.fräser Ø8.2XØ10X4.5X73 1.5P
L12D1090 VHM-Gew.fräser Ø1.18XØ3X1.05X30 0.35P
L12D1500 VHM-Gew.fräser Ø9.9XØ10X5.25X73 1.75P
L12D1360 VHM-Gew.fräser Ø6.5XØ8X3.75X63 1.25P
L12D1130 VHM-Gew.fräser Ø1.52XØ6X1.2X57 0.4P
L12D1150 VHM-Gew.fräser Ø1.66XØ6X1.35X57 0.45P
L12D1170 VHM-Gew.fräser Ø1.96XØ6X1.35X57 0.45P
L12D1200 VHM-Gew.fräser Ø2.4XØ6X1.5X57 0.5P
L12D1240 VHM-Gew.fräser Ø3.16XØ6X2.1X57 0.7P
L12D1280 VHM-Gew.fräser Ø4.04XØ6X2.4X57 0.8P
L12D1310 VHM-Gew.fräser Ø4.8XØ6X3.0X57 1.0P
EM818030 Fräser 3(R0.3)X6X12X50
EM818040 Fräser 4(R0.3)X6X15X50
EM818050 Fräser 5(R0.3)X6X20X60
EM818060 Fräser 6(R0.5)X6X20X60
EM818901 Fräser 6(R1)X6X20X60
EM818911 Fräser 4(R0.5)X6X15X50
EM818912 Fräser 5(R0.5)X6X20X60
EM818913 Fräser 6(R0.3)X6X20X60
EM818909 Fräser 12(R1.5)X12X30X90
EM818910 Fräser 12(R2)X12X30X90
EM818080 Fräser 8(R0.5)X8X25X70
EM818902 Fräser 8(R1)X8X25X70
EM818914 Fräser 8(R0.3)X8X25X70
EM818920 Fräser 20(R1.5)X20X55X110
EM818921 Fräser 20(R2)X20X55X110
EM818160 Fräser 16(R0.5)X16X50X110
EM818916 Fräser 16(R1)X16X50X110
EM818120 Fräser 12(R0.5)X12X30X90
EM818908 Fräser 12(R1)X12X30X90
EM818200 Fräser 20(R0.5)X20X55X110
EM818919 Fräser 20(R1)X20X55X110
EM818100 Fräser 10(R0.5)X10X30X90
EM818905 Fräser 10(R1)X10X30X90
EM818915 Fräser 10(R0.3)X10X30X90
EM818906 Fräser 10(R1.5)X10X30X90
EM818907 Fräser 10(R2)X10X30X90
EM818917 Fräser 16(R1.5)X16X50X110
EM818918 Fräser 16(R2)X16X50X110
EM818903 Fräser 8(R1.5)X8X25X70
EM818904 Fräser 8(R2)X8X25X70
EM837030 Fräser 3X6X10X55(1˚)
EM837040 Fräser 4X6X15X55(1˚)
EM837050 Fräser 5X6X15X60(1˚)
EM837914 Fräser 3X6X10X55(0.5˚)
EM837915 Fräser 4X6X15X55(0.5˚)
EM837916 Fräser 5X6X15X60(0.5˚)
EM837911 Fräser 8X8X25X70(2˚)
EM837020 Fräser 2X4X6X45(1˚)
EM837913 Fräser 2X4X6X45(0.5˚)
EM837902 Fräser 2X4X6X45(3˚)
EM837903 Fräser 3X6X10X55(2˚)
EM837905 Fräser 4X6X15X55(2˚)
EM837907 Fräser 5X6X15X60(2˚)
EM837910 Fräser 6X8X20X65(3˚)
EM837080 Fräser 8X8X25X70(1˚)
EM837918 Fräser 8X8X25X70(0.5˚)
EM837901 Fräser 2X4X6X45(2˚)
EM837912 Fräser 8X10X25X75(3˚)
EM837060 Fräser 6X6X20X60(1˚)
EM837917 Fräser 6X6X20X60(0.5˚)
EM837904 Fräser 3X6X10X55(3˚)
EM837906 Fräser 4X6X15X55(3˚)
EM837908 Fräser 5X6X15X60(3˚)
EM837909 Fräser 6X6X20X60(2˚)
EM669080 Fräser 8X8X9X100
EM669100 Fräser 10X10X11X100
EM669120 Fräser 12X12X13X100
EM669160 Fräser 16X16X15X150
EM669060 Fräser 6X6X7X100
EM863040 Fräser 4X6X3.1X80
EM863080 Fräser 8X8X6.3X100
EM863100 Fräser 10X10X7.9X100
EM863120 Fräser 12X12X9.5X100
EM863160 Fräser 16X16X12.4X150
EM863060 Fräser 6X6X4.9X100
EM863030 Fräser 3X6X2.3X80
EM863050 Fräser 5X6X3.9X80
EM810025 Fräser 2.5X4X8X40
EM810035 Fräser 3.5X6X10X45
EM810040 Fräser 4X6X11X45
EM810045 Fräser 4.5X6X11X45
EM810050 Fräser 5X6X13X50
EM810055 Fräser 5.5X6X13X50
EM810060 Fräser 6X6X13X50
EM810904 Fräser 2.5X6X8X40
EM820035 Fräser 3.5X6X10X45
EM820040 Fräser 4X6X11X45
EM820045 Fräser 4.5X6X11X45
EM820050 Fräser 5X6X13X50
EM820055 Fräser 5.5X6X13X50
EM820060 Fräser 6X6X13X50
EM820903 Fräser 2.5X6X8X40
EM810085 Fräser 8.5X10X19X70
EM810090 Fräser 9X10X19X70
EM810095 Fräser 9.5X10X19X70
EM810100 Fräser 10X10X22X70
EM820085 Fräser 8.5X10X19X70
EM820090 Fräser 9X10X19X70
EM820095 Fräser 9.5X10X19X70
EM820100 Fräser 10X10X22X70
EM810200 Fräser 20X20X38X105
EM810910 Fräser 18X16X32X100
EM810911 Fräser 19X20X32X100
EM820200 Fräser 20X20X38X105
EM820911 Fräser 19X20X32X100
EM810140 Fräser 14X14X26X85
EM810906 Fräser 13X12X26X85
EM820140 Fräser 14X14X26X85
EM820906 Fräser 13X12X26X85
EM810180 Fräser 18X18X32X100
EM810909 Fräser 17X16X32X100
EM820180 Fräser 18X18X32X100
EM820909 Fräser 17X16X32X100
EM810240 Fräser 24X25X45X120
EM810250 Fräser 25X25X45X120
EM820240 Fräser 24X25X45X120
EM820250 Fräser 25X25X45X120
EM810220 Fräser 22X20X38X105
EM820220 Fräser 22X20X38X105
EM810105 Fräser 10.5X12X22X75
EM810110 Fräser 11X12X22X75
EM810115 Fräser 11.5X12X22X75
EM810120 Fräser 12X12X26X75
EM820105 Fräser 10.5X12X22X75
EM820110 Fräser 11X12X22X75
EM820115 Fräser 11.5X12X22X75
EM820120 Fräser 12X12X26X75
EM810160 Fräser 16X16X32X100
EM810905 Fräser 14X16X26X85
EM810907 Fräser 14X12X26X85
EM810908 Fräser 15X16X26X90
EM820160 Fräser 16X16X32X100
EM820905 Fräser 14X16X26X85
EM820908 Fräser 15X16X26X90
EM810065 Fräser 6.5X8X16X60
EM810070 Fräser 7X8X16X60
EM810075 Fräser 7.5X8X16X60
EM810080 Fräser 8X8X19X60
EM820065 Fräser 6.5X8X16X60
EM820070 Fräser 7X8X16X60
EM820075 Fräser 7.5X8X16X60
EM820080 Fräser 8X8X19X60
EM810901 Fräser 1X6X2.5X40
EM810902 Fräser 1.5X6X4X40
EM820901 Fräser 1X6X2.5X40
EM820902 Fräser 1.5X6X4X40
EM816080 Fräser 8X8X25X70
EM826080 Fräser 8X8X25X70
EM816180 Fräser 18X20X50X110
EM826180 Fräser 18X20X50X110
EM816200 Fräser 20X20X55X110
EM826200 Fräser 20X20X55X110
EM816140 Fräser 14X16X40X110
EM826140 Fräser 14X16X40X110
EM816250 Fräser 25X25X75X140
EM826250 Fräser 25X25X75X140
EM816100 Fräser 10X10X30X90
EM826100 Fräser 10X10X30X90
EM816120 Fräser 12X12X30X90
EM826120 Fräser 12X12X30X90
EM816160 Fräser 16X16X50X110
EM826160 Fräser 16X16X50X110
EM816030 Fräser 3X6X12X50
EM816040 Fräser 4X6X15X50
EM816050 Fräser 5X6X20X60
EM816060 Fräser 6X6X20X60
EM826030 Fräser 3X6X12X50
EM826040 Fräser 4X6X15X50
EM826050 Fräser 5X6X20X60
EM826060 Fräser 6X6X20X60
EM810007 Fräser 0.7X3X1.4X40
EM810008 Fräser 0.8X3X1.6X40
EM810009 Fräser 0.9X3X2X40
EM810004 Fräser 0.4X3X0.8X40
EM810006 Fräser 0.6X3X1.2X40
EM810010 Fräser 1X4X2.5X40
EM810011 Fräser 1.1X4X2.5X40
EM810012 Fräser 1.2X4X4X40
EM810013 Fräser 1.3X4X4X40
EM810014 Fräser 1.4X4X4X40
EM810015 Fräser 1.5X4X4X40
EM810005 Fräser 0.5X3X1X40
EM876180 Fräser 18X18X18X84
EM876025 Fräser 2.5X6X4X50
EM876250 Fräser 25X25X25X104
EM876160 Fräser 16X16X16X82
EM876090 Fräser 9X10X10X66
EM876100 Fräser 10X10X11X66
EM876200 Fräser 20X20X20X92
EM876120 Fräser 12X12X12X73
EM876140 Fräser 14X14X14X75
EM876012 Fräser 1.2X3X3X38
EM876015 Fräser 1.5X3X3X38
EM813010 Fräser 1X4X2.5X50
EM813012 Fräser 1.2X4X3X50
EM813015 Fräser 1.5X4X4X50
EM813901 Fräser 1X6X2.5X50
EM813902 Fräser 1.5X6X4X50
EM823901 Fräser 1X6X2.5X50
EM823902 Fräser 1.5X6X4X50
EM813025 Fräser 2.5X6X6X60
EM823025 Fräser 2.5X6X6X60
EM813060 Fräser 6X6X12X90
EM823060 Fräser 6X6X12X90
EM813160 Fräser 16X16X30X140
EM813903 Fräser 14X16X26X110
EM823160 Fräser 16X16X30X140
EM823903 Fräser 14X16X26X110
EM813120 Fräser 12X12X22X110
EM823120 Fräser 12X12X22X110
EM813090 Fräser 9X10X18X100
EM813100 Fräser 10X10X18X100
EM823090 Fräser 9X10X18X100
EM823100 Fräser 10X10X18X100
EM813180 Fräser 18X18X34X140
EM823180 Fräser 18X18X34X140
EM813035 Fräser 3.5X6X8X70
EM823035 Fräser 3.5X6X8X70
EM813200 Fräser 20X20X38X160
EM823200 Fräser 20X20X38X160
EM813250 Fräser 25X25X50X180
EM823250 Fräser 25X25X50X180
EM813140 Fräser 14X14X26X110
EM823140 Fräser 14X14X26X110
EM813050 Fräser 5X6X10X80
EM823050 Fräser 5X6X10X80
EM813070 Fräser 7X8X14X90
EM813080 Fräser 8X8X14X100
EM823070 Fräser 7X8X14X90
EM823080 Fräser 8X8X14X100
EM899060 Fräser 6X6X12(22)X80
EM899160 Fräser 16X16X30(50)X140
EM899120 Fräser 12X12X22(35)X110
EM899140 Fräser 14X12X26X120
EM899200 Fräser 20X20X38(58)X160
EM899250 Fräser 25X25X55(75)X180
EM899180 Fräser 18X16X34X140
EM899080 Fräser 8X8X14(27)X90
EM899070 Fräser 7X8X14X90
EM899100 Fräser 10X10X18(31)X100
EM899050 Fräser 5X6X12X80
EM865008 Fräser 0.8X3X2X40
EM865009 Fräser 0.9X3X2.2X40
EM865007 Fräser 0.7X3X1.5X40
EM865010 Fräser 1X3X2.5X40
EM865011 Fräser 1.1X3X3X40
EM865012 Fräser 1.2X3X3X40
EM865013 Fräser 1.3X3X3.5X40
EM865014 Fräser 1.4X3X3.5X40
EM865015 Fräser 1.5X3X4X40
EM865006 Fräser 0.6X3X1.1X40
EM838080 Fräser 8X8X14X140
EM838030 Fräser 3X3X8X100
EM838040 Fräser 4X4X8X100
EM838120 Fräser 12X12X22X200
EM838200 Fräser 20X20X38X250
EM838050 Fräser 5X6X10X120
EM838060 Fräser 6X6X10X120
EM838160 Fräser 16X16X30X250
EM838100 Fräser 10X10X18X180
EM902910 Fräser 10X12X18X130
EM902911 Fräser 12X16X22X160
EM902050 Fräser 5X8X10X90
EM902060 Fräser 6X8X12X90
EM902120 Fräser 12X16X22X140
EM902909 Fräser 8X10X14X120
EM902100 Fräser 10X12X18X110
EM902080 Fräser 8X10X14X100
EM902907 Fräser 5X8X10X110
EM902908 Fräser 6X8X12X110
EM878901 Fräser 1X6X1(2.2)X50
EM878120 Fräser 12X12X12(24)X110
EM879120 Fräser 12X12X12X110
EM878070 Fräser 7X8X7(14)X90
EM878180 Fräser 18X18X18(36)X140
EM879180 Fräser 18X18X18X140
EM878250 Fräser 25X25X25(50)X180
EM879250 Fräser 25X25X25X180
EM878050 Fräser 5X6X5(10)X80
EM878200 Fräser 20X20X20(40)X160
EM879200 Fräser 20X20X20X160
EM878140 Fräser 14X14X14(28)X110
EM879140 Fräser 14X14X14X110
EM878160 Fräser 16X16X16(32)X140
EM879160 Fräser 16X16X16X140
EM878090 Fräser 9X10X9(18)X100
EM878100 Fräser 10X10X10(20)X100
EM879090 Fräser 9X10X9X100
EM879100 Fräser 10X10X10X100
EM878080 Fräser 8X8X8(16)X100
EM879080 Fräser 8X8X8X100
EM878010 Fräser 1X4X1(2.2)X50
EM878012 Fräser 1.2X4X1.2(2.6)X50
EM878015 Fräser 1.5X4X1.5(3)X50
EM878020 Fräser 2X6X2(4)X50
EM878025 Fräser 2.5X6X2.5(5)X60
EM878030 Fräser 3X6X3(6)X60
EM879025 Fräser 2.5X6X2.5X60
EM878060 Fräser 6X6X6(12)X90
EM833060 Fräser 6X6X16X57
EM843060 Fräser 6X6X16X57
EM833160 Fräser 16X16X32X92
EM843160 Fräser 16X16X32X92
EM833120 Fräser 12X12X26X83
EM843120 Fräser 12X12X26X83
EM833140 Fräser 14X14X26X83
EM843140 Fräser 14X14X26X83
EM833180 Fräser 18X18X32X92
EM843180 Fräser 18X18X32X92
EM833200 Fräser 20X20X38X104
EM843200 Fräser 20X20X38X104
EM833100 Fräser 10X10X22X72
EM843100 Fräser 10X10X22X72
EM833080 Fräser 8X8X16X63
EM843080 Fräser 8X8X16X63
EM895025 Fräser 2.5X3X7X38
EM895030 Fräser 3X3X10X38
EM895050 Fräser 5X5X14X50
EM895045 Fräser 4.5X6X14X57
EM895060 Fräser 6X6X16X57
EM895901 Fräser 3X6X10X50
EM895902 Fräser 3.5X6X12X50
EM895903 Fräser 4X6X12X50
EM895904 Fräser 5X6X14X57
EM895070 Fräser 7X7X20X60
EM895080 Fräser 8X8X20X63
EM895010 Fräser 1X3X2.5X38
EM895015 Fräser 1.5X4X5X50
EM895140 Fräser 14X14X25X75
EM895035 Fräser 3.5X4X12X50
EM895040 Fräser 4X4X12X50
EM895100 Fräser 10X10X22X72
EM895180 Fräser 18X18X32X92
EM895160 Fräser 16X16X32X82
EM895200 Fräser 20X20X38X92
EM895120 Fräser 12X12X25X73
EM836015 Fräser 1.5X4X2X35
EM836120 Fräser 12X12X15X55
EM846120 Fräser 12X12X15X55
EM836100 Fräser 10X10X13X50
EM846100 Fräser 10X10X13X50
EM836140 Fräser 14X14X15X58
EM846140 Fräser 14X14X15X58
EM836160 Fräser 16X16X18X62
EM836180 Fräser 18X18X20X70
EM846180 Fräser 18X18X20X70
EM836200 Fräser 20X20X22X75
EM846200 Fräser 20X20X22X75
EM836080 Fräser 8X8X11X43
EM846080 Fräser 8X8X11X43
EM836035 Fräser 3.5X6X6X37
EM846160 Fräser 16X16X18X62
EM842090 Fräser 9X10X13X66
EM842100 Fräser 10X10X14X66
EM842140 Fräser 14X14X18X75
EM842180 Fräser 18X18X24X84
EM842120 Fräser 12X12X16X73
EM842200 Fräser 20X20X26X92
EM842250 Fräser 25X25X25X110
EM842160 Fräser 16X16X22X82
EM814070 Fräser 7X8X16X63
EM814080 Fräser 8X8X16X63
EM824070 Fräser 7X8X16X63
EM824080 Fräser 8X8X16X63
EM814200 Fräser 20X20X38X104
EM824200 Fräser 20X20X38X104
EM814180 Fräser 18X18X32X92
EM824180 Fräser 18X18X32X92
EM814160 Fräser 16X16X32X92
EM814901 Fräser 14X16X26X83
EM824160 Fräser 16X16X32X92
EM824901 Fräser 14X16X26X83
EM814250 Fräser 25X25X45X121
EM824250 Fräser 25X25X45X121
EM814120 Fräser 12X12X26X83
EM824120 Fräser 12X12X26X83
EM814090 Fräser 9X10X19X72
EM814100 Fräser 10X10X22X72
EM824090 Fräser 9X10X19X72
EM824100 Fräser 10X10X22X72
EM814140 Fräser 14X14X26X83
EM824140 Fräser 14X14X26X83
EM814060 Fräser 6X6X16X57
EM824040 Fräser 4X6X11X57
EM824050 Fräser 5X6X13X57
EM824060 Fräser 6X6X16X57
EM905100 Fräser 10(R0.5)X8X15X130
EM905901 Fräser 10(R1)X8X15X130
EM905180 Fräser 18(R0.5)X16X27X180
EM905904 Fräser 18(R1)X16X27X180
EM905220 Fräser 22(R0.5)X20X33X200
EM905905 Fräser 22(R1)X20X33X200
EM905140 Fräser 14(R0.5)X12X21X160
EM905903 Fräser 14(R1)X12X21X160
EM905120 Fräser 12(R0.5)X10X18X150
EM905902 Fräser 12(R1)X10X18X150
EM839100 Fräser 10(R1)X10X12(25)X70
EM849100 Fräser 10(R1)X10X12(25)X70
EM839160 Fräser 16(R1.6)X16X18(35)X90
EM849160 Fräser 16(R1.6)X16X18(35)X90
EM839080 Fräser 8(R0.8)X8X10(18)X60
EM849080 Fräser 8(R0.8)X8X10(18)X60
EM839120 Fräser 12(R1.2)X12X15(30)X80
EM849120 Fräser 12(R1.2)X12X15(30)X80
EM839020 Fräser 2(R0.2)X6X2.5(5)X50
EM839025 Fräser 2.5(R0.25)X6X3(6)X50
EM839030 Fräser 3(R0.3)X6X4(7)X50
EM839035 Fräser 3.5(R0.35)X6X4.5(8)X50
EM839040 Fräser 4(R0.4)X6X5(9)X50
EM839050 Fräser 5(R0.5)X6X6(12)X50
EM839060 Fräser 6(R0.6)X6X7(14)X55
EM849020 Fräser 2(R0.2)X6X2.5(5)X50
EM849025 Fräser 2.5(R0.25)X6X3(6)X50
EM849030 Fräser 3(R0.3)X6X4(7)X50
EM849035 Fräser 3.5(R0.35)X6X4.5(8)X50
EM849040 Fräser 4(R0.4)X6X5(9)X50
EM849050 Fräser 5(R0.5)X6X6(12)X50
EM849060 Fräser 6(R0.6)X6X7(14)X55
EM819080 Fräser 8(R0.5)X8X25X70
EM819902 Fräser 8(R1)X8X25X70
EM819914 Fräser 8(R0.3)X8X25X70
EM829080 Fräser 8(R0.5)X8X25X70
EM829902 Fräser 8(R1)X8X25X70
EM829914 Fräser 8(R0.3)X8X25X70
EM819030 Fräser 3(R0.3)X6X12X50
EM819040 Fräser 4(R0.3)X6X15X50
EM819050 Fräser 5(R0.3)X6X20X60
EM819060 Fräser 6(R0.5)X6X20X60
EM819901 Fräser 6(R1)X6X20X60
EM819911 Fräser 4(R0.5)X6X15X50
EM819912 Fräser 5(R0.5)X6X20X60
EM819913 Fräser 6(R0.3)X6X20X60
EM829030 Fräser 3(R0.3)X6X12X50
EM829040 Fräser 4(R0.3)X6X15X50
EM829050 Fräser 5(R0.3)X6X20X60
EM829060 Fräser 6(R0.5)X6X20X60
EM829901 Fräser 6(R1)X6X20X60
EM829911 Fräser 4(R0.5)X6X15X50
EM829912 Fräser 5(R0.5)X6X20X60
EM829913 Fräser 6(R0.3)X6X20X60
EM819100 Fräser 10(R0.5)X10X30X90
EM819905 Fräser 10(R1)X10X30X90
EM819915 Fräser 10(R0.3)X10X30X90
EM829100 Fräser 10(R0.5)X10X30X90
EM829905 Fräser 10(R1)X10X30X90
EM829915 Fräser 10(R0.3)X10X30X90
EM819903 Fräser 8(R1.5)X8X25X70
EM819904 Fräser 8(R2)X8X25X70
EM829903 Fräser 8(R1.5)X8X25X70
EM829904 Fräser 8(R2)X8X25X70
EM819120 Fräser 12(R0.5)X12X30X90
EM819908 Fräser 12(R1)X12X30X90
EM829120 Fräser 12(R0.5)X12X30X90
EM829908 Fräser 12(R1)X12X30X90
EM819917 Fräser 16(R1.5)X16X50X110
EM819918 Fräser 16(R2)X16X50X110
EM829917 Fräser 16(R1.5)X16X50X110
EM829918 Fräser 16(R2)X16X50X110
EM819200 Fräser 20(R0.5)X20X55X110
EM819919 Fräser 20(R1)X20X55X110
EM829200 Fräser 20(R0.5)X20X55X110
EM829919 Fräser 20(R1)X20X55X110
EM819909 Fräser 12(R1.5)X12X30X90
EM819910 Fräser 12(R2)X12X30X90
EM829909 Fräser 12(R1.5)X12X30X90
EM829910 Fräser 12(R2)X12X30X90
EM819906 Fräser 10(R1.5)X10X30X90
EM819907 Fräser 10(R2)X10X30X90
EM829906 Fräser 10(R1.5)X10X30X90
EM829907 Fräser 10(R2)X10X30X90
EM819920 Fräser 20(R1.5)X20X55X110
EM819921 Fräser 20(R2)X20X55X110
EM829920 Fräser 20(R1.5)X20X55X110
EM829921 Fräser 20(R2)X20X55X110
EM819160 Fräser 16(R0.5)X16X50X110
EM819916 Fräser 16(R1)X16X50X110
EM829160 Fräser 16(R0.5)X16X50X110
EM829916 Fräser 16(R1)X16X50X110
EM673080 Fräser 8X8X9X100
EM673100 Fräser 10X10X11X100
EM673120 Fräser 12X12X13X100
EM673160 Fräser 16X16X15X150
EM673060 Fräser 6X6X7X100
EM864080 Fräser 8X8X6.3X100
EM864100 Fräser 10X10X7.9X100
EM864120 Fräser 12X12X9.5X100
EM864160 Fräser 16X16X12.4X150
EM864060 Fräser 6X6X4.9X100
EM864050 Fräser 5X6X3.9X80
EM811025 Fräser 2.5X4X8X40
EM811035 Fräser 3.5X6X10X45
EM811040 Fräser 4X6X11X45
EM811045 Fräser 4.5X6X11X45
EM811050 Fräser 5X6X13X50
EM811055 Fräser 5.5X6X13X50
EM811060 Fräser 6X6X13X50
EM811902 Fräser 2.5X6X8X40
EM821035 Fräser 3.5X6X10X45
EM821040 Fräser 4X6X11X45
EM821045 Fräser 4.5X6X11X45
EM821050 Fräser 5X6X13X50
EM821055 Fräser 5.5X6X13X50
EM821060 Fräser 6X6X13X50
EM821902 Fräser 2.5X6X8X40
EM811085 Fräser 8.5X10X19X70
EM811090 Fräser 9X10X19X70
EM811095 Fräser 9.5X10X19X70
EM811100 Fräser 10X10X22X70
EM821085 Fräser 8.5X10X19X70
EM821090 Fräser 9X10X19X70
EM821095 Fräser 9.5X10X19X70
EM821100 Fräser 10X10X22X70
EM811200 Fräser 20X20X38X105
EM811909 Fräser 19X20X32X100
EM821200 Fräser 20X20X38X105
EM821909 Fräser 19X20X32X100
EM811140 Fräser 14X14X26X85
EM811904 Fräser 13X12X26X85
EM811905 Fräser 14X12X26X85
EM821140 Fräser 14X14X26X85
EM821904 Fräser 13X12X26X85
EM821905 Fräser 14X12X26X85
EM811180 Fräser 18X18X32X100
EM811907 Fräser 17X16X32X100
EM811908 Fräser 18X16X32X100
EM821180 Fräser 18X18X32X100
EM821907 Fräser 17X16X32X100
EM821908 Fräser 18X16X32X100
EM811240 Fräser 24X25X45X120
EM811250 Fräser 25X25X45X120
EM821240 Fräser 24X25X45X120
EM821250 Fräser 25X25X45X120
EM811220 Fräser 22X20X38X105
EM821220 Fräser 22X20X38X105
EM811105 Fräser 10.5X12X22X75
EM811110 Fräser 11X12X22X75
EM811115 Fräser 11.5X12X22X75
EM811120 Fräser 12X12X26X75
EM821105 Fräser 10.5X12X22X75
EM821110 Fräser 11X12X22X75
EM821115 Fräser 11.5X12X22X75
EM821120 Fräser 12X12X26X75
EM811160 Fräser 16X16X32X100
EM811903 Fräser 14X16X26X85
EM811906 Fräser 15X16X26X90
EM821160 Fräser 16X16X32X100
EM821903 Fräser 14X16X26X85
EM821906 Fräser 15X16X26X90
EM811065 Fräser 6.5X8X16X60
EM811070 Fräser 7X8X16X60
EM811075 Fräser 7.5X8X16X60
EM811080 Fräser 8X8X19X60
EM821065 Fräser 6.5X8X16X60
EM821070 Fräser 7X8X16X60
EM821075 Fräser 7.5X8X16X60
EM821080 Fräser 8X8X19X60
EM817080 Fräser 8X8X25X70
EM827080 Fräser 8X8X25X70
EM817180 Fräser 18X20X50X110
EM827180 Fräser 18X20X50X110
EM817200 Fräser 20X20X55X110
EM827200 Fräser 20X20X55X110
EM817140 Fräser 14X16X40X110
EM827140 Fräser 14X16X40X110
EM817250 Fräser 25X25X75X140
EM827250 Fräser 25X25X75X140
EM817100 Fräser 10X10X30X90
EM827100 Fräser 10X10X30X90
EM817120 Fräser 12X12X30X90
EM827120 Fräser 12X12X30X90
EM817160 Fräser 16X16X50X110
EM827160 Fräser 16X16X50X110
EM817030 Fräser 3X6X12X50
EM817040 Fräser 4X6X15X50
EM817050 Fräser 5X6X20X60
EM817060 Fräser 6X6X20X60
EM827030 Fräser 3X6X12X50
EM827040 Fräser 4X6X15X50
EM827050 Fräser 5X6X20X60
EM827060 Fräser 6X6X20X60
EM815010 Fräser 1X4X2.5X50
EM815015 Fräser 1.5X4X4X50
EM815160 Fräser 16X16X30X140
EM815903 Fräser 14X16X26X110
EM825160 Fräser 16X16X30X140
EM825903 Fräser 14X16X26X110
EM815200 Fräser 20X20X38X160
EM825200 Fräser 20X20X38X160
EM815180 Fräser 18X18X34X140
EM825180 Fräser 18X18X34X140
EM815250 Fräser 25X25X50X180
EM825250 Fräser 25X25X50X180
EM815901 Fräser 1X6X2.5X50
EM815902 Fräser 1.5X6X4X50
EM825901 Fräser 1X6X2.5X50
EM825902 Fräser 1.5X6X4X50
EM815120 Fräser 12X12X22X110
EM825120 Fräser 12X12X22X110
EM815140 Fräser 14X14X26X110
EM825140 Fräser 14X14X26X110
EM815070 Fräser 7X8X14X90
EM815080 Fräser 8X8X14X100
EM825070 Fräser 7X8X14X90
EM825080 Fräser 8X8X14X100
EM815090 Fräser 9X10X18X100
EM815100 Fräser 10X10X18X100
EM825090 Fräser 9X10X18X100
EM825100 Fräser 10X10X18X100
EM815060 Fräser 6X6X12X90
EM825060 Fräser 6X6X12X90
EM815050 Fräser 5X6X10X80
EM825050 Fräser 5X6X10X80
EM812060 Fräser 6X6X13X57
EM822060 Fräser 6X6X13X57
EM812120 Fräser 12X12X26X83
EM822120 Fräser 12X12X26X83
EM812200 Fräser 20X20X38X104
EM822200 Fräser 20X20X38X104
EM812250 Fräser 25X25X44X104
EM822250 Fräser 25X25X44X104
EM812140 Fräser 14X14X26X83
EM822140 Fräser 14X14X26X83
EM812180 Fräser 18X18X32X92
EM822180 Fräser 18X18X32X92
EM812160 Fräser 16X16X32X92
EM812901 Fräser 14X16X26X83
EM822160 Fräser 16X16X32X92
EM822901 Fräser 14X16X26X83
EM812090 Fräser 9X10X19X72
EM812100 Fräser 10X10X22X72
EM822090 Fräser 9X10X19X72
EM822100 Fräser 10X10X22X72
EM812070 Fräser 7X8X16X63
EM812080 Fräser 8X8X19X63
EM822070 Fräser 7X8X16X63
EM822080 Fräser 8X8X19X63
EM834100 Fräser 10X10X46X100
EM844100 Fräser 10X10X46X100
EM834200 Fräser 20X20X76X140
EM844200 Fräser 20X20X76X140
EM834160 Fräser 16X16X66X130
EM844160 Fräser 16X16X66X130
EM834250 Fräser 25X25X92X180
EM844250 Fräser 25X25X92X180
EM834120 Fräser 12X12X56X110
EM844120 Fräser 12X12X56X110
EM834060 Fräser 6X6X26X70
EM844060 Fräser 6X6X26X70
EM834080 Fräser 8X8X36X90
EM844080 Fräser 8X8X36X90
EM897120 Fräser 12(R1)X12X12(30)X75
EM897060 Fräser 6(R0.5)X6X6(14)X50
EM897100 Fräser 10(R1)X10X10(30)X70
EM897080 Fräser 8(R0.5)X8X8(24)X60
EM835060 Fräser 6(R0.5)X6X13X70
EM835120 Fräser 12(R0.5)X12X26X110
EM835902 Fräser 12(R1)X12X26X110
EM835160 Fräser 16(R1)X16X32X130
EM835080 Fräser 8(R0.5)X8X19X90
EM835903 Fräser 16(R1.5)X16X32X130
EM835200 Fräser 20(R1)X20X38X140
EM835904 Fräser 20(R1.5)X20X38X140
EM835905 Fräser 20(R2)X20X38X140
EM835100 Fräser 10(R0.5)X10X22X100
EM835901 Fräser 10(R1)X10X22X100
EM8A1010 Fräser 1(R0.1)X4X1.5(6)X45
EM8A1012 Fräser 1.2(R0.2)X4X1.8(6)X45
EM8A1014 Fräser 1.4(R0.2)X4X2.1(6)X45
EM8A1015 Fräser 1.5(R0.2)X4X2.3(6)X45
EM8A1016 Fräser 1.6(R0.2)X4X2.4(8)X45
EM8A1018 Fräser 1.8(R0.2)X4X2.7(6)X45
EM8A1920 Fräser 1(R0.1)X4X1.5(8)X45
EM8A1921 Fräser 1(R0.1)X4X1.5(10)X45
EM8A1923 Fräser 1(R0.1)X4X1.5(4)X45
EM8A1926 Fräser 1.2(R0.2)X4X1.8(8)X45
EM8A1927 Fräser 1.2(R0.2)X4X1.8(10)X45
EM8A1931 Fräser 1.4(R0.2)X4X2.1(8)X45
EM8A1932 Fräser 1.4(R0.2)X4X2.1(10)X45
EM8A1937 Fräser 1.5(R0.2)X4X2.3(8)X45
EM8A1938 Fräser 1.5(R0.2)X4X2.3(10)X45
EM8A1948 Fräser 1.6(R0.2)X4X2.4(6)X45
EM8A1949 Fräser 1.6(R0.2)X4X2.4(10)X45
EM8A1952 Fräser 1.8(R0.2)X4X2.7(8)X45
EM8A1953 Fräser 1.8(R0.2)X4X2.7(10)X45
EM8A1020 Fräser 2(R0.2)X4X3(8)X45
EM8A1025 Fräser 2.5(R0.2)X4X3.7(10)X45
EM8A1960 Fräser 2(R0.2)X4X3(6)X45
EM8A1961 Fräser 2(R0.2)X4X3(10)X45
EM8A1962 Fräser 2(R0.2)X4X3(12)X45
EM8A1963 Fräser 2(R0.2)X4X3(14)X50
EM8A1968 Fräser 2.5(R0.2)X4X3.7(8)X45
EM8A1969 Fräser 2.5(R0.2)X4X3.7(12)X45
EM8A1970 Fräser 2.5(R0.2)X4X3.7(14)X50
EM8A1030 Fräser 3(R0.3)X6X4.5(8)X45
EM8A1040 Fräser 4(R0.3)X6X6(12)X50
EM8A1060 Fräser 6(R0.5)X6X9(20)X80
EM8A1978 Fräser 3(R0.3)X6X4.5(10)X45
EM8A1979 Fräser 3(R0.3)X6X4.5(12)X45
EM8A1980 Fräser 3(R0.3)X6X4.5(14)X50
EM8A1007 Fräser 0.7(R0.1)X4X1(2)X45
EM8A1908 Fräser 0.7(R0.1)X4X1(3)X45
EM8A1909 Fräser 0.7(R0.1)X4X1(8)X45
EM8A1911 Fräser 0.7(R0.1)X4X1(4)X45
EM8A1912 Fräser 0.7(R0.1)X4X1(6)X45
EM8A1803 Fräser 6(R0.5)X6X9(50)X110
EM8A1999 Fräser 5(R0.5)X6X7.5(50)X110
EM8A1903 Fräser 0.5(R0.05)X4X0.7(8)X45
EM8A1904 Fräser 0.6(R0.05)X4X0.9(10)X45
EM8A1976 Fräser 3(R0.3)X6X4.5(30)X70
EM8A1989 Fräser 4(R0.3)X6X6(30)X70
EM8A1993 Fräser 4(R0.3)X6X6(50)X100
EM8A1977 Fräser 3(R0.3)X6X4.5(35)X80
EM8A1985 Fräser 3(R0.3)X6X4.5(40)X90
EM8A1990 Fräser 4(R0.3)X6X6(35)X80
EM8A1991 Fräser 4(R0.3)X6X6(40)X90
EM8A1996 Fräser 5(R0.5)X6X7.5(30)X80
EM8A1997 Fräser 5(R0.5)X6X7.5(35)X80
EM8A1998 Fräser 5(R0.5)X6X7.5(40)X80
EM8A1050 Fräser 5(R0.5)X6X7.5(16)X60
EM8A1981 Fräser 3(R0.3)X6X4.5(16)X55
EM8A1982 Fräser 3(R0.3)X6X4.5(18)X55
EM8A1983 Fräser 3(R0.3)X6X4.5(20)X60
EM8A1984 Fräser 3(R0.3)X6X4.5(25)X65
EM8A1986 Fräser 4(R0.3)X6X6(16)X60
EM8A1987 Fräser 4(R0.3)X6X6(20)X60
EM8A1988 Fräser 4(R0.3)X6X6(25)X70
EM8A1994 Fräser 5(R0.5)X6X7.5(20)X60
EM8A1995 Fräser 5(R0.5)X6X7.5(25)X70
EM8A1959 Fräser 2(R0.2)X4X3(30)X70
EM8A1967 Fräser 2(R0.2)X4X3(25)X60
EM8A1922 Fräser 1(R0.1)X4X1.5(12)X45
EM8A1928 Fräser 1.2(R0.2)X4X1.8(12)X45
EM8A1933 Fräser 1.4(R0.2)X4X2.1(12)X45
EM8A1934 Fräser 1.4(R0.2)X4X2.1(14)X50
EM8A1939 Fräser 1.5(R0.2)X4X2.3(12)X45
EM8A1940 Fräser 1.5(R0.2)X4X2.3(14)X50
EM8A1943 Fräser 1.6(R0.2)X4X2.4(14)X50
EM8A1950 Fräser 1.6(R0.2)X4X2.4(12)X45
EM8A1954 Fräser 1.8(R0.2)X4X2.7(12)X45
EM8A1955 Fräser 1.8(R0.2)X4X2.7(14)X50
EM8A1915 Fräser 0.8(R0.1)X4X1.2(10)X45
EM8A1964 Fräser 2(R0.2)X4X3(16)X50
EM8A1965 Fräser 2(R0.2)X4X3(18)X55
EM8A1966 Fräser 2(R0.2)X4X3(20)X55
EM8A1971 Fräser 2.5(R0.2)X4X3.7(16)X55
EM8A1972 Fräser 2.5(R0.2)X4X3.7(18)X55
EM8A1973 Fräser 2.5(R0.2)X4X3.7(20)X60
EM8A1992 Fräser 4(R0.3)X6X6(45)X90
EM8A1907 Fräser 0.6(R0.05)X4X0.9(8)X45
EM8A1801 Fräser 6(R0.5)X6X9(30)X90
EM8A1802 Fräser 6(R0.5)X6X9(40)X100
EM8A1974 Fräser 2.5(R0.2)X4X3.7(25)X70
EM8A1975 Fräser 2.5(R0.2)X4X3.7(30)X80
EM8A1925 Fräser 1(R0.1)X4X1.5(20)X55
EM8A1930 Fräser 1.4(R0.2)X4X2.1(22)X55
EM8A1008 Fräser 0.8(R0.1)X4X1.2(4)X45
EM8A1009 Fräser 0.9(R0.1)X4X1.35(6)X45
EM8A1913 Fräser 0.8(R0.1)X4X1.2(6)X45
EM8A1914 Fräser 0.8(R0.1)X4X1.2(8)X45
EM8A1918 Fräser 0.9(R0.1)X4X1.35(8)X45
EM8A1919 Fräser 0.9(R0.1)X4X1.35(10)X45
EM8A1924 Fräser 1(R0.1)X4X1.5(16)X50
EM8A1929 Fräser 1.2(R0.2)X4X1.8(16)X50
EM8A1935 Fräser 1.4(R0.2)X4X2.1(16)X50
EM8A1936 Fräser 1.5(R0.2)X4X2.3(20)X55
EM8A1941 Fräser 1.5(R0.2)X4X2.3(16)X50
EM8A1942 Fräser 1.5(R0.2)X4X2.3(18)X55
EM8A1944 Fräser 1.6(R0.2)X4X2.4(16)X50
EM8A1945 Fräser 1.6(R0.2)X4X2.4(18)X55
EM8A1946 Fräser 1.6(R0.2)X4X2.4(20)X55
EM8A1956 Fräser 1.8(R0.2)X4X2.7(16)X50
EM8A1957 Fräser 1.8(R0.2)X4X2.7(18)X55
EM8A1958 Fräser 1.8(R0.2)X4X2.7(20)X55
EM8A1005 Fräser 0.5(R0.05)X4X0.7(2)X45
EM8A1006 Fräser 0.6(R0.05)X4X0.9(2)X45
EM8A1901 Fräser 0.5(R0.05)X4X0.7(4)X45
EM8A1902 Fräser 0.5(R0.05)X4X0.7(6)X45
EM8A1905 Fräser 0.6(R0.05)X4X0.9(4)X45
EM8A1906 Fräser 0.6(R0.05)X4X0.9(6)X45
EM8A1947 Fräser 1.6(R0.2)X4X2.4(26)X60
EM8A1951 Fräser 1.8(R0.2)X4X2.7(25)X60
EM8A1910 Fräser 0.7(R0.1)X4X1(10)X45
EM8A1916 Fräser 0.8(R0.1)X4X1.2(12)X45
EM8A1917 Fräser 0.9(R0.1)X4X1.35(15)X50
EM886010 Fräser 1X4X1.5(6)X45
EM886012 Fräser 1.2X4X1.8(8)X45
EM886015 Fräser 1.5X4X2.3(8)X45
EM886902 Fräser 1X4X1.5(8)X45
EM886903 Fräser 1X4X1.5(10)X45
EM886908 Fräser 2X4X3(12)X45
EM886909 Fräser 2X4X3(16)X50
EM886920 Fräser 1X4X1.5(3)X45
EM886921 Fräser 1X4X1.5(4)X45
EM886923 Fräser 1X4X1.5(5)X45
EM886924 Fräser 1X4X1.5(7)X45
EM886925 Fräser 1X4X1.5(9)X45
EM886928 Fräser 1.4X4X2.1(8)X45
EM886930 Fräser 1.5X4X2.3(6)X45
EM886931 Fräser 1.5X4X2.3(10)X45
EM886933 Fräser 1.6X4X2.4(8)X45
EM886936 Fräser 1.8X4X2.7(8)X45
EM886943 Fräser 2X4X3(14)X50
EM886966 Fräser 1X4X1.5(20)X55
EM886946 Fräser 3X6X4.5(8)X50
EM886947 Fräser 3X6X4.5(10)X50
EM886948 Fräser 3X6X4.5(12)X50
EM886949 Fräser 4X6X6(10)X60
EM886950 Fräser 4X6X6(12)X60
EM886004 Fräser 0.4X4X0.6(1)X45
EM886005 Fräser 0.5X4X0.7(2)X45
EM886006 Fräser 0.6X3X0.9(6)X35
EM886030 Fräser 3X6X4.5(16)X55
EM886040 Fräser 4X6X6(16)X60
EM886050 Fräser 5X6X7.5(16)X60
EM886915 Fräser 0.6X4X0.9(4)X45
EM886916 Fräser 0.6X4X0.9(6)X45
EM886957 Fräser 0.6X4X0.9(2)X45
EM886962 Fräser 0.5X4X0.7(4)X45
EM886967 Fräser 2X4X3(30)X70
EM886014 Fräser 1.4X4X2.1(12)X45
EM886904 Fräser 1X4X1.5(12)X45
EM886905 Fräser 1.2X4X1.8(12)X45
EM886906 Fräser 1.5X4X2.3(12)X45
EM886910 Fräser 2X4X3(20)X55
EM886926 Fräser 1X4X1.5(14)X50
EM886934 Fräser 1.6X4X2.4(12)X45
EM886937 Fräser 1.8X4X2.7(12)X45
EM886944 Fräser 2X4X3(22)X60
EM886945 Fräser 2X4X3(25)X60
EM886956 Fräser 6X6X9(50)X110
EM886974 Fräser 4X6X6(45)X90
EM886975 Fräser 4X6X6(50)X100
EM886955 Fräser 6X6X9(40)X100
EM886970 Fräser 3X6X4.5(35)X80
EM886972 Fräser 4X6X6(35)X80
EM886973 Fräser 4X6X6(40)X90
EM886976 Fräser 5X6X7.5(35)X80
EM886917 Fräser 0.6X4X0.9(8)X45
EM886960 Fräser 0.4X4X0.6(2)X45
EM886961 Fräser 0.4X4X0.6(3)X45
EM886963 Fräser 0.5X4X0.7(6)X45
EM886964 Fräser 0.5X4X0.7(8)X45
EM886020 Fräser 2X4X3(8)X45
EM886939 Fräser 2X4X3(4)X45
EM886940 Fräser 2X4X3(6)X45
EM886941 Fräser 2X4X3(10)X45
EM886942 Fräser 2X4X3(12)X50
EM886060 Fräser 6X6X9(20)X80
EM886911 Fräser 3X6X4.5(20)X60
EM886912 Fräser 4X6X6(20)X65
EM886913 Fräser 4X6X6(25)X70
EM886951 Fräser 5X6X7.5(20)X60
EM886952 Fräser 5X6X7.5(25)X70
EM886968 Fräser 3X6X4.5(25)X65
EM886953 Fräser 5X6X7.5(30)X80
EM886954 Fräser 6X6X9(30)X90
EM886969 Fräser 3X6X4.5(30)X70
EM886971 Fräser 4X6X6(30)X70
EM886965 Fräser 0.8X4X1.2(10)X45
EM886016 Fräser 1.6X4X2.4(16)X50
EM886018 Fräser 1.8X4X2.7(16)X50
EM886907 Fräser 1.5X4X2.3(16)X50
EM886927 Fräser 1X4X1.5(16)X50
EM886929 Fräser 1.4X4X2.1(16)X50
EM886932 Fräser 1.5X4X2.3(20)X55
EM886935 Fräser 1.6X4X2.4(20)X55
EM886938 Fräser 1.8X4X2.7(20)X55
EM886008 Fräser 0.8X4X1.2(6)X45
EM886901 Fräser 0.8X4X1.2(8)X45
EM886918 Fräser 0.8X4X1.2(2)X45
EM886919 Fräser 0.8X4X1.2(4)X45
SEME35007E 4G Mills0.7X4X1.4X40
SEME35005E 4G Mills0.5X4X1X40
SEME35006E 4G Mills0.6X4X1.2X40
SEME35020E 4G Mills2X6X6X50
SEME35025E 4G Mills2.5X6X7X50
SEME35030E 4G Mills3X6X8X50
SEME35035E 4G Mills3.5X6X10X50
SEME35040E 4G Mills4X6X10X50
SEME35045E 4G Mills4.5X6X14X50
SEME35050E 4G Mills5X6X15X60
SEME35060E 4G Mills6X6X15X60
SEME35065E 4G Mills6.5X8X18X60
SEME35070E 4G Mills7X8X20X60
SEME35080E 4G Mills8X8X20X70
SEME350103SE 4G Mills1X3X2.5X50
SEME350123SE 4G Mills1.2X3X3X50
SEME350153SE 4G Mills1.5X3X4X50
SEME35004E 4G Mills0.4X4X0.8X40
SEME350043SE 4G Mills0.4X3X0.8X40
SEME35200E 4G Mills20X20X45X100
SEME350033SE 4G Mills0.3X3X0.6X40
SEME35001E 4G Mills0.1X4X0.2X40
SEME35180E 4G Mills18X16X45X100
SEME350013SE 4G Mills0.1X3X0.2X40
SEME35085E 4G Mills8.5X10X22X70
SEME35090E 4G Mills9X10X22X70
SEME35095E 4G Mills9.5X10X24X70
SEME35100E 4G Mills10X10X25X75
SEME35130E 4G Mills13X12X35X100
SEME3514014SE 4G Mills14X14X35X100
SEME350073SE 4G Mills0.7X3X1.4X40
SEME35002E 4G Mills0.2X4X0.4X40
SEME350204SE 4G Mills2X4X6X50
SEME350224SE 4G Mills2.2X4X6X50
SEME350244SE 4G Mills2.4X4X6X50
SEME350254SE 4G Mills2.5X4X8X50
SEME350264SE 4G Mills2.6X4X8X50
SEME350274SE 4G Mills2.7X4X8X50
SEME350284SE 4G Mills2.8X4X8X50
SEME350304SE 4G Mills3X4X8X50
SEME35140E 4G Mills14X16X35X100
SEME35150E 4G Mills15X16X38X100
SEME35160E 4G Mills16X16X40X100
SEME350023SE 4G Mills0.2X3X0.4X40
SEME35008E 4G Mills0.8X4X1.6X40
SEME35009E 4G Mills0.9X4X1.8X40
SEME35105E 4G Mills10.5X12X26X75
SEME35110E 4G Mills11X12X30X75
SEME35120E 4G Mills12X12X30X80
SEME35010E 4G Mills1X6X2.5X50
SEME35012E 4G Mills1.2X6X3X50
SEME35015E 4G Mills1.5X6X4X50
SEME350104SE 4G Mills1X4X2.5X50
SEME350124SE 4G Mills1.2X4X3X50
SEME350134SE 4G Mills1.3X4X3X50
SEME350144SE 4G Mills1.4X4X4X50
SEME350154SE 4G Mills1.5X4X4X50
SEME350164SE 4G Mills1.6X4X4X50
SEME350184SE 4G Mills1.8X4X5X50
SEME350053SE 4G Mills0.5X3X1X40
SEME35003E 4G Mills0.3X4X0.6X40
SEME350063SE 4G Mills0.6X3X1.2X40
SEME350083SE 4G Mills0.8X3X1.6X40
SEME350093SE 4G Mills0.9X3X1.8X40
SEME350203SE 4G Mills2X3X6X50
SEME350253SE 4G Mills2.5X3X7X50
SEME350303SE 4G Mills3X3X8X50
SEME350015E 4G Mills0.15X4X0.3X40
SEME350025E 4G Mills0.25X4X0.5X40
SEME350035E 4G Mills0.35X4X0.7X40
SEME350045E 4G Mills0.45X4X0.9X40
SEME350055E 4G Mills0.55X4X1.1X40
SEME350065E 4G Mills0.65X4X1.3X40
SEME350075E 4G Mills0.75X4X1.5X40
SEME350085E 4G Mills0.85X4X1.7X40
SEME350095E 4G Mills0.95X4X2X40
SEME350114SE 4G Mills1.1X4X3X50
SEME350174SE 4G Mills1.7X4X4X50
SEME350194SE 4G Mills1.9X4X5X50
SEME350214SE 4G Mills2.1X4X6X50
SEME350234SE 4G Mills2.3X4X6X50
SEME350294SE 4G Mills2.9X4X8X50
SEME350354SE 4G Mills3.5X4X10X50
SEME350404S080E 4G Mills4X4X10X80
SEME350404SE 4G Mills4X4X10X50
SEME35055E 4G Mills5.5X6X15X60
SEME35075E 4G Mills7.5X8X20X60
SEME35115E 4G Mills11.5X12X30X80
SEME3514012SE 4G Mills14X12X35X100
SEME35170E 4G Mills17X16X42X100
SEME3518018SE 4G Mills18X18X45X100
SEME35190E 4G Mills19X20X45X100
SEME35210E 4G Mills21X20X45X100
SEME35220E 4G Mills22X20X45X100
SEME35230E 4G Mills23X25X50X120
SEME35240E 4G Mills24X25X50X120
SEME35250E 4G Mills25X25X50X120
SEMD9908005070E 4G Mills8(R0.5)X8X20X70
SEMD9908010070E 4G Mills8(R1)X8X20X70
SEMD9910015E 4G Mills10(R1.5)X10X25X100
SEMD9910020E 4G Mills10(R2)X10X25X100
SEMD9904002E 4G Mills4(R0.2)X6X10X70
SEMD9904003E 4G Mills4(R0.3)X6X10X70
SEMD9904005E 4G Mills4(R0.5)X6X10X70
SEMD9904010E 4G Mills4(R1)X6X10X70
SEMD9912005E 4G Mills12(R0.5)X12X30X110
SEMD9912010E 4G Mills12(R1)X12X30X110
SEMD9912005080E 4G Mills12(R0.5)X12X30X80
SEMD9912010080E 4G Mills12(R1)X12X30X80
SEMD9902002E 4G Mills2(R0.2)X6X6X50
SEMD9902003E 4G Mills2(R0.3)X6X6X50
SEMD9902005E 4G Mills2(R0.5)X6X6X50
SEMD9903002E 4G Mills3(R0.2)X6X8X60
SEMD9903003E 4G Mills3(R0.3)X6X8X60
SEMD9903005E 4G Mills3(R0.5)X6X8X60
SEMD9906002060E 4G Mills6(R0.2)X6X15X60
SEMD9906003060E 4G Mills6(R0.3)X6X15X60
SEMD9906005060E 4G Mills6(R0.5)X6X15X60
SEMD9906010060E 4G Mills6(R1)X6X15X60
SEMD9910005E 4G Mills10(R0.5)X10X25X100
SEMD9910010E 4G Mills10(R1)X10X25X100
SEMD9916020E 4G Mills16(R2)X16X32X150
SEMD9920010E 4G Mills20(R1)X20X38X150
SEMD9908015E 4G Mills8(R1.5)X8X20X100
SEMD9908020E 4G Mills8(R2)X8X20X100
SEMD9920020E 4G Mills20(R2)X20X38X150
SEMD9914010E 4G Mills14(R1)X16X35X150
SEMD9916010E 4G Mills16(R1)X16X32X150
SEMD9912015E 4G Mills12(R1.5)X12X30X110
SEMD9912020E 4G Mills12(R2)X12X30X110
SEMD9912025E 4G Mills12(R2.5)X12X30X110
SEMD9910005075E 4G Mills10(R0.5)X10X25X75
SEMD9910010075E 4G Mills10(R1)X10X25X75
SEMD9912030E 4G Mills12(R3)X12X30X110
SEMD9905002E 4G Mills5(R0.2)X6X13X90
SEMD9905003E 4G Mills5(R0.3)X6X13X90
SEMD9905005E 4G Mills5(R0.5)X6X13X90
SEMD9905010E 4G Mills5(R1)X6X13X90
SEMD9906002E 4G Mills6(R0.2)X6X15X90
SEMD9906003E 4G Mills6(R0.3)X6X15X90
SEMD9906005E 4G Mills6(R0.5)X6X15X90
SEMD9906010E 4G Mills6(R1)X6X15X90
SEMD9908005E 4G Mills8(R0.5)X8X20X100
SEMD9908010E 4G Mills8(R1)X8X20X100
SEMD9901002E 4G Mills1(R0.2)X6X2.5X50
SEMD9901003E 4G Mills1(R0.3)X6X2.5X50
SEMD9901502E 4G Mills1.5(R0.2)X6X4X50
SEMD9901503E 4G Mills1.5(R0.3)X6X4X50
SEMD9901505E 4G Mills1.5(R0.5)X6X4X50
SEMD99002002E 4G Mills0.2(R0.02)X4X0.4X40
SEMD99002005E 4G Mills0.2(R0.05)X4X0.4X40
SEMD99003002E 4G Mills0.3(R0.02)X4X0.6X40
SEMD99003005E 4G Mills0.3(R0.05)X4X0.6X40
SEMD99004005E 4G Mills0.4(R0.05)X4X0.8X40
SEMD9900401E 4G Mills0.4(R0.1)X4X0.8X40
SEMD99005005E 4G Mills0.5(R0.05)X4X1X40
SEMD9900501E 4G Mills0.5(R0.1)X4X1X40
SEMD99006005E 4G Mills0.6(R0.05)X4X1.2X40
SEMD9900601E 4G Mills0.6(R0.1)X4X1.2X40
SEMD9900602E 4G Mills0.6(R0.2)X4X1.2X40
SEMD99007005E 4G Mills0.7(R0.05)X4X1.4X40
SEMD9900701E 4G Mills0.7(R0.1)X4X1.4X40
SEMD9900702E 4G Mills0.7(R0.2)X4X1.4X40
SEMD99008005E 4G Mills0.8(R0.05)X4X1.6X40
SEMD9900801E 4G Mills0.8(R0.1)X4X1.6X40
SEMD9900802E 4G Mills0.8(R0.2)X4X1.6X40
SEMD99009005E 4G Mills0.9(R0.05)X4X1.8X40
SEMD9900901E 4G Mills0.9(R0.1)X4X1.8X40
SEMD99010005E 4G Mills1(R0.05)X6X2.5X50
SEMD9901001E 4G Mills1(R0.1)X6X2.5X50
SEMD99012005E 4G Mills1.2(R0.05)X6X3X50
SEMD9901201E 4G Mills1.2(R0.1)X6X3X50
SEMD9901202E 4G Mills1.2(R0.2)X6X3X50
SEMD9901203E 4G Mills1.2(R0.3)X6X3X50
SEMD99015005E 4G Mills1.5(R0.05)X6X4X50
SEMD9901501E 4G Mills1.5(R0.1)X6X4X50
SEMD9902001E 4G Mills2(R0.1)X6X6X50
SEMD9902501E 4G Mills2.5(R0.1)X6X7X60
SEMD9902502E 4G Mills2.5(R0.2)X6X7X60
SEMD9902503E 4G Mills2.5(R0.3)X6X7X60
SEMD9902505E 4G Mills2.5(R0.5)X6X7X60
SEMD9903001E 4G Mills3(R0.1)X6X8X60
SEMD9903010E 4G Mills3(R1)X6X8X60
SEMD9903501E 4G Mills3.5(R0.1)X6X10X70
SEMD9903502E 4G Mills3.5(R0.2)X6X10X70
SEMD9903503E 4G Mills3.5(R0.3)X6X10X70
SEMD9903505E 4G Mills3.5(R0.5)X6X10X70
SEMD99040011004SE 4G Mills4(R0.1)X4X10X100
SEMD99040014SE 4G Mills4(R0.1)X4X10X70
SEMD9904001E 4G Mills4(R0.1)X6X10X70
SEMD99040021004SE 4G Mills4(R0.2)X4X10X100
SEMD99040024SE 4G Mills4(R0.2)X4X10X70
SEMD99040031004SE 4G Mills4(R0.3)X4X10X100
SEMD99040034SE 4G Mills4(R0.3)X4X10X70
SEMD99040051004SE 4G Mills4(R0.5)X4X10X100
SEMD99040054SE 4G Mills4(R0.5)X4X10X70
SEMD99040101004SE 4G Mills4(R1)X4X10X100
SEMD99040104SE 4G Mills4(R1)X4X10X70
SEMD9904501E 4G Mills4.5(R0.1)X6X11X80
SEMD9904502E 4G Mills4.5(R0.2)X6X11X80
SEMD9904503E 4G Mills4.5(R0.3)X6X11X80
SEMD9904505E 4G Mills4.5(R0.5)X6X11X80
SEMD9905001E 4G Mills5(R0.1)X6X13X90
SEMD9905501E 4G Mills5.5(R0.1)X6X13X90
SEMD9905502E 4G Mills5.5(R0.2)X6X13X90
SEMD9905503E 4G Mills5.5(R0.3)X6X13X90
SEMD9905505E 4G Mills5.5(R0.5)X6X13X90
SEMD9905510E 4G Mills5.5(R1)X6X13X90
SEMD9906001E 4G Mills6(R0.1)X6X15X90
SEMD9906005110E 4G Mills6(R0.5)X6X15X110
SEMD9906005130E 4G Mills6(R0.5)X6X15X130
SEMD9906010110E 4G Mills6(R1)X6X15X110
SEMD9906010130E 4G Mills6(R1)X6X15X130
SEMD9906015E 4G Mills6(R1.5)X6X15X90
SEMD9906020E 4G Mills6(R2)X6X15X90
SEMD9907001E 4G Mills7(R0.1)X8X16X90
SEMD9907002E 4G Mills7(R0.2)X8X16X90
SEMD9907003E 4G Mills7(R0.3)X8X16X90
SEMD9907005E 4G Mills7(R0.5)X8X16X90
SEMD9907010E 4G Mills7(R1)X8X16X90
SEMD9907020E 4G Mills7(R2)X8X16X90
SEMD9908001E 4G Mills8(R0.1)X8X20X100
SEMD9908002E 4G Mills8(R0.2)X8X20X100
SEMD9908003070E 4G Mills8(R0.3)X8X20X70
SEMD9908003E 4G Mills8(R0.3)X8X20X100
SEMD9908005120E 4G Mills8(R0.5)X8X20X120
SEMD9908005150E 4G Mills8(R0.5)X8X20X150
SEMD9908010120E 4G Mills8(R1)X8X20X120
SEMD9908010150E 4G Mills8(R1)X8X20X150
SEMD9908025E 4G Mills8(R2.5)X8X20X100
SEMD9908030E 4G Mills8(R3)X8X20X100
SEMD9910001E 4G Mills10(R0.1)X10X25X100
SEMD9910002E 4G Mills10(R0.2)X10X25X100
SEMD9910003075E 4G Mills10(R0.3)X10X25X75
SEMD9910003E 4G Mills10(R0.3)X10X25X100
SEMD9910005130E 4G Mills10(R0.5)X10X25X130
SEMD9910005150E 4G Mills10(R0.5)X10X25X150
SEMD9910010130E 4G Mills10(R1)X10X25X130
SEMD9910010150E 4G Mills10(R1)X10X25X150
SEMD9910025E 4G Mills10(R2.5)X10X25X100
SEMD9910030E 4G Mills10(R3)X10X25X100
SEMD9910040E 4G Mills10(R4)X10X25X100
SEMD9911002E 4G Mills11(R0.2)X12X25X110
SEMD9911003E 4G Mills11(R0.3)X12X25X110
SEMD9911005E 4G Mills11(R0.5)X12X25X110
SEMD9911010E 4G Mills11(R1)X12X25X110
SEMD9911020E 4G Mills11(R2)X12X25X110
SEMD9912001E 4G Mills12(R0.1)X12X30X110
SEMD9912002E 4G Mills12(R0.2)X12X30X110
SEMD9912003080E 4G Mills12(R0.3)X12X30X80
SEMD9912003E 4G Mills12(R0.3)X12X30X110
SEMD9912005130E 4G Mills12(R0.5)X12X30X130
SEMD9912005150E 4G Mills12(R0.5)X12X30X150
SEMD9912010130E 4G Mills12(R1)X12X30X130
SEMD9912010150E 4G Mills12(R1)X12X30X150
SEMD9912040E 4G Mills12(R4)X12X30X110
SEMD9912050E 4G Mills12(R5)X12X30X110
SEMD9914005E 4G Mills14(R0.5)X16X35X150
SEMD9914020E 4G Mills14(R2)X16X35X150
SEMD9916005E 4G Mills16(R0.5)X16X32X150
SEMD9916015E 4G Mills16(R1.5)X16X32X150
SEMD9920005E 4G Mills20(R0.5)X20X38X150
SEMD9920015E 4G Mills20(R1.5)X20X38X150
SEME610200216E 4G Mills2(R0.2)X4X3(16)X50
SEME610200316E 4G Mills2(R0.3)X4X3(16)X50
SEME610150212E 4G Mills1.5(R0.2)X4X2.3(12)X50
SEME610150312E 4G Mills1.5(R0.3)X4X2.3(12)X50
SEME6100800502E 4G Mills0.8(R0.05)X4X1.2(2)X45
SEME6100800504E 4G Mills0.8(R0.05)X4X1.2(4)X45
SEME6100800506E 4G Mills0.8(R0.05)X4X1.2(6)X45
SEME610080102E 4G Mills0.8(R0.1)X4X1.2(2)X45
SEME610080104E 4G Mills0.8(R0.1)X4X1.2(4)X45
SEME610080106E 4G Mills0.8(R0.1)X4X1.2(6)X45
SEME610080108E 4G Mills0.8(R0.1)X4X1.2(8)X45
SEME610080204E 4G Mills0.8(R0.2)X4X1.2(4)X45
SEME610080206E 4G Mills0.8(R0.2)X4X1.2(6)X45
SEME610080208E 4G Mills0.8(R0.2)X4X1.2(8)X45
SEME61005005015E 4G Mills0.5(R0.05)X4X0.7(1.5)X45
SEME6100500501E 4G Mills0.5(R0.05)X4X0.7(1)X45
SEME6100500502E 4G Mills0.5(R0.05)X4X0.7(2)X45
SEME6100500504E 4G Mills0.5(R0.05)X4X0.7(4)X45
SEME610050102E 4G Mills0.5(R0.1)X4X0.7(2)X45
SEME610050103E 4G Mills0.5(R0.1)X4X0.7(3)X45
SEME6100600503E 4G Mills0.6(R0.05)X4X0.9(3)X45
SEME6100600506E 4G Mills0.6(R0.05)X4X0.9(6)X45
SEME610060102E 4G Mills0.6(R0.1)X4X0.9(2)X45
SEME610060104E 4G Mills0.6(R0.1)X4X0.9(4)X45
SEME610060106E 4G Mills0.6(R0.1)X4X0.9(6)X45
SEME610060202E 4G Mills0.6(R0.2)X4X0.9(2)X45
SEME610060204E 4G Mills0.6(R0.2)X4X0.9(4)X45
SEME610060206E 4G Mills0.6(R0.2)X4X0.9(6)X45
SEME6101000503E 4G Mills1(R0.05)X4X1.5(3)X50
SEME6101000504E 4G Mills1(R0.05)X4X1.5(4)X50
SEME6101000506E 4G Mills1(R0.05)X4X1.5(6)X50
SEME610100103E 4G Mills1(R0.1)X4X1.5(3)X50
SEME610100104E 4G Mills1(R0.1)X4X1.5(4)X50
SEME610100106E 4G Mills1(R0.1)X4X1.5(6)X50
SEME610100108E 4G Mills1(R0.1)X4X1.5(8)X50
SEME610100110E 4G Mills1(R0.1)X4X1.5(10)X50
SEME610100203E 4G Mills1(R0.2)X4X1.5(3)X50
SEME610100204E 4G Mills1(R0.2)X4X1.5(4)X50
SEME610100206E 4G Mills1(R0.2)X4X1.5(6)X50
SEME610100208E 4G Mills1(R0.2)X4X1.5(8)X50
SEME610100210E 4G Mills1(R0.2)X4X1.5(10)X50
SEME610100304E 4G Mills1(R0.3)X4X1.5(4)X50
SEME610100306E 4G Mills1(R0.3)X4X1.5(6)X50
SEME610100308E 4G Mills1(R0.3)X4X1.5(8)X50
SEME610100310E 4G Mills1(R0.3)X4X1.5(10)X50
SEME6101200506E 4G Mills1.2(R0.05)X4X1.8(6)X50
SEME6101200508E 4G Mills1.2(R0.05)X4X1.8(8)X50
SEME6101200510E 4G Mills1.2(R0.05)X4X1.8(10)X50
SEME610120104E 4G Mills1.2(R0.1)X4X1.8(4)X50
SEME610120106E 4G Mills1.2(R0.1)X4X1.8(6)X50
SEME610120108E 4G Mills1.2(R0.1)X4X1.8(8)X50
SEME610120204E 4G Mills1.2(R0.2)X4X1.8(4)X50
SEME610120206E 4G Mills1.2(R0.2)X4X1.8(6)X50
SEME610120208E 4G Mills1.2(R0.2)X4X1.8(8)X50
SEME610120304E 4G Mills1.2(R0.3)X4X1.8(4)X50