Lemorn Tooling OÜ

,

Estonia

,

Tallinn

,

Lasnamäe linnaosa, Majaka tn 26

,

11412
Osawa
is a trademark owned by Sorma S.p.A. which is on a mission to provide the cutting tool market with solid tools for milling and drilling. Based on the well-established know how of Sorma SpA, coming from Japanese and European best technologies, the brand Osawa was launched in 2001 and groups different tools manufacturers worldwide located (Europe and Far East).
To keep up with the evolution of production systems and costs, Sorma S.p.A increased its investments in China, Taiwan and Korea, always putting quality first: Osawa producers are strictly selected on the strength of their tools' performances and they all are certified ISO 9001.
Such structure makes Osawa able to meet a very wide spectrum of customers' requests, even on most critical applications. Its production flexibility together with the highly qualified direction of Sorma gives Osawa the possibility to have high profile tools in any item of the range.
Innovation, reliability and flexibility are the guidelines of a company that in over 60 years has always aimed at quality products and a first-class service to the customer. In this way Sorma S.p.A has been able to grow and establish itself as one of the most important competitors at international level.
The company has 2 divisions: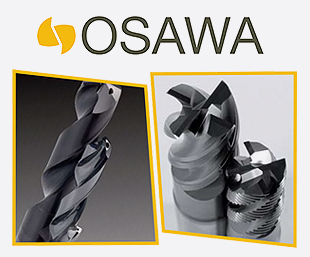 Focused on the distribution of top brands in the metals cutting tools industry for both the domestic and international markets. Brands include Yamawa for threading taps, Osawa for a wide range of solid carbide drills and end mills, Nikko Tools for indexable inserts and tools.
Focused on production and distribution of abrasive and super abrasive tools (Diamond & CBN) used to work stones, glass, metals, composite materials, concrete, cloth, paper, wood and in many other applications.
Sorma has 70 employees in the Italian headquarters in Mestre (Venice) and more than 100 employees in partner business and manufacturing companies.
OSAWA selection includes:
— Solid carbide drills with and without inside coolant, HSS-HSS/Co general purpose drills as well high performance drills;
— A very wide choice of solid carbide end mills for high speed application on hardened steel, for stainless steel and super alloys, for general purpose; HSS and HSS-P tools;
— High quality carbide rotary burrs, available in a wide variety of shapes and geometries.