Lemorn Tooling OÜ

,

Estonia

,

Tallinn

,

Lasnamäe linnaosa, Majaka tn 26

,

11412
A successful company has many different faces which make it both unique and diverse.
HAHN+KOLB
can attribute its success to a variety of characteristics and innovations.
Skilled management, innovative ideas and stringent quality demands have allowed HAHN+KOLB to gain an ever stronger foothold in the market. Nowadays, HAHN+KOLB recognised throughout the entire industry for its high levels of service, supply and product quality.
HAHN+KOLB's successful and diverse history started when it was founded in 1898 by Hermann Hahn and Adolf Kolb. The company quickly established itself as a specialist in tools and machines, recognised throughout the industry for its high service, delivery and product quality standards.
HAHN+KOLB is DIN EN ISO 9001 certified, and was the first company in its sector to comply with the stringent VDA 6.2 auditing requirements.
A huge range in which you'll always find the best solution: for more than 120 years, HAHN+KOLB offers quality-conscious users everything they need for manufacturing and their own individual demands. Whether manual tools, factory equipment, machining tools, measuring and clamping equipment or machines and electric tools, HAHN+KOLB offers a range of over 100,000 products, covering manufacturer brands, in-house products and exclusive brands.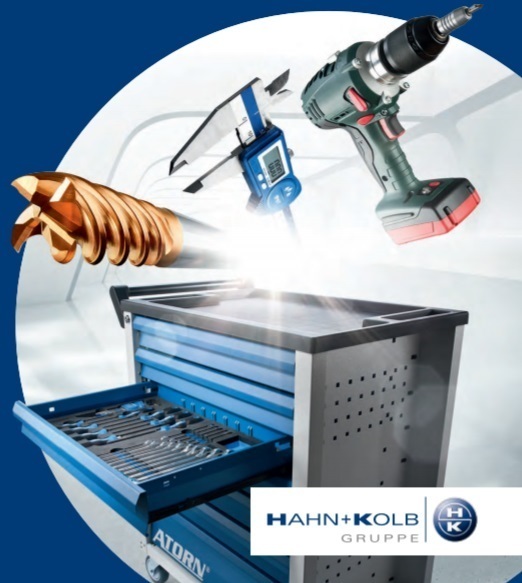 ATORN.
Only once products have proven themselves in the toughest conditions and met the highest quality requirements are they awarded the ATORN label. With ATORN you are building a future on a top brand. It offers you a high-quality range of tools for the toughest requirements and professional results. ATORN products are only stocked by selected vendors. At HAHN+KOLB you'll find the complete ATORN range: Amongst over 24,000 products, you'll find everything you need for efficient and next-generation manufacturing.
Sanding and cutting tools

Measuring- / Test equipment

Workshop supplies and factory equipment
ORION.
In the ORION brand product range you will find machining tools, clamping devices, measuring and testing equipment, hand tools and much, much more. Each one of the over 10,000 ORION products impresses with its functionality, safety and excellent price/performance ratio. Specially selected materials and high-quality workmanship ensure optimum handling.
HK warehouse and factory equipment.
In addition to high-quality workbenches and cabinets, the HK brand portfolio also includes work tables, products for storing tools, such as tool rack systems, and much, much more besides. HK stands for maximum functionality, flexibility, ergonomics and durability and also impresses with its contemporary design. The optimal compatibility of the products with one another and the custom-made production enable you to design your workshop exactly as you wish.
AUTOSTAT spring balances and balancers.
With our AUTOSTAT products, we offer you a comprehensive range of spring balancers and balancers. It enables safe, smooth-running work processes and reliably prevents premature fatigue. Certified with the GS mark for tested safety, our AUTOSTAT range impresses with its long service life, easy maintenance and high operating safety. The AUTOSTAT products have been awarded top marks in international comparisons, proving themselves more than a match for the competition. The products are also long-term tested, GS mark certified and DIN 15112 compliant.
SUBITO
internal precision measuring instruments.
Straightforward and highly precise measurements of through and blind holes are as good as automatic with SUBITO internal precision measuring instruments. It goes without saying that the devices can also handle centring shoulders, bearing bores, internal grooves and recesses.
MULTIFIX quick-change steel tool holder.
The product range of our MULTIFIX brand includes quick-change steel arbours for manual tool changing on conventional lathes and CNC lathes. The intelligent toothed connection of basic bodies and change holders enables 40 different holder positions. MULTIFIX has been offering high-quality products for efficient tool changing since 1953.