Lemorn Tooling OÜ

,

Estonia

,

Tallinn

,

Lasnamäe linnaosa, Majaka tn 26

,

11412
IMCO Carbide Tool, Inc. is a manufacturer of precision cutting tools, endmills, drills, reamers, burs and countersinks. IMCO Carbide Tool serves customers in energy, automotive, and medical sectors, as well as aerospace firms worldwide.
IMCO is focused on one goal: To continually provide manufacturers with quality products that will help them achieve new levels of profitability, customer satisfaction, and competitive advantage by revolutionizing the way our tools are designed, produced, tested and used.
IMCO specializes in high-performance end mills designed with variable fluting. Varying flute geometries break up the harmonics, or multiple mechanical frequencies that develop as tools spin and can cause tool instability and failure. Variable fluting breaks up harmonics and keeps the tool balanced as it turns for optimum tool stability. This, in turn, enables the tool to cut with greater precision.
IMCO high-performance tools frequently include an engineered coating that deflects heat away from the tool. Typical coatings in the industry include titanium nitride (TiN), aluminum titanium nitride (AlTiN) and titanium aluminum nitride (TiAlN), although IMCO, like many tool makers, fine-tunes these engineered coatings for better heat protection and longer tool use. IMCO added another coating - an aluminum-chromium-nitride (AlCrNX) formula - with the POW-R-FEED M924 end mill introduced in 2012. This AlCrNX coating was shown in research to provide heightened heat protection and exponentially longer tool life.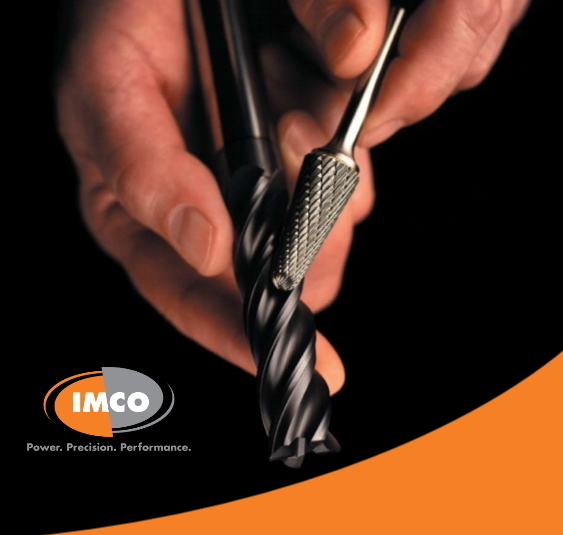 Because extreme temperatures are generated in the cutting zone, where the cutting edges shear through the material at very high speeds, coatings are added to deflect the heat away from the tool. Coatings offer varying degrees of heat protection, or hot hardness, as well as other unique performance characteristics, depending on their formulation. Tools coated with each formulation will work well in some materials and poorly in others. Coatings also provide a degree of lubricity that helps evacuate metal cuttings or chips, from the cutting zone. This prevents clogs and removes chips before they can melt and bond with the tool's cutting edges, which ruins the tool.
Tool geometries, or cutting and fluting angles, are essential to the tool's performance. A minute change in angle or cutting radius can make a significant difference in the tool's balance, chiploads and other performance characteristics. IMCO and other tool manufacturers conduct extensive research to fine-tune these geometries, especially for use in heat-treated alloy steels, Inconel, Hastelloy and other engineered metals. Through research and testing, IMCO has developed a range of "unique combinations using multiple coating formulas and substrates."