Lemorn Tooling OÜ

,

Estonia

,

Tallinn

,

Lasnamäe linnaosa, Majaka tn 26

,

11412
VERTEX MACHINERY WORKS CO.
Established in 1978 ,
VERTEX MACHINERY WORKS CO., LTD.
has made a name for itself in the list of top suppliers of in Taiwan. The supplier company is located in Fengyuan, Taichung Hsien and is one of the leading sellers of listed products.
VERTEX MACHINERY WORKS CO., LTD, the largest machine tool accessories exporter in Taiwan, specializes in manufacturing high precision accessories for milling & grinding & lathe machine & machine center. Following the business principles of accuracy, speed, responsibility & cooperation, our outstanding teams are always researching and developing new products & innovating new designs to meet the market trends. Additionally, we have stocks of all products in place to make short delivery and supply our patrons with high quality vertex precision products to enhance their competitiveness. VERTEX's customer-oriented approach is the cornerstone of our success and fame.
VERTEX as a professional machine accessories manufacturer, insists to manufacture almost everything in Taiwan. Since 1978, currently VERTEX has more than 100 major customers in more than 60 countries.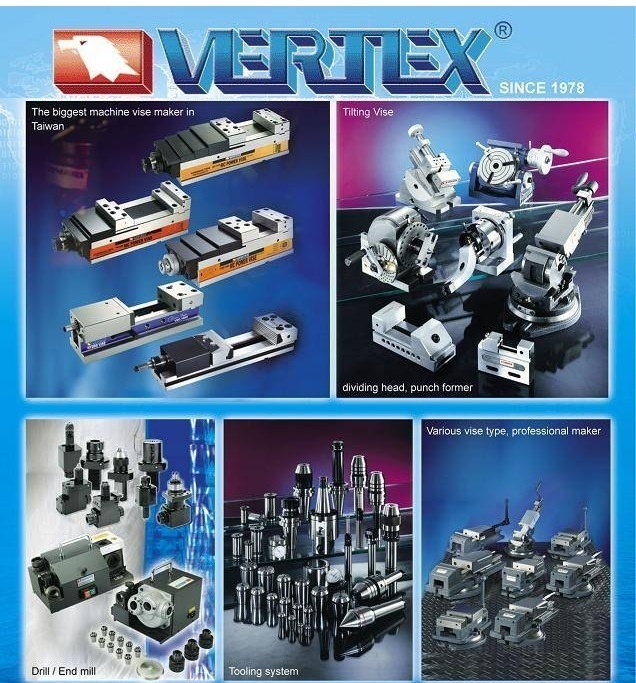 Vertex Machinery Works Co., Ltd. is a quality driven organization offering a wide range of Milling machine accessories, machinery, mc power vise, machine vise, hydraulic vise, mechanical vise, precision pneumatic ang-fixed power vice, modular machine free vise, rotary table, dividing head, indexer, clamping kit, grinding, tooling. Established in1978, the firm supplies Milling machine accessories, machinery, mc power vise, machine vise, hydraulic vise, mechanical vise, precision pneumatic ang-fixed power vice, modular machine free vise, rotary table, dividing head, indexer, clamping kit, grinding, tooling, collet chuck, collets, arbors, shank, tapping, driventools, 2-jaws, 3-jaws,4-jaws chucks, hard jaws, soft jaws, Angle Plate, Arm Air Tapping Unit, Boring Head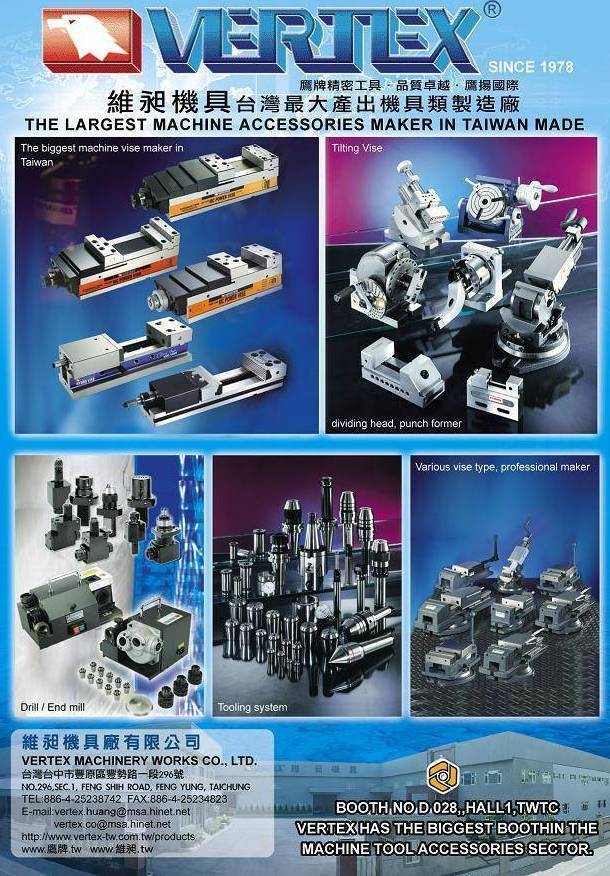 BS-2-J-6 (BS-2-J W/VSC-6A) 1001-055
BS-2-J-8 (BS-2-J-8 W/VSC-8A) 1001-056
CC-12 (CC-12-J-12 W/VSK-12) 1001-066
CC-12A (CC-12A-J-12 W/VSK-12A) 1001-066A
VHL-300L-TF-001 220V 12V/50W
VHL-20F-1(24V) 1025-021-1
BT30-ER11M-100-B 3033-523
BT30-ER16M-100-B 3033-524
BT30-ER20M-100-B 3033-525
BT40-ER11M-100-B 3033-526
BT40-ER16M-100-B 3033-527
BT40-ER20M-100-B 3033-528
VE-102 5C-COLLET 3205-100
VE-102I 5C-COLLET 3205-101
VE-110 R8-COLLET 3206-100
VE-114 R8-COLLET 3206-101