Lemorn Tooling OÜ

,

Estonia

,

Tallinn

,

Lasnamäe linnaosa, Majaka tn 26

,

11412
Yestool Co.,Ltd
is a leading manufacturer of high technology drilling tools for high performance applications. Since the foundation of the company Yestool has been engaged in the development and production of high precision drilling tools. Today's tool range consists of drills for many different applications. Besides replaceable-tip drilling system Yestool provides precision hole-making technologies with the highest level of drill performance for end users worldwide. Precision engineering and expert application support make Yestool the first and best choice for answers to complex metal-cutting challenges.
Yes Tool have an impressive range of Indexable carbide drills with innovative geometries combined with excellent carbide grades and coating technology to give optimum performance. Product is made in Korea. Have an extensive range of deep hole drilling solutions as well.
Yestool devotes advanced engineering and manufacturing capabilities to creating the widest selection of value-added tooling available to metal-cutting industries around the world. Yestool tooling solutions deliver the lowest cost-per-hole in many varieties of drilling & reaming applications.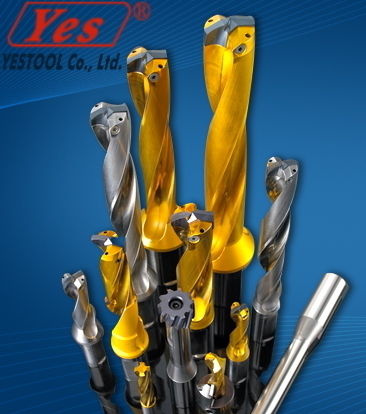 Yestool Co.,Ltd
is dedicated to maintaining its leadership position in the Carbide cutting tool industry through below commitment.
To continue providing high quality, high performance, cost effective Carbide cutting tools along with the development of innovative new designs for greater productivity and economy of use.

To continue providing superior cutting tool value to customers by offering highly responsive service, superior products availability and expert technical assistance.
Yestool products are sold through the most highly qualified industrial distributors throughout whole Europe, North America, Asia and even Africa. These select organizations represent the top tier of the Carbide cutting tool industry from general manufacturing to automotive, aerospace, machine and electronics.
ISO 9001 certified to ensure quality processing of all product for consistent performance you require.
YESTOOL product includes:
— Indexable, Coolant Drill
— Deep Hole and General purpose Drills with internal coolant channel
— Combination Chamfer Tools
— Carbide Drill-Mill for Drilling, Milling and Chamfering
— Combination Drilling and Deburring Tools
— Long Series Carbide Brazed Tipped Drill
Applications and Speciality:
Specialized drilling tools for thin plates and shallow depth applications with cutting length 3xDia, 5xDia, 7xDia, 10x Dia

Higher helix flute to reduce machine load and faster chip ejection

ID inserts quick change without picking up body in the machine

Patented dual point 130 + 150 deg / Dual point 140 + 150 deg
MT No    YTDI/MTIC(with coolant)
MT No    YTDI/MT(without coolant)
 TiN,TiCN,TiAlN   YSDC 050-060D8 
 TiN,TiCN,TiAlN YSDC 061-080D8
 TiN,TiCN,TiAlN YSDC 081-100D8
 TiN,TiCN,TiAlN YSDC 101-120D8
 TiN,TiCN,TiAlN YSDC 121-140D8
 TiN,TiCN,TiAlN YSDC 141-160D8
 TiN,TiCN,TiAlN YSDC 161-180D8
 TiN,TiCN,TiAlN YSDC 181-200D8
MT No    YTDI/MTIC(with coolant)
MT No    YTDI/MT(without coolant)
 TiN,TiCN,TiAlN YSDC 050-060D8
 TiN,TiCN,TiAlN YSDC 061-080D8 
 TiN,TiCN,TiAlN YSDC 081-100D8
 TiN,TiCN,TiAlN YSDC 101-120D8
 TiN,TiCN,TiAlN YSDC 121-140D8
 TiN,TiCN,TiAlN YSDC 141-160D8
 TiN,TiCN,TiAlN YSDC 161-180D8
 TiN,TiCN,TiAlN YSDC 181-200D8
+TiN, TiAlN    IR 350-374