Lemorn Tooling OÜ

,

Estonia

,

Tallinn

,

Lasnamäe linnaosa, Majaka tn 26

,

11412
Represented in 130 countries,
Sandvik Coromant
is the world's leading supplier of tools, tooling solutions and know-how to the metalworking industry. The products are for turning, milling, drilling and tool holding. In addition Sandvik provides extensive process and application knowledge within machining.
Sandvik continues to make extensive investments in research and innovation and is setting new productivity standards together with its customers which include the world's major automotive, aerospace and energy industries.
Sandvik Coromant offers world class products for turning, milling, drilling and tool holding. In addition we are able to provide extensive process and application knowledge within machining. This is what has positioned us as the market leader in our industry. We have customers throughout the metalworking field including the world's major automotive and aerospace industries, the die and mould industry and general engineering industries.
SANDVIK Coromant – the biggest worldwide producer of tools for machining. The company offers the solution of the right choice of technologies and tools, evaluation process and recycling of used tools. To insurmountable products belong drills CoroDrill 880,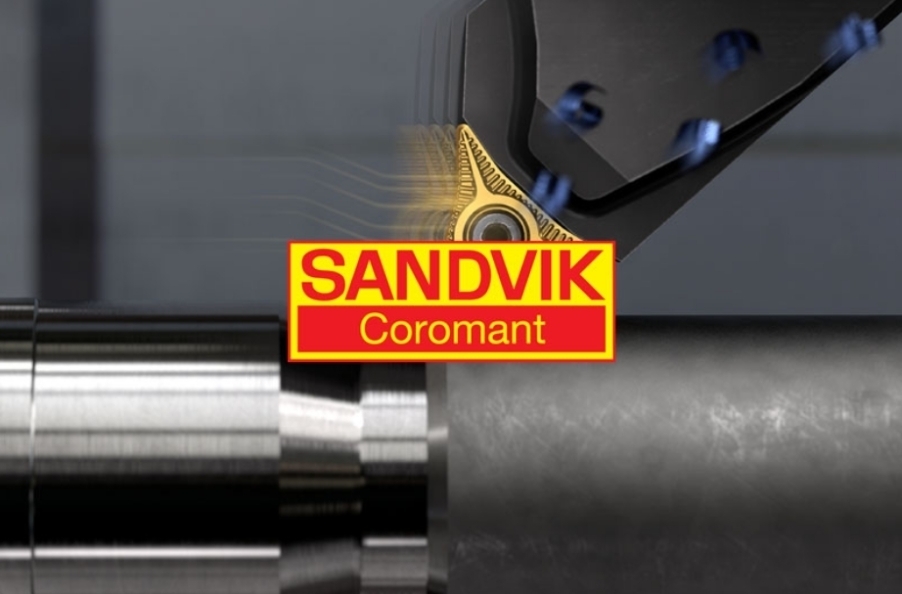 cutters CoroMill 345, 490, 316 or turning tools CoroTurn 4215, 4225, 4235 or 1115, 1125, 1515 or tool solution Capto – this is just a part of the wide assortment.
Sandvik Coromant has received certification for international standards such as the ISO 26623 standard for tool holding systems, the ISO 13399 standard for simplifying the exchange of data for cutting tools between different systems such as CAD, CAM, CAE and PDM/EDM, as well as the ISO inserts, around which an industry-leading recycling program was created.
Very close cooperation with the Sandvik Coromant company allows us to offer our customers High-end products for a maximal productivity. As an authorized distributor of this brand we do not offer any alternatives, we offer uncompromising solutions for costs reduction.
Sandvik Coromant produces an extensive range of metal cutting tools for a large number of applications:
— Turning, including general turning, heavy turning, small part machining, parting and grooving, hard part turning and threading
— Milling, including face milling, shoulder milling, profile milling, turn milling, high feed milling, chamfering, slot milling and thread milling
— Drilling, including general drilling, step and chamfer drilling, composite drilling and tapping
— Boring, including rough boring, fine boring and reaming
— Tool holding, including tools for turning centres and lathe tools, machining centres, multi-task machines and sliding head machines
— Digital machining, including advanced software and tools that support digital manufacturing, from design and planning to machining and machining analysis
Products SANDVIK COROMANT