Lemorn Tooling OÜ

,

Estonia

,

Tallinn

,

Lasnamäe linnaosa, Majaka tn 26

,

11412
Since 2001 we have cooperated with
Ceracarb
, Korean manufacturer of cutting tools.
Ceracarb production varies from the carbide to the ceramics, silicon nitride, cermet, cbn and pcd. In the catalogue are shown a wide range of ISO and special inserts.
The continuous research of new qualities and chipbreakers,

The particular care on the microgeometries on the ceramics,

The promptness in suggesting variations on the cutting conditions, also with the assistance of the Korean technicians:
All these matters give us the opportunity to offer more alternatives to improve the productivity of our customers.
Some additional information to help you compare Ceracarb grades to different grades from most well known cutting tools producers like Sandvik Coromant, Seco, Kennametal, Walter, Sumitomo, Mitsubishi, Toshiba Tungaloy, Kyocera, Iscar, Korloy, Taegutec, SPK Ceramtec, NTK, SsangYong, Greenleaf, Widia and Sumitomo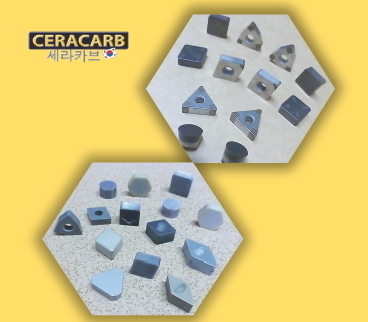 CERACARB product includes:
Ceramic cutting inserts, inserts with PCD tips, CBN inserts, whisker ceramic, SiAlON, silicon nitride cutting tools
- CBN and PCD inserts.
High-performnce tools!
- Ceramic cutting inserts.
White ceramic, black ceramic, coated ceramic inserts, reinforced with Whiskers
- Tungsten carbide inserts.
Carbide inserts for milling, turnign, grooving and parting-off. Cermet inserts, uncoated inserts for aluminium.
- SiAlON and Silicon Nitride inserts.
Best choice for cast iron (ISO K) and super alloys (ISO S)