Lemorn Tooling OÜ

,

Estonia

,

Tallinn

,

Lasnamäe linnaosa, Majaka tn 26

,

11412
Today
Johs. Boss GmbH & Co. KG (JBO)
is one of the leading international suppliers of precision tools for manufacturing and checking threads.
JBO is one of today's international leaders of thread processing and testing technology. Since six generations we develop and produce our products without compromise at our site in Albstadt. For almost one hundred years, we have been consistently specialising in threads, allowing our worldwide partners to profit from the extensive knowledge that we have gained. A further success factor is based on the special machinery that we continue to develop for the efficient manufacture of thread cutting dies and thread gauges.
How does someone become one of the world's leading providers of precision tools for the manufacture and testing of threads? In the case of JBO the answer is quite obvious: by adopting the wishes and challenges of its customers as its own. By orienting oneself to market needs at an early stage and recognizing innovation as an opportunity. By systematically planning quality and developing new solutions with passion.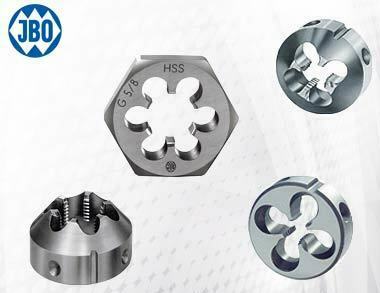 Meanwhile we at JBO operate according to these principles in the sixth generation. Our success is also due to the commitment shown to our location – all JBO tools are manufactured in Albstadt – and to our motivated employees, of whom we demand a lot, but also support them in their development at the same time.
Discover who we are, how we think and what we do in order to remain pacesetters - also in the future - in a demanding market.
JBO (Johannes Boss) product includes:
— Shell Type Thread Milling Cutters
— High Performance Thread Cutting Dies
— High performance thread rolling dies
— Precision Thread Gauges