Lemorn Tooling OÜ

,

Estonia

,

Tallinn

,

Lasnamäe linnaosa, Majaka tn 26

,

11412
Utilis AG
is a swiss company , specializing in tooling for sliding head and thread whirling for medical parts and worm gearsin whirling increasing the number of available cutters contained within the thread whirling ring. By implementing more cutting inserts, speeds & feeds can be increased. Chipload per insert edge is decreased, thereby increasing tool life significantly.
High Performance Thread Whirling is a fast and accurate way to increase the amount of completed parts at the end of your day. Thread Whirling is ideal for parts such as Medical & Dental Implants, Aerospace Fasteners and any part design that incorporates long thread profiles, Spine screws , Cancellous screws , Cortical screws , Poly axel screws , mono axel screws can all be whirled using Utilis tools , the cycle time per part is less than 1 minute for threading.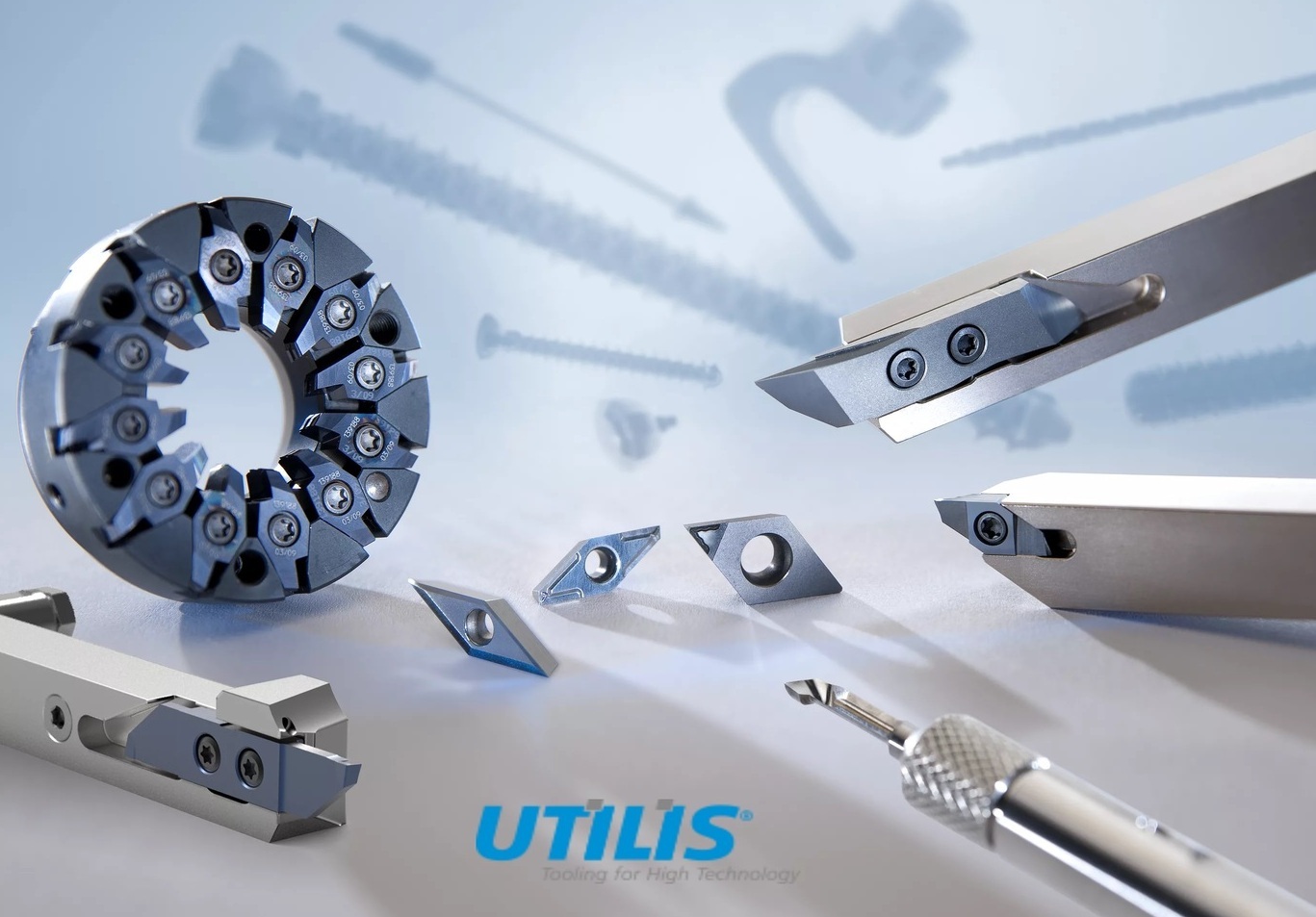 For 100 years UTILIS has been developing, producing and distributing premium quality cutting tools for micromechanics, watch- and medical technology.
For UTILIS products, strict adherence to the certified quality management defined by ISO 9001 is a matter of course.
multidec® – the embodiment of machining in micromechanics Own UTILIS brand offers internal machining tools (starting with a diameter of 0.5 mm), thread whirling cutters with up to 12 blades and modular tooling systems for Swiss-type lathes.
—
MULTIDEC®-CUT – TOOLS FOR INSIDE TURNING AND OUTSIDE TURNING
The turning and grooving systems of our multidec®-CUT product line are primarily used for exterior turning but also for internal turning.
— MULTIDEC®-ISO/TOP – STANDARDISED INDEXABLE INSERTS FOR AUTOMATED AND PRECISION TURNING
multidec®-ISO/TOP is a product line suited for automated and precision turning with rhomboid 55° indexable inserts and holders. This includes positive inserts with honed cutting edges for roughing operations as well as sharp cutting edges for finishing. multidec®-ISO/TOP products also give the automated lathe a stable and sharp cutting corner with radius that range from 0.03 to 0.8 mm. A wide selection of polished tool holders with hardened and nickel-plated surfaces, made especially for Swiss-type lathes with shank diameters ranging from 8 to 25 mm, as well as boring bars with a shank diameter of 10 to 25 mm, complete the range. For materials that are difficult to machine, we have developed ingenious solutions with coated or uncoated carbide, cermet and diamond surfaces. We also offer a large selection of sintered and ground chip grooves for all simple, fine and ultra-fine machining.
— MULTIDEC®-BORE MICRO – FOR INTERNAL MICROMACHINING
The products of the multidec®-BORE MICRO line give you a large number of standard cutters with diameters ranging from 0.5 to 8 mm. Sharp cutting edges, small corner radius and ground chip grooves guarantee optimal cutting performance. For the machining of all standard materials, but also of those materials that are difficult to cut, we have sharp cutters made from wear resistant and very tough carbide grades, coated and uncoated. The holder SDA made of high-grade tempered steel, can be inserted into standard clamping systems. The cutter replacement is carried out manually and, as a rule, does not require a readjustment of the axial and radial positioning. The Superclamp holder offers more stability and holding power for special machining processes such as multi-sided punching, hard turning with CBN as well as achieving the finest surface finishing qualities in non-ferrous production with PCD, CVD or MKD tipped tools. AKR-Mono is a holder that is used for external work when those for the inside are already being used.
— MULTIDEC®-THREADMILL – FOR THE PRODUCTION OF FULL-PROFILE INTERNAL THREADS WITH A NOMINAL DIAMETER STARTING FROM 1 MM
During thread milling, the thread is created through helical interpolation. The machining process enables the manufacture of multi-profile and single-profile full-profile screw threads starting from nominal diameter of 1 mm. The advantages of our multidec®-THREADMILL product line: every item ensures a high degree of process reliability and long product life. The thread depth corresponds to the drilling depth when thread milling. Short milling chips help avoid problems with swarf. multidec®-THREADMILL is also suitable for High Speed Cutting (HSC).
— MULTIDEC®-WHIRLING – THE MULTI-BLADED WHIRLING TOOL SYSTEM
multidec®-WHIRLING is significantly increases your productivity in the production of threads. Compared to conventional (single point) thread cutting which requires several cutting passes, multidec®-WHIRLING produces a burr-free thread in only one go. Through the use of up to 12 cutting edges, you can significantly reduce the machining time and save on costs. To give you optimal results, we offer several variations with different cutting tracks and lengths.
— TOOL SYSTEMS – YOUR INSTALATION ASSISTANCE FOR MULTIDEC INSERTS
The controlled parting (cut-off) of pieces near the spindle or near the opposed spindle is often very difficult if you are using standard holders. Either the cutting edge is too far away or the holder collides with the spindle. Specially adapted holders, such as those in our Tool Systems offer an optimal solution. Tool Systems enables you to use UTILIS-indexable inserts with various standard-tooling systems for lathes. This means that the high quality UTILIS cutting edges multidec®-CUT, multidec®-TOP and multidec®-BORE MICRO can be used with the cutters of other manufacturers. That gives you a high degree of flexibility. Tool Systems offer a wide range of holders for the following tooling systems: multidec®-BACKTOOLS and -MODULINE, TECKO, HSK, PSC, KMTM as well as machine-specific tooling systems (ESCOMATIC und TORNOS).
— MULTIDEC®-LUB, CLAMPING SHIM WITH INTEGRATED COOLING AND FLEXIBLE TOOL STOP
The multidec®-LUB clamping shim directs the coolant precisely onto the tool insert, even at low pressure. The flexible stop allows for the insert to be replaced safely and quickly. The supply of coolant under high and low pressure is made through a distributor block or directly in the multidec®-LUB (IC) clamping shim.
1600-16x150 6-8 90 RD L IC
1600-16x150 6-8 90 RD R IC
1600-20x180 6-8 90 RD L IC
1600-20x180 6-8 90 RD R IC
1600L/1600L-0810x100 Twin
1600L/1600L-0812x100 Twin IC
1600L/1600L-1/2"x100 Twin
1600L/1600L-1/2"x100 Twin IC
1600L/1600L-1012x100 Twin IC
1600L/1600L-12x100 Twin IC
1600L/1600L-16x125 Twin IC
1600L/1600L-20x125 Twin IC
1600L/1600L-3/4"x125 Twin
1600L/1600L-3/4"x125 Twin IC
1600L/1600L-3/8"x100 Twin
1600L/1600L-3/8"x100 Twin IC
1600L/1600L-5/8"x125 Twin
1600L/1600L-5/8"x125 Twin IC
1600R/1600R-0810x100 Twin
1600R/1600R-0812x100 Twin IC
1600R/1600R-1/2"x100 Twin
1600R/1600R-1/2"x100 Twin IC
1600R/1600R-1012x100 Twin IC
1600R/1600R-12x100 Twin IC
1600R/1600R-16x125 Twin IC
1600R/1600R-20x125 Twin IC
1600R/1600R-3/4"x125 Twin
1600R/1600R-3/4"x125 Twin IC
1600R/1600R-3/8"12x100 Twin
1600R/1600R-3/8"12x100 Twin IC
1600R/1600R-5/8"x125 Twin
1600R/1600R-5/8"x125 Twin IC
1602-0.5-2.5 L G20 UHM20 HPX
1602-0.5-2.5 L G20 UHM30 HX
1602-0.5-2.5 L SPT G20 UHM30
1602-0.5-2.5 L SPT G20 UHM30 HX
1602-0.5-2.5 LN SPT UHM30
1602-0.5-2.5 LN SPT UHM30 HX
1602-0.5-2.5 LV G20 UHM10
1602-0.5-2.5 LV G20 UHM20
1602-0.5-2.5 LV G20 UHM20 HPX
1602-0.5-2.5 LV G20 UHM30
1602-0.5-2.5 LV G20 UHM30 HX
1602-0.5-2.5 LV SPT G20 UHM30
1602-0.5-2.5 LV SPT G20 UHM30 HX
1602-0.5-2.5 R G20 UHM20 HPX
1602-0.5-2.5 R G20 UHM30 HX
1602-0.5-2.5 R SPT G20 UHM30
1602-0.5-2.5 R SPT G20 UHM30 HX
1602-0.5-2.5 RN SPT UHM30
1602-0.5-2.5 RN SPT UHM30 HX
1602-0.5-2.5 RV G20 UHM20
1602-0.5-2.5 RV G20 UHM20 HPX
1602-0.5-2.5 RV G20 UHM30
1602-0.5-2.5 RV G20 UHM30 HX
1602-0.5-2.5 RV SPT G20 UHM30
1602-0.5-2.5 RV SPT G20 UHM30 HX
1602-0.8-5 L SPT UHM30 HX
1602-0.8-5 LN SPT UHM30 HX
1602-0.8-5 LV SPT UHM30 HX
1602-0.8-5 R SPT UHM30 HX
1602-0.8-5 RN SPT UHM30 HX
1602-0.8-5 RV SPT UHM30 HX
1602-1.0-5 L SPT UHM30 HX
1602-1.0-5 L SPT06 UHM20 HPX
1602-1.0-5 L SPT12 UHM20 HPX
1602-1.0-5 LN SPT UHM30 HX
1602-1.0-5 LN SPT06 UHM20
1602-1.0-5 LN SPT06 UHM20 HPX
1602-1.0-5 LN SPT12 UHM20
1602-1.0-5 LN SPT12 UHM20 HPX
1602-1.0-5 LV SPT UHM30 HX
1602-1.0-5 LV SPT06 UHM20
1602-1.0-5 LV SPT06 UHM20 HPX
1602-1.0-5 LV SPT12 UHM20
1602-1.0-5 LV SPT12 UHM20 HPX
1602-1.0-5 R SPT UHM20 HPX
1602-1.0-5 R SPT UHM30 HX
1602-1.0-5 R SPT06 UHM20 HPX
1602-1.0-5 R SPT12 UHM20 HPX
1602-1.0-5 RN SPT UHM30 HX
1602-1.0-5 RN SPT06 UHM20
1602-1.0-5 RN SPT06 UHM20 HPX
1602-1.0-5 RN SPT12 UHM20
1602-1.0-5 RN SPT12 UHM20 HPX
1602-1.0-5 RV SPT UHM30 HX
1602-1.0-5 RV SPT06 UHM20
1602-1.0-5 RV SPT06 UHM20 HPX
1602-1.0-5 RV SPT12 UHM20
1602-1.0-5 RV SPT12 UHM20 HPX
1602-1.2-5 L SPT UHM30 HX
1602-1.2-5 LN SPT UHM30 HX
1602-1.2-5 LV SPT UHM30 HX
1602-1.2-5 R SPT UHM30 HX
1602-1.2-5 RN SPT UHM30 HX
1602-1.2-5 RV SPT UHM30 HX
1602-1.5-5 L SC TOP 008 UHM30
1602-1.5-5 L SC TOP 008 UHM30 HX
1602-1.5-5 L SC UHM20 HPX
1602-1.5-5 L SPT UHM30 HX
1602-1.5-5 L SPT06 UHM20 HPX
1602-1.5-5 L SPT12 UHM20 HPX
1602-1.5-5 L TOP 008 UHM30
1602-1.5-5 L TOP 008 UHM30 HX
1602-1.5-5 LN SC UHM30 HX
1602-1.5-5 LN SPT UHM30 HX
1602-1.5-5 LN SPT06 UHM20
1602-1.5-5 LN SPT06 UHM20 HPX
1602-1.5-5 LN SPT12 UHM20
1602-1.5-5 LN SPT12 UHM20 HPX
1602-1.5-5 LV SC TOP 008 UHM30
1602-1.5-5 LV SC TOP 008 UHM30 HX
1602-1.5-5 LV SC UHM20 HPX
1602-1.5-5 LV SC UHM30 HX
1602-1.5-5 LV SPT UHM30 HX
1602-1.5-5 LV SPT06 UHM20
1602-1.5-5 LV SPT06 UHM20 HPX
1602-1.5-5 LV SPT12 UHM20
1602-1.5-5 LV SPT12 UHM20 HPX
1602-1.5-5 LV TOP 008 UHM30
1602-1.5-5 LV TOP 008 UHM30 HX
1602-1.5-5 R SC TOP 008 UHM30
1602-1.5-5 R SC TOP 008 UHM30 HX
1602-1.5-5 R SC UHM20 HPX
1602-1.5-5 R SPT UHM30 HX
1602-1.5-5 R SPT06 UHM20 HPX
1602-1.5-5 R SPT12 UHM20 HPX
1602-1.5-5 R TOP 008 UHM30
1602-1.5-5 R TOP 008 UHM30 HX
1602-1.5-5 RN SC UHM30 HX
1602-1.5-5 RN SPT UHM30 HX
1602-1.5-5 RN SPT06 UHM20
1602-1.5-5 RN SPT06 UHM20 HPX
1602-1.5-5 RN SPT12 UHM20
1602-1.5-5 RN SPT12 UHM20 HPX
1602-1.5-5 RV SC TOP 008 UHM30
1602-1.5-5 RV SC TOP 008 UHM30 HX
1602-1.5-5 RV SC UHM20 HPX
1602-1.5-5 RV SC UHM30 HX
1602-1.5-5 RV SPT UHM30 HX
1602-1.5-5 RV SPT06 UHM20
1602-1.5-5 RV SPT06 UHM20 HPX
1602-1.5-5 RV SPT12 UHM20
1602-1.5-5 RV SPT12 UHM20 HPX
1602-1.5-5 RV TOP 008 UHM30
1602-1.5-5 RV TOP 008 UHM30 HX
1602-B-1.0-5 L SPT06 UHM20
1602-B-1.0-5 L SPT06 UHM20 HPX
1602-B-1.0-5 LN SPT06 UHM20
1602-B-1.0-5 LN SPT06 UHM20 HPX
1602-B-1.0-5 LV SPT06 UHM20
1602-B-1.0-5 LV SPT06 UHM20 HPX
1602-B-1.0-5 LV UHM20 HPX
1602-B-1.0-5 R SPT06 UHM20
1602-B-1.0-5 R SPT06 UHM20 HPX
1602-B-1.0-5 RN SPT06 UHM20
1602-B-1.0-5 RN SPT06 UHM20 HPX
1602-B-1.0-5 RV SPT06 UHM20
1602-B-1.0-5 RV SPT06 UHM20 HPX
1602-B-1.0-5 RV UHM20 HPX
1602-B-1.5-5 L SPT06 UHM20
1602-B-1.5-5 L SPT06 UHM20 HPX
1602-B-1.5-5 LN SPT06 UHM20
1602-B-1.5-5 LN SPT06 UHM20 HPX
1602-B-1.5-5 LV SPT06 UHM20
1602-B-1.5-5 LV SPT06 UHM20 HPX
1602-B-1.5-5 LV UHM20 HPX
1602-B-1.5-5 R SPT06 UHM20
1602-B-1.5-5 R SPT06 UHM20 HPX
1602-B-1.5-5 R SPT12 UHM20
1602-B-1.5-5 R SPT12 UHM20 HPX
1602-B-1.5-5 RN SPT06 UHM20
1602-B-1.5-5 RN SPT06 UHM20 HPX
1602-B-1.5-5 RV SPT06 UHM20
1602-B-1.5-5 RV SPT06 UHM20 HPX
1602-B-1.5-5 RV UHM20 HPX
1603-3.0-3.5 L CP TOP 003 UHM20
1603-3.0-3.5 L CP TOP 003 UHM20 HPX
1603-3.0-3.5 L CP TOP 003 UHM30
1603-3.0-3.5 L CP TOP 003 UHM30 HX
1603-3.0-3.5 L CP TOP ZZ UHM20
1603-3.0-3.5 L CP TOP ZZ UHM20 HPX
1603-3.0-3.5 L CP TOP ZZ UHM30
1603-3.0-3.5 L CP TOP ZZ UHM30 HX
1603-3.0-3.5 R CP TOP 003 UHM20
1603-3.0-3.5 R CP TOP 003 UHM20 HPX
1603-3.0-3.5 R CP TOP 003 UHM30
1603-3.0-3.5 R CP TOP 003 UHM30 HX
1603-3.0-3.5 R CP TOP ZZ UHM30
1603-3.0-3.5 R CP TOP ZZ UHM30 HX
1603-3.0-4 L SP U35003 UHM20
1603-3.0-4 L SP U35003 UHM20 HPX
1603-3.0-4 L SP U35003 UHM30
1603-3.0-4 L SP U35003 UHM30 HX
1603-3.0-4 L SP U35008 UHM20
1603-3.0-4 L SP U35008 UHM20 HPX
1603-3.0-4 L SP U35008 UHM30
1603-3.0-4 L SP U35008 UHM30 HX
1603-3.0-4 L SP U35015 UHM20
1603-3.0-4 L SP U35015 UHM20 HPX
1603-3.0-4 L SP U35015 UHM30
1603-3.0-4 L SP U35015 UHM30 HX
1603-3.0-4 L SP U55003 UHM20
1603-3.0-4 L SP U55003 UHM20 HPX
1603-3.0-4 L SP U55003 UHM30
1603-3.0-4 L SP U55003 UHM30 HX
1603-3.0-4 L SP U55008 UHM20
1603-3.0-4 L SP U55008 UHM20 HPX
1603-3.0-4 L SP U55008 UHM30
1603-3.0-4 L SP U55008 UHM30 HX
1603-3.0-4 L SP U55015 UHM20
1603-3.0-4 L SP U55015 UHM20 HPX
1603-3.0-4 L SP U55015 UHM30
1603-3.0-4 L SP U55015 UHM30 HX
1603-3.0-4 R SP U35003 UHM20
1603-3.0-4 R SP U35003 UHM20 HPX
1603-3.0-4 R SP U35003 UHM30
1603-3.0-4 R SP U35003 UHM30 HX
1603-3.0-4 R SP U35008 UHM20
1603-3.0-4 R SP U35008 UHM20 HPX
1603-3.0-4 R SP U35008 UHM30
1603-3.0-4 R SP U35008 UHM30 HX
1603-3.0-4 R SP U35015 UHM20
1603-3.0-4 R SP U35015 UHM20 HPX
1603-3.0-4 R SP U35015 UHM30
1603-3.0-4 R SP U35015 UHM30 HX
1603-3.0-4 R SP U55003 UHM20
1603-3.0-4 R SP U55003 UHM20 HPX
1603-3.0-4 R SP U55003 UHM30
1603-3.0-4 R SP U55003 UHM30 HX
1603-3.0-4 R SP U55008 UHM20
1603-3.0-4 R SP U55008 UHM20 HPX
1603-3.0-4 R SP U55008 UHM30
1603-3.0-4 R SP U55008 UHM30 HX
1603-3.0-4 R SP U55015 UHM20
1603-3.0-4 R SP U55015 UHM20 HPX
1603-3.0-4 R SP U55015 UHM30
1603-3.0-4 R SP U55015 UHM30 HX
1603-3.0-5 L 35008 UHM20 HPX
1603-3.0-5 L 35008 UHM30 HX
1603-3.0-5 L 35015 UHM20 HPX
1603-3.0-5 L 35015 UHM30 HX
1603-3.0-5 L 55008 UHM20 HPX
1603-3.0-5 L 55008 UHM30 HX
1603-3.0-5 L 55015 UHM20 HPX
1603-3.0-5 L 55015 UHM30 HX
1603-3.0-5 R 35008 UHM20 HPX
1603-3.0-5 R 35008 UHM30 HX
1603-3.0-5 R 35015 UHM20 HPX
1603-3.0-5 R 35015 UHM30 HX
1603-3.0-5 R 55008 UHM20 HPX
1603-3.0-5 R 55008 UHM30 HX
1603-3.0-5 R 55015 UHM20 HPX
1603-3.0-5 R 55015 UHM30 HX
1604-0.15-2 L TOP ZZ UHM20
1604-0.15-2 L TOP ZZ UHM20 HPX
1604-0.15-2 L TOP ZZ UHM30
1604-0.15-2 L TOP ZZ UHM30 HX
1604-0.15-2 R TOP ZZ UHM10
1604-0.15-2 R TOP ZZ UHM20
1604-0.15-2 R TOP ZZ UHM20 HPX
1604-0.15-2 R TOP ZZ UHM30
1604-0.15-2 R TOP ZZ UHM30 HX
1604-0.2-2 L TOP 008 UHM20
1604-0.2-2 L TOP 008 UHM20 HPX
1604-0.2-2 L TOP 008 UHM30
1604-0.2-2 L TOP 008 UHM30 HX
1604-0.2-2 R TOP 008 UHM20
1604-0.2-2 R TOP 008 UHM20 HPX
1604-0.2-2 R TOP 008 UHM30
1604-0.2-2 R TOP 008 UHM30 HX
1604-0.4-4 L TOP 008 UHM20
1604-0.4-4 L TOP 008 UHM20 HPX
1604-0.4-4 L TOP 008 UHM30
1604-0.4-4 L TOP 008 UHM30 HX
1604-0.4-4 R TOP 008 UHM20
1604-0.4-4 R TOP 008 UHM20 HPX
1604-0.4-4 R TOP 008 UHM30
1604-0.4-4 R TOP 008 UHM30 HX
1604-0.8-4 L TOP 008 UHM20
1604-0.8-4 L TOP 008 UHM20 HPX
1604-0.8-4 L TOP 008 UHM30
1604-0.8-4 L TOP 008 UHM30 HX
1604-0.8-4 R TOP 008 UHM20
1604-0.8-4 R TOP 008 UHM20 HPX
1604-0.8-4 R TOP 008 UHM30
1604-0.8-4 R TOP 008 UHM30 HX
1604-1.2-4 L TOP ZZ UHM20
1604-1.2-4 L TOP ZZ UHM20 HPX
1604-1.2-4 L TOP ZZ UHM30
1604-1.2-4 L TOP ZZ UHM30 HX
1604-1.2-4 R TOP ZZ UHM20
1604-1.2-4 R TOP ZZ UHM20 HPX
1604-1.2-4 R TOP ZZ UHM30
1604-1.2-4 R TOP ZZ UHM30 HX
1604-1.25-2-3 L SP29005 UHM20
1604-1.25-2-3 L SP29005 UHM20 HPX
1604-1.25-2-3 L SP29005 UHM30
1604-1.25-2-3 L SP29005 UHM30 HX
1604-1.25-2-3 R SP29005 UHM20
1604-1.25-2-3 R SP29005 UHM20 HPX
1604-1.25-2-3 R SP29005 UHM30
1604-1.25-2-3 R SP29005 UHM30 HX
1604-1.5-3 L SP TOP 20005 UHM20
1604-1.5-3 L SP TOP 20005 UHM20 HPX
1604-1.5-3 L SP TOP 20005 UHM30
1604-1.5-3 L SP TOP 20005 UHM30 HX
1604-1.5-3 L SP TOP 20ZZ UHM20
1604-1.5-3 L SP TOP 20ZZ UHM20 HPX
1604-1.5-3 L SP TOP 20ZZ UHM30
1604-1.5-3 L SP TOP 20ZZ UHM30 HX
1604-1.5-3 R SP TOP 20005 UHM20
1604-1.5-3 R SP TOP 20005 UHM20 HPX
1604-1.5-3 R SP TOP 20005 UHM30
1604-1.5-3 R SP TOP 20005 UHM30 HX
1604-1.5-3 R SP TOP 20ZZ UHM20
1604-1.5-3 R SP TOP 20ZZ UHM20 HPX
1604-1.5-3 R SP TOP 20ZZ UHM30
1604-1.5-3 R SP TOP 20ZZ UHM30 HX
1604-2.5-4-5 L SP29005 UHM20
1604-2.5-4-5 L SP29005 UHM20 HPX
1604-2.5-4-5 L SP29005 UHM30
1604-2.5-4-5 L SP29005 UHM30 HX
1604-2.5-4-5 L SP29015 UHM20
1604-2.5-4-5 L SP29015 UHM20 HPX
1604-2.5-4-5 L SP29015 UHM30
1604-2.5-4-5 L SP29015 UHM30 HX
1604-2.5-4-5 LV SP29005 UHM20
1604-2.5-4-5 LV SP29005 UHM20 HPX
1604-2.5-4-5 LV SP29005 UHM30
1604-2.5-4-5 LV SP29005 UHM30 HX
1604-2.5-4-5 LV SP29015 UHM20
1604-2.5-4-5 LV SP29015 UHM20 HPX
1604-2.5-4-5 LV SP29015 UHM30
1604-2.5-4-5 LV SP29015 UHM30 HX
1604-2.5-4-5 R SP29005 UHM20
1604-2.5-4-5 R SP29005 UHM20 HPX
1604-2.5-4-5 R SP29005 UHM30
1604-2.5-4-5 R SP29005 UHM30 HX
1604-2.5-4-5 R SP29015 UHM20
1604-2.5-4-5 R SP29015 UHM20 HPX
1604-2.5-4-5 R SP29015 UHM30
1604-2.5-4-5 R SP29015 UHM30 HX
1604-2.5-4-5 RV SP29005 UHM20
1604-2.5-4-5 RV SP29005 UHM20 HPX
1604-2.5-4-5 RV SP29005 UHM30
1604-2.5-4-5 RV SP29005 UHM30 HX
1604-2.5-4-5 RV SP29015 UHM20
1604-2.5-4-5 RV SP29015 UHM20 HPX
1604-2.5-4-5 RV SP29015 UHM30
1604-2.5-4-5 RV SP29015 UHM30 HX
1604-B-0.8-4 L TOP 008 UHM20
1604-B-0.8-4 L TOP 008 UHM20 HPX
1604-B-0.8-4 R TOP 008 UHM20
1604-B-0.8-4 R TOP 008 UHM20 HPX
1604-B-1.2-4 L TOP ZZ UHM20
1604-B-1.2-4 L TOP ZZ UHM20 HPX
1604-B-1.2-4 R TOP ZZ UHM20
1604-B-1.2-4 R TOP ZZ UHM20 HPX
1605-0.8-2.5 L CP UHM20 HPX
1605-0.8-2.5 L CP UHM30 HX
1605-0.8-2.5 R CP UHM20 HPX
1605-0.8-2.5 R CP UHM30 HX
1605-1.0-3.5 L CP R05 UHM20
1605-1.0-3.5 L CP R05 UHM20 HPX
1605-1.0-3.5 L CP R05 UHM30
1605-1.0-3.5 L CP R05 UHM30 HX
1605-1.0-3.5 L CP UHM20 HPX
1605-1.0-3.5 L CP UHM30 HX
1605-1.0-3.5 R CP R05 UHM20
1605-1.0-3.5 R CP R05 UHM20 HPX
1605-1.0-3.5 R CP R05 UHM30
1605-1.0-3.5 R CP R05 UHM30 HX
1605-1.0-3.5 R CP UHM20 HPX
1605-1.0-3.5 R CP UHM30 HX
1605-1.5-3.5 L CP R08 UHM20
1605-1.5-3.5 L CP R08 UHM20 HPX
1605-1.5-3.5 L CP R08 UHM30
1605-1.5-3.5 L CP R08 UHM30 HX
1605-1.5-3.5 L CP UHM20 HPX
1605-1.5-3.5 L CP UHM30 HX
1605-1.5-3.5 R CP R08 UHM20
1605-1.5-3.5 R CP R08 UHM20 HPX
1605-1.5-3.5 R CP R08 UHM30
1605-1.5-3.5 R CP R08 UHM30 HX
1605-1.5-3.5 R CP UHM20 HPX
1605-1.5-3.5 R CP UHM30 HX
1605-2.0-3.5 L CP R08 UHM20
1605-2.0-3.5 L CP R08 UHM20 HPX
1605-2.0-3.5 L CP R08 UHM30
1605-2.0-3.5 L CP R08 UHM30 HX
1605-2.0-3.5 L CP UHM20 HPX
1605-2.0-3.5 L CP UHM30 HX
1605-2.0-3.5 R CP R08 UHM20
1605-2.0-3.5 R CP R08 UHM20 HPX
1605-2.0-3.5 R CP R08 UHM30
1605-2.0-3.5 R CP R08 UHM30 HX
1605-2.0-3.5 R CP UHM20 HPX
1605-2.0-3.5 R CP UHM30 HX
1605-B-1.0-2.5 L UHM20 HPX
1605-B-1.0-2.5 R UHM20 HPX
1606-0.06-60 VP L UHM30 HX
1606-0.06-60 VP R UHM30 HX
1606-0.08-60 VP L UHM30 HX
1606-0.08-60 VP R UHM30 HX
1606-0.09-60 VP L UHM30 HX
1606-0.09-60 VP R UHM30 HX
1606-0.125-60 VP L UHM30 HX
1606-0.125-60 VP R UHM30 HX
1606-0.15-60 VP L UHM30 HX
1606-0.15-60 VP R UHM30 HX
1606-0.1-60 VP L UHM30 HX
1606-0.1-60 VP R UHM30 HX
1606-0.175-60 VP L UHM20 HPX
1606-0.175-60 VP L UHM30 HX
1606-0.175-60 VP R UHM20 HPX
1606-0.175-60 VP R UHM30 HX
1606-0.225-60 VP L UHM20 HPX
1606-0.225-60 VP L UHM30 HX
1606-0.225-60 VP R UHM20 HPX
1606-0.225-60 VP R UHM30 HX
1606-0.25-60 VP L UHM20 HPX
1606-0.25-60 VP L UHM30 HX
1606-0.25-60 VP R UHM20 HPX
1606-0.25-60 VP R UHM30 HX
1606-0.2-60 VP L UHM20 HPX
1606-0.2-60 VP L UHM30 HX
1606-0.2-60 VP R UHM20 HPX
1606-0.2-60 VP R UHM30 HX
1606-0.35-60 VP L UHM20 HPX
1606-0.35-60 VP L UHM30 HX
1606-0.35-60 VP R UHM20 HPX
1606-0.35-60 VP R UHM30 HX
1606-0.3-60 VP L UHM20 HPX
1606-0.3-60 VP L UHM30 HX
1606-0.3-60 VP R UHM20 HPX
1606-0.3-60 VP R UHM30 HX
1606-0.45-60 VP L UHM20 HPX
1606-0.45-60 VP L UHM30 HX
1606-0.45-60 VP R UHM20 HPX
1606-0.45-60 VP R UHM30 HX
1606-0.4-60 VP L UHM20 HPX
1606-0.4-60 VP L UHM30 HX
1606-0.4-60 VP R UHM20 HPX
1606-0.4-60 VP R UHM30 HX
1606-0.5-60 VP L UHM20 HPX
1606-0.5-60 VP L UHM30 HX
1606-0.5-60 VP R UHM20 HPX
1606-0.5-60 VP R UHM30 HX
1606-0.6-60 VP L UHM30 HX
1606-0.6-60 VP R UHM30 HX
1606-0.75-60 VP L UHM30 HX
1606-0.75-60 VP R UHM30 HX
1606-0.7-60 VP L UHM20 HPX
1606-0.7-60 VP L UHM30 HX
1606-0.7-60 VP R UHM20 HPX
1606-0.7-60 VP R UHM30 HX
1606-0.8-60 VP L UHM30 HX
1606-0.8-60 VP R UHM20 HPX
1606-0.8-60 VP R UHM30 HX
1606-01-64 UNC-60 VP R UHM30 HX
1606-02-64 UNF-60 VP L UHM30
1606-02-64 UNF-60 VP L UHM30 HX
1606-02-64 UNF-60 VP R UHM30
1606-02-64 UNF-60 VP R UHM30 HX
1606-03-56 UNF-60 VP L UHM30
1606-03-56 UNF-60 VP L UHM30 HX
1606-03-56 UNF-60 VP R UHM30
1606-03-56 UNF-60 VP R UHM30 HX
1606-04-48 UNF-60 VP L UHM30
1606-04-48 UNF-60 VP L UHM30 HX
1606-04-48 UNF-60 VP R UHM30
1606-04-48 UNF-60 VP R UHM30 HX
1606-05-40 UNC-60 VP L UHM30
1606-05-40 UNC-60 VP L UHM30 HX
1606-05-40 UNC-60 VP R UHM30
1606-05-40 UNC-60 VP R UHM30 HX
1606-06-40 UNF-60 VP L UHM30
1606-06-40 UNF-60 VP L UHM30 HX
1606-06-40 UNF-60 VP R UHM30
1606-06-40 UNF-60 VP R UHM30 HX
1606-08-32 UNC-60 VP L UHM30
1606-08-32 UNC-60 VP L UHM30 HX
1606-08-32 UNC-60 VP R UHM30
1606-08-32 UNC-60 VP R UHM30 HX
1606-1.0-60 VP L UHM30 HX
1606-1.0-60 VP R UHM20 HPX
1606-1.0-60 VP R UHM30 HX
1606-1.25-60 VP L UHM30 HX
1606-1.25-60 VP R UHM30 HX
1606-10-32 UNF-60 VP L UHM30
1606-10-32 UNF-60 VP L UHM30 HX
1606-10-32 UNF-60 VP R UHM30
1606-10-32 UNF-60 VP R UHM30 HX
1606-20 UN 60 VP L UHM30 HX
1606-20 UN 60 VP R UHM30 HX
1606-24 UN 60 VP L UHM30 HX
1606-24 UN 60 VP R UHM30 HX
1606-28 UN 60 VP L UHM30 HX
1606-28 UN 60 VP R UHM30 HX
1606-32 UN 60 VP L UHM30 HX
1606-32 UN 60 VP R UHM30 HX
1606-36 UN 60 VP L UHM30 HX
1606-36 UN 60 VP R UHM30 HX
1606-40 UN 60 VP L UHM30 HX
1606-40 UN 60 VP R UHM30 HX
1606-44 UN 60 VP L UHM30 HX
1606-44 UN 60 VP R UHM30 HX
1606-48 UN 60 VP L UHM30 HX
1606-48 UN 60 VP R UHM30 HX
1606-56 UN 60 VP L UHM30 HX
1606-56 UN 60 VP R UHM30 HX
1606-64 UN 60 VP L UHM30 HX
1606-72 UN 60 VP L UHM30 HX
1606-72 UN 60 VP R UHM30 HX
1606-80 UN 60 VP L UHM30 HX
1606-80 UN 60 VP R UHM30 HX
1606-B-2-4-55 L UHM20 HPX
1606-B-2-4-55 R UHM20 HPX
1606-B-2-4-60 L UHM20 HPX
1606-B-2-4-60 R UHM20 HPX
1606-G 14 -55 VP L UHM30 HX
1606-G 14-55 VP R UHM30 HX
1606-G 19 -55 VP L UHM30 HX
1606-G 19-55 VP R UHM30 HX
1606-G 28 -55 VP L UHM30 HX
1606-G 28-55 VP R UHM30 HX
1607-R0.5-2.5 L UHM20 HPX
1607-R0.5-2.5 R UHM20 HPX
1607-R0.6-2.5 L UHM20 HPX
1607-R0.6-2.5 R UHM20 HPX
1610-0.24-0.5 L UHM20 HPX
1610-0.24-0.5 R UHM20 HPX
1610-0.34-0.6 L UHM20 HPX
1610-0.34-0.6 R UHM20 HPX
1610-0.44-0.8 L UHM20 HPX
1610-0.44-0.8 R UHM20 HPX
1610-0.45-1.5 L UHM20 HPX
1610-0.45-1.5 R UHM20 HPX
1610-0.54-0.8 L UHM20 HPX
1610-0.54-0.8 R UHM20 HPX
1610-0.64-1.0 L UHM20 HPX
1610-0.64-1.0 R UHM20 HPX
1610-0.64-1.2 L UHM20 HPX
1610-0.64-1.2 R UHM20 HPX
1610-0.65-0.7 L UHM20 HPX
1610-0.65-0.7 R UHM20 HPX
1610-0.74-1.8 L UHM20 HPX
1610-0.74-1.8 R UHM20 HPX
1610-0.85-0.9 L UHM20 HPX
1610-0.85-0.9 R UHM20 HPX
1610-0.85-1.2 L UHM20 HPX
1610-0.85-1.2 R UHM20 HPX
1610-0.94-2.3 L UHM20 HPX
1610-0.94-2.3 R UHM20 HPX
1610-0.95-1.0 L UHM20 HPX
1610-0.95-1.0 R UHM20 HPX
1610-1.0-1.14 L UHM20 HPX
1610-1.0-1.14 R UHM20 HPX
1610-1.05-2.3 L UHM20 HPX
1610-1.05-2.3 R UHM20 HPX
1610-1.15-2.8 L UHM20 HPX
1610-1.15-2.8 R UHM20 HPX
1610-1.2-1.34 L UHM20 HPX
1610-1.2-1.34 R UHM20 HPX
1610-1.25-2.8 L UHM20 HPX
1610-1.25-2.8 R UHM20 HPX
1610-1.35-3.3 L UHM20 HPX
1610-1.35-3.3 R UHM20 HPX
1610-1.4-1.53 L UHM20 HPX
1610-1.4-1.53 R UHM20 HPX
1610-1.55-3.8 L UHM20 HPX
1610-1.55-3.8 R UHM20 HPX
1610-1.7-1.82 L UHM20 HPX
1610-1.7-1.82 R UHM20 HPX
1610-1.95-2.0 L UHM20 HPX
1610-1.95-2.0 R UHM20 HPX
1610-2.25-2.0 L UHM20 HPX
1610-2.25-2.0 R UHM20 HPX
1610-2.75-2.0 L UHM20 HPX
1610-2.75-2.0 R UHM20 HPX
1611-45-0.25-0.5 L UHM30 HX
1611-45-0.25-0.5 R UHM30 HX
1611-45-0.5-1.0 L UHM30 HX
1611-45-0.5-1.0 R UHM30 HX
1611-45-0.75-1.5 L UHM30 HX
1611-45-0.75-1.5 R UHM30 HX
1611-45-1.0-2.0 L UHM30 HX
1611-45-1.0-2.0 R UHM30 HX
1706-0.5-60 VP L WCT NIHS UHM30
1706-0.5-60 VP L WCT NIHS UHM30 HX
1706-0.5-60 VP R WCT NIHS UHM30
1706-0.5-60 VP R WCT NIHS UHM30 HX
3001-3.5-10 L P UHM20 HPX
3001-3.5-10 R P UHM20 HPX
3001-3.6-17 L P UHM20 HPX
3001-3.6-17 R P UHM20 HPX
3002-0.5-2.5-16 L G20 UHM30
3002-0.5-2.5-16 L G20 UHM30 HX
3002-0.5-2.5-16 LV G20 UHM30
3002-0.5-2.5-16 LV G20 UHM30 HX
3002-0.5-2.5-16 R G20 UHM30
3002-0.5-2.5-16 R G20 UHM30 HX
3002-0.5-2.5-16 RV G20 UHM30
3002-0.5-2.5-16 RV G20 UHM30 HX
3002-0.8-10 L SPT UHM30 HX
3002-0.8-10 LV SPT UHM30 HX
3002-0.8-10 R SPT UHM30 HX
3002-0.8-10 RV SPT UHM30 HX
3002-0.8-6-16 L UHM20 HPX
3002-0.8-6-16 LV UHM20 HPX
3002-0.8-6-16 LV UHM30 HX
3002-0.8-6-16 R UHM20 HPX
3002-0.8-6-16 RV UHM20 HPX
3002-0.8-6-16 RV UHM30 HX
3002-1.0-10 LN SPT UHM30 HX
3002-1.0-10 RN SPT UHM30 HX
3002-1.0-13 L SPT UHM30 HX
3002-1.0-13 LV SPT UHM30 HX
3002-1.0-13 R SPT UHM20 HPX
3002-1.0-13 R SPT UHM30 HX
3002-1.0-13 RV SPT UHM30 HX
3002-1.0-6-16 LV UHM30 HX
3002-1.0-6-16 R UHM20 HPX
3002-1.0-6-16 RV UHM30 HX
3002-1.2-6-16 L UHM20 HPX
3002-1.2-6-16 LV UHM20 HPX
3002-1.2-6-16 LV UHM30 HX
3002-1.2-6-16 R UHM20 HPX
3002-1.2-6-16 RV UHM20 HPX
3002-1.2-6-16 RV UHM30 HX
3002-1.5-10 LN SC UHM20 HPX
3002-1.5-10 LN SC UHM30 HX
3002-1.5-10 LN SPT UHM30 HX
3002-1.5-10 LN SPT06 UHM20
3002-1.5-10 LN SPT06 UHM20 HPX
3002-1.5-10 LN SPT12 UHM20
3002-1.5-10 LN SPT12 UHM20 HPX
3002-1.5-10 RN SC UHM20 HPX
3002-1.5-10 RN SC UHM30 HX
3002-1.5-10 RN SPT UHM30 HX
3002-1.5-10 RN SPT06 UHM20
3002-1.5-10 RN SPT06 UHM20 HPX
3002-1.5-10 RN SPT12 UHM20
3002-1.5-10 RN SPT12 UHM20 HPX
3002-1.5-16 L SC UHM20 HPX
3002-1.5-16 L SC UHM30 HX
3002-1.5-16 L SPT UHM30 HX
3002-1.5-16 LN SC UHM20 HPX
3002-1.5-16 LN SC UHM30 HX
3002-1.5-16 LN SPT UHM30 HX
3002-1.5-16 LV SC UHM20 HPX
3002-1.5-16 LV SC UHM30 HX
3002-1.5-16 LV SPT UHM30 HX
3002-1.5-16 R SC UHM20 HPX
3002-1.5-16 R SC UHM30 HX
3002-1.5-16 R SPT UHM30 HX
3002-1.5-16 RN SC UHM20 HPX
3002-1.5-16 RN SC UHM30 HX
3002-1.5-16 RN SPT UHM30 HX
3002-1.5-16 RV SC UHM20 HPX
3002-1.5-16 RV SC UHM30 HX
3002-1.5-16 RV SPT UHM30 HX
3002-1.5-8 L SC UHM20 HPX
3002-1.5-8 L SPT UHM30 HX
3002-1.5-8 L SPT06 UHM20 HPX
3002-1.5-8 L SPT12 UHM20 HPX
3002-1.5-8 LV SC UHM20 HPX
3002-1.5-8 LV SC UHM30 HX
3002-1.5-8 LV SPT UHM30 HX
3002-1.5-8 LV SPT06 UHM20
3002-1.5-8 LV SPT06 UHM20 HPX
3002-1.5-8 LV SPT12 UHM20
3002-1.5-8 LV SPT12 UHM20 HPX
3002-1.5-8 R SC UHM20 HPX
3002-1.5-8 R SPT UHM30 HX
3002-1.5-8 R SPT06 UHM20 HPX
3002-1.5-8 R SPT12 UHM20 HPX
3002-1.5-8 RV SC UHM20 HPX
3002-1.5-8 RV SC UHM30 HX
3002-1.5-8 RV SPT UHM30 HX
3002-1.5-8 RV SPT06 UHM20
3002-1.5-8 RV SPT06 UHM20 HPX
3002-1.5-8 RV SPT12 UHM20
3002-1.5-8 RV SPT12 UHM20 HPX
3002-2.0-10 EL GS UHM20 HPX
3002-2.0-10 ELV GS UHM20 HPX
3002-2.0-10 ER GS UHM20 HPX
3002-2.0-10 ERV GS UHM20 HPX
3002-2.0-10 FL GS UHM20 HPX
3002-2.0-10 FLV GS UHM20 HPX
3002-2.0-10 FR GS UHM20 HPX
3002-2.0-10 FRV GS UHM20 HPX
3002-2.0-10 L EN GS UHM20 HPX
3002-2.0-10 L FN GS UHM20 HPX
3002-2.0-10 L SC TOP 015 UHM20
3002-2.0-10 L SC TOP 015 UHM20 HPX
3002-2.0-10 L SC TOP 015 UHM30
3002-2.0-10 L SC TOP 015 UHM30 HX
3002-2.0-10 L SC UHM20 HPX
3002-2.0-10 L SC UHM30 HX
3002-2.0-10 L SPT UHM30 HX
3002-2.0-10 L SPT06 UHM20
3002-2.0-10 L SPT06 UHM20 HPX
3002-2.0-10 L SPT12 UHM20
3002-2.0-10 L SPT12 UHM20 HPX
3002-2.0-10 L TOP 015 UHM20
3002-2.0-10 L TOP 015 UHM20 HPX
3002-2.0-10 L TOP 015 UHM30
3002-2.0-10 L TOP 015 UHM30 HX
3002-2.0-10 LN SC UHM20 HPX
3002-2.0-10 LN SC UHM30 HX
3002-2.0-10 LN SPT UHM30 HX
3002-2.0-10 LN SPT06 UHM20
3002-2.0-10 LN SPT06 UHM20 HPX
3002-2.0-10 LN SPT12 UHM20
3002-2.0-10 LN SPT12 UHM20 HPX
3002-2.0-10 LV SC TOP 015 UHM20
3002-2.0-10 LV SC TOP 015 UHM20 HPX
3002-2.0-10 LV SC TOP 015 UHM30
3002-2.0-10 LV SC TOP 015 UHM30 HX
3002-2.0-10 LV SC UHM20 HPX
3002-2.0-10 LV SC UHM30 HX
3002-2.0-10 LV SPT UHM30 HX
3002-2.0-10 LV SPT06 UHM20
3002-2.0-10 LV SPT06 UHM20 HPX
3002-2.0-10 LV SPT12 UHM20
3002-2.0-10 LV SPT12 UHM20 HPX
3002-2.0-10 LV TOP 015 UHM20
3002-2.0-10 LV TOP 015 UHM20 HPX
3002-2.0-10 LV TOP 015 UHM30
3002-2.0-10 LV TOP 015 UHM30 HX
3002-2.0-10 R EN GS UHM20 HPX
3002-2.0-10 R FN GS UHM20 HPX
3002-2.0-10 R SC TOP 015 UHM20
3002-2.0-10 R SC TOP 015 UHM20 HPX
3002-2.0-10 R SC TOP 015 UHM30
3002-2.0-10 R SC TOP 015 UHM30 HX
3002-2.0-10 R SC UHM20 HPX
3002-2.0-10 R SC UHM30 HX
3002-2.0-10 R SPT UHM20 HPX
3002-2.0-10 R SPT UHM30 HX
3002-2.0-10 R SPT06 UHM20
3002-2.0-10 R SPT06 UHM20 HPX
3002-2.0-10 R SPT12 UHM20
3002-2.0-10 R SPT12 UHM20 HPX
3002-2.0-10 R TOP 015 UHM20
3002-2.0-10 R TOP 015 UHM20 HPX
3002-2.0-10 R TOP 015 UHM30
3002-2.0-10 R TOP 015 UHM30 HX
3002-2.0-10 RN SC UHM20 HPX
3002-2.0-10 RN SC UHM30 HX
3002-2.0-10 RN SPT UHM30 HX
3002-2.0-10 RN SPT06 UHM20
3002-2.0-10 RN SPT06 UHM20 HPX
3002-2.0-10 RN SPT12 UHM20
3002-2.0-10 RN SPT12 UHM20 HPX
3002-2.0-10 RV SC TOP 015 UHM20
3002-2.0-10 RV SC TOP 015 UHM20 HPX
3002-2.0-10 RV SC TOP 015 UHM30
3002-2.0-10 RV SC TOP 015 UHM30 HX
3002-2.0-10 RV SC UHM20 HPX
3002-2.0-10 RV SC UHM30 HX
3002-2.0-10 RV SPT UHM30 HX
3002-2.0-10 RV SPT06 UHM20
3002-2.0-10 RV SPT06 UHM20 HPX
3002-2.0-10 RV SPT12 UHM20
3002-2.0-10 RV SPT12 UHM20 HPX
3002-2.0-10 RV TOP 015 UHM20
3002-2.0-10 RV TOP 015 UHM20 HPX
3002-2.0-10 RV TOP 015 UHM30
3002-2.0-10 RV TOP 015 UHM30 HX
3002-2.0-16 L SC UHM20 HPX
3002-2.0-16 L SC UHM30 HX
3002-2.0-16 L SPT UHM30 HX
3002-2.0-16 L SPT06 UHM20
3002-2.0-16 L SPT06 UHM20 HPX
3002-2.0-16 L SPT12 UHM20
3002-2.0-16 L SPT12 UHM20 HPX
3002-2.0-16 LN SC UHM20 HPX
3002-2.0-16 LN SC UHM30 HX
3002-2.0-16 LN SPT UHM30 HX
3002-2.0-16 LN SPT06 UHM20
3002-2.0-16 LN SPT06 UHM20 HPX
3002-2.0-16 LN SPT12 UHM20
3002-2.0-16 LN SPT12 UHM20 HPX
3002-2.0-16 LV SC UHM20 HPX
3002-2.0-16 LV SC UHM30 HX
3002-2.0-16 LV SPT UHM30 HX
3002-2.0-16 LV SPT06 UHM20
3002-2.0-16 LV SPT06 UHM20 HPX
3002-2.0-16 LV SPT12 UHM20
3002-2.0-16 LV SPT12 UHM20 HPX
3002-2.0-16 R SC UHM20 HPX
3002-2.0-16 R SC UHM30 HX
3002-2.0-16 R SPT UHM30 HX
3002-2.0-16 R SPT06 UHM20
3002-2.0-16 R SPT06 UHM20 HPX
3002-2.0-16 R SPT12 UHM20
3002-2.0-16 R SPT12 UHM20 HPX
3002-2.0-16 RN SC UHM20 HPX
3002-2.0-16 RN SC UHM30 HX
3002-2.0-16 RN SPT UHM30 HX
3002-2.0-16 RN SPT06 UHM20
3002-2.0-16 RN SPT06 UHM20 HPX
3002-2.0-16 RN SPT12 UHM20
3002-2.0-16 RN SPT12 UHM20 HPX
3002-2.0-16 RV SC UHM20 HPX
3002-2.0-16 RV SC UHM30 HX
3002-2.0-16 RV SPT UHM30 HX
3002-2.0-16 RV SPT06 UHM20
3002-2.0-16 RV SPT06 UHM20 HPX
3002-2.0-16 RV SPT12 UHM20
3002-2.0-16 RV SPT12 UHM20 HPX
3002-2.5-13 L SC UHM20 HPX
3002-2.5-13 L SC UHM30 HX
3002-2.5-13 L SPT UHM30 HX
3002-2.5-13 L SPT06 UHM20
3002-2.5-13 L SPT06 UHM20 HPX
3002-2.5-13 L SPT12 UHM20
3002-2.5-13 L SPT12 UHM20 HPX
3002-2.5-13 LN SC UHM20 HPX
3002-2.5-13 LN SC UHM30 HX
3002-2.5-13 LN SPT UHM30 HX
3002-2.5-13 LN SPT06 UHM20
3002-2.5-13 LN SPT06 UHM20 HPX
3002-2.5-13 LN SPT12 UHM20
3002-2.5-13 LN SPT12 UHM20 HPX
3002-2.5-13 LV SC UHM20 HPX
3002-2.5-13 LV SC UHM30 HX
3002-2.5-13 LV SPT UHM30 HX
3002-2.5-13 LV SPT06 UHM20
3002-2.5-13 LV SPT06 UHM20 HPX
3002-2.5-13 LV SPT12 UHM20
3002-2.5-13 LV SPT12 UHM20 HPX
3002-2.5-13 R SC UHM20 HPX
3002-2.5-13 R SC UHM30 HX
3002-2.5-13 R SPT UHM30 HX
3002-2.5-13 R SPT06 UHM20
3002-2.5-13 R SPT06 UHM20 HPX
3002-2.5-13 R SPT12 UHM20
3002-2.5-13 R SPT12 UHM20 HPX
3002-2.5-13 RN SC UHM20 HPX
3002-2.5-13 RN SC UHM30 HX
3002-2.5-13 RN SPT UHM30 HX
3002-2.5-13 RN SPT06 UHM20
3002-2.5-13 RN SPT06 UHM20 HPX
3002-2.5-13 RN SPT12 UHM20
3002-2.5-13 RN SPT12 UHM20 HPX
3002-2.5-13 RV SC UHM20 HPX
3002-2.5-13 RV SC UHM30 HX
3002-2.5-13 RV SPT UHM30 HX
3002-2.5-13 RV SPT06 UHM20
3002-2.5-13 RV SPT06 UHM20 HPX
3002-2.5-13 RV SPT12 UHM20
3002-2.5-13 RV SPT12 UHM20 HPX
3002-2.5-16 L SC UHM20 HPX
3002-2.5-16 L SC UHM30 HX
3002-2.5-16 L SPT UHM30 HX
3002-2.5-16 L SPT06 UHM20
3002-2.5-16 L SPT06 UHM20 HPX
3002-2.5-16 L SPT12 UHM20
3002-2.5-16 L SPT12 UHM20 HPX
3002-2.5-16 LN SC UHM20 HPX
3002-2.5-16 LN SC UHM30 HX
3002-2.5-16 LN SPT UHM30 HX
3002-2.5-16 LN SPT06 UHM20
3002-2.5-16 LN SPT06 UHM20 HPX
3002-2.5-16 LN SPT12 UHM20
3002-2.5-16 LN SPT12 UHM20 HPX
3002-2.5-16 LV SC UHM20 HPX
3002-2.5-16 LV SC UHM30 HX
3002-2.5-16 LV SPT UHM30 HX
3002-2.5-16 LV SPT06 UHM20
3002-2.5-16 LV SPT06 UHM20 HPX
3002-2.5-16 LV SPT12 UHM20
3002-2.5-16 LV SPT12 UHM20 HPX
3002-2.5-16 R SC UHM20 HPX
3002-2.5-16 R SC UHM30 HX
3002-2.5-16 R SPT UHM30 HX
3002-2.5-16 R SPT06 UHM20
3002-2.5-16 R SPT06 UHM20 HPX
3002-2.5-16 R SPT12 UHM20
3002-2.5-16 R SPT12 UHM20 HPX
3002-2.5-16 RN SC UHM20 HPX
3002-2.5-16 RN SC UHM30 HX
3002-2.5-16 RN SPT UHM30 HX
3002-2.5-16 RN SPT06 UHM20
3002-2.5-16 RN SPT06 UHM20 HPX
3002-2.5-16 RN SPT12 UHM20
3002-2.5-16 RN SPT12 UHM20 HPX
3002-2.5-16 RV SC UHM20 HPX
3002-2.5-16 RV SC UHM30 HX
3002-2.5-16 RV SPT UHM30 HX
3002-2.5-16 RV SPT06 UHM20
3002-2.5-16 RV SPT06 UHM20 HPX
3002-2.5-16 RV SPT12 UHM20
3002-2.5-16 RV SPT12 UHM20 HPX
3002-3.0-16 L SC UHM20 HPX
3002-3.0-16 L SC UHM30 HX
3002-3.0-16 L SPT UHM30 HX
3002-3.0-16 L SPT06 UHM20
3002-3.0-16 L SPT06 UHM20 HPX
3002-3.0-16 L SPT12 UHM20 HPX
3002-3.0-16 L SPT12 UHM20
3002-3.0-16 LN SC UHM20 HPX
3002-3.0-16 LN SC UHM30 HX
3002-3.0-16 LN SPT UHM30 HX
3002-3.0-16 LN SPT06 UHM20
3002-3.0-16 LN SPT06 UHM20 HPX
3002-3.0-16 LN SPT12 UHM20
3002-3.0-16 LN SPT12 UHM20 HPX
3002-3.0-16 LV SC UHM20 HPX
3002-3.0-16 LV SC UHM30 HX
3002-3.0-16 LV SPT UHM30 HX
3002-3.0-16 LV SPT06 UHM20
3002-3.0-16 LV SPT06 UHM20 HPX
3002-3.0-16 LV SPT12 UHM20
3002-3.0-16 LV SPT12 UHM20 HPX
3002-3.0-16 R SC UHM20 HPX
3002-3.0-16 R SC UHM30 HX
3002-3.0-16 R SPT UHM30 HX
3002-3.0-16 R SPT06 UHM20
3002-3.0-16 R SPT06 UHM20 HPX
3002-3.0-16 R SPT12 UHM20 HPX
3002-3.0-16 R SPT12 UHM20
3002-3.0-16 RN SC UHM20 HPX
3002-3.0-16 RN SC UHM30 HX
3002-3.0-16 RN SPT UHM30 HX
3002-3.0-16 RN SPT06 UHM20
3002-3.0-16 RN SPT06 UHM20 HPX
3002-3.0-16 RN SPT12 UHM20
3002-3.0-16 RN SPT12 UHM20 HPX
3002-3.0-16 RV SC UHM20 HPX
3002-3.0-16 RV SC UHM30 HX
3002-3.0-16 RV SPT UHM30 HX
3002-3.0-16 RV SPT06 UHM20
3002-3.0-16 RV SPT06 UHM20 HPX
3002-3.0-16 RV SPT12 UHM20
3002-3.0-16 RV SPT12 UHM20 HPX
3003-3.4-8 L SP U TOP 45008 UHM20
3003-3.4-8 L SP U TOP 45008 UHM20 HPX
3003-3.4-8 L SP U TOP 45008 UHM30
3003-3.4-8 L SP U TOP 45008 UHM30 HX
3003-3.4-8 L SP U TOP 45015 UHM20
3003-3.4-8 L SP U TOP 45015 UHM20 HPX
3003-3.4-8 L SP U TOP 45015 UHM30
3003-3.4-8 L SP U TOP 45015 UHM30 HX
3003-3.4-8 L SP U TOP ZZ UHM20
3003-3.4-8 L SP U TOP ZZ UHM20 HPX
3003-3.4-8 L SP U TOP ZZ UHM30
3003-3.4-8 L SP U TOP ZZ UHM30 HX
3003-3.4-8 R SP U TOP 45008 UHM20
3003-3.4-8 R SP U TOP 45008 UHM20 HPX
3003-3.4-8 R SP U TOP 45008 UHM30
3003-3.4-8 R SP U TOP 45008 UHM30 HX
3003-3.4-8 R SP U TOP 45015 UHM20
3003-3.4-8 R SP U TOP 45015 UHM20 HPX
3003-3.4-8 R SP U TOP 45015 UHM30
3003-3.4-8 R SP U TOP 45015 UHM30 HX
3003-3.4-8 R SP U TOP ZZ UHM20
3003-3.4-8 R SP U TOP ZZ UHM20 HPX
3003-3.4-8 R SP U TOP ZZ UHM30
3003-3.4-8 R SP U TOP ZZ UHM30 HX
3004-0.8-4 L CP UHM20 HPX
3004-0.8-4 LV CP UHM30 HX
3004-0.8-4 R CP UHM20 HPX
3004-0.8-4 RV CP UHM30 HX
3004-0.8-6 L TOP ZZ UHM20
3004-0.8-6 L TOP ZZ UHM20 HPX
3004-0.8-6 L TOP ZZ UHM30
3004-0.8-6 L TOP ZZ UHM30 HX
3004-0.8-6 R TOP ZZ UHM20
3004-0.8-6 R TOP ZZ UHM20 HPX
3004-0.8-6 R TOP ZZ UHM30
3004-0.8-6 R TOP ZZ UHM30 HX
3004-1.0-6 L TOP ZZ UHM20
3004-1.0-6 L TOP ZZ UHM20 HPX
3004-1.0-6 L TOP ZZ UHM30
3004-1.0-6 L TOP ZZ UHM30 HX
3004-1.0-6 R TOP ZZ UHM20
3004-1.0-6 R TOP ZZ UHM20 HPX
3004-1.0-6 R TOP ZZ UHM30
3004-1.0-6 R TOP ZZ UHM30 HX
3004-1.2-8 L TOP ZZ UHM20
3004-1.2-8 L TOP ZZ UHM20 HPX
3004-1.2-8 L TOP ZZ UHM30
3004-1.2-8 L TOP ZZ UHM30 HX
3004-1.2-8 R TOP ZZ UHM20
3004-1.2-8 R TOP ZZ UHM20 HPX
3004-1.2-8 R TOP ZZ UHM30
3004-1.2-8 R TOP ZZ UHM30 HX
3004-1.5-8 L TOP ZZ UHM20
3004-1.5-8 L TOP ZZ UHM20 HPX
3004-1.5-8 L TOP ZZ UHM30
3004-1.5-8 L TOP ZZ UHM30 HX
3004-1.5-8 R TOP ZZ UHM20
3004-1.5-8 R TOP ZZ UHM20 HPX
3004-1.5-8 R TOP ZZ UHM30
3004-1.5-8 R TOP ZZ UHM30 HX
3004-1.8-8 L TOP ZZ UHM20
3004-1.8-8 L TOP ZZ UHM20 HPX
3004-1.8-8 L TOP ZZ UHM30
3004-1.8-8 L TOP ZZ UHM30 HX
3004-1.8-8 R TOP ZZ UHM20
3004-1.8-8 R TOP ZZ UHM20 HPX
3004-1.8-8 R TOP ZZ UHM30
3004-1.8-8 R TOP ZZ UHM30 HX
3004-2.4-6 L SP TOP 20008 UHM20
3004-2.4-6 L SP TOP 20008 UHM20 HPX
3004-2.4-6 L SP TOP 20008 UHM30
3004-2.4-6 L SP TOP 20008 UHM30 HX
3004-2.4-6 L SP TOP 20015 UHM20
3004-2.4-6 L SP TOP 20015 UHM20 HPX
3004-2.4-6 L SP TOP 20015 UHM30
3004-2.4-6 L SP TOP 20015 UHM30 HX
3004-2.4-6 L SP TOP 20ZZ UHM20
3004-2.4-6 L SP TOP 20ZZ UHM20 HPX
3004-2.4-6 L SP TOP 20ZZ UHM30
3004-2.4-6 L SP TOP 20ZZ UHM30 HX
3004-2.4-6 R SP TOP 20008 UHM20
3004-2.4-6 R SP TOP 20008 UHM20 HPX
3004-2.4-6 R SP TOP 20008 UHM30
3004-2.4-6 R SP TOP 20008 UHM30 HX
3004-2.4-6 R SP TOP 20015 UHM20
3004-2.4-6 R SP TOP 20015 UHM20 HPX
3004-2.4-6 R SP TOP 20015 UHM30
3004-2.4-6 R SP TOP 20015 UHM30 HX
3004-2.4-6 R SP TOP 20ZZ UHM20
3004-2.4-6 R SP TOP 20ZZ UHM20 HPX
3004-3.2-5 L SP35015 UHM20
3004-3.2-5 L SP35015 UHM20 HPX
3004-3.2-5 L SP35015 UHM30
3004-3.2-5 L SP35015 UHM30 HX
3004-3.2-5 L SP35035 UHM20
3004-3.2-5 L SP35035 UHM20 HPX
3004-3.2-5 L SP35035 UHM30
3004-3.2-5 L SP35035 UHM30 HX
3004-3.2-5 R SP35015 UHM20
3004-3.2-5 R SP35015 UHM20 HPX
3004-3.2-5 R SP35015 UHM30
3004-3.2-5 R SP35015 UHM30 HX
3004-3.2-5 R SP35035 UHM20
3004-3.2-5 R SP35035 UHM20 HPX
3004-3.2-5 R SP35035 UHM30
3004-3.2-5 R SP35035 UHM30 HX
3004-3.2-6 L SP29008 UHM20
3004-3.2-6 L SP29008 UHM20 HPX
3004-3.2-6 L SP29008 UHM30
3004-3.2-6 L SP29008 UHM30 HX
3004-3.2-6 L SP29015 UHM20
3004-3.2-6 L SP29015 UHM20 HPX
3004-3.2-6 L SP29015 UHM30
3004-3.2-6 L SP29015 UHM30 HX
3004-3.2-6 L SP29035 UHM20
3004-3.2-6 L SP29035 UHM20 HPX
3004-3.2-6 L SP29035 UHM30
3004-3.2-6 L SP29035 UHM30 HX
3004-3.2-6 L SP29075 UHM20
3004-3.2-6 L SP29075 UHM20 HPX
3004-3.2-6 L SP29075 UHM30
3004-3.2-6 L SP29075 UHM30 HX
3004-3.2-6 LV SP29008 UHM20
3004-3.2-6 LV SP29008 UHM20 HPX
3004-3.2-6 LV SP29008 UHM30
3004-3.2-6 LV SP29008 UHM30 HX
3004-3.2-6 LV SP29015 UHM20
3004-3.2-6 LV SP29015 UHM20 HPX
3004-3.2-6 LV SP29015 UHM30
3004-3.2-6 LV SP29015 UHM30 HX
3004-3.2-6 LV SP29035 UHM20
3004-3.2-6 LV SP29035 UHM20 HPX
3004-3.2-6 LV SP29035 UHM30
3004-3.2-6 LV SP29035 UHM30 HX
3004-3.2-6 LV SP29075 UHM20
3004-3.2-6 LV SP29075 UHM20 HPX
3004-3.2-6 LV SP29075 UHM30
3004-3.2-6 LV SP29075 UHM30 HX
3004-3.2-6 R SP29008 UHM20
3004-3.2-6 R SP29008 UHM20 HPX
3004-3.2-6 R SP29008 UHM30
3004-3.2-6 R SP29008 UHM30 HX
3004-3.2-6 R SP29015 UHM20
3004-3.2-6 R SP29015 UHM20 HPX
3004-3.2-6 R SP29015 UHM30
3004-3.2-6 R SP29015 UHM30 HX
3004-3.2-6 R SP29035 UHM20
3004-3.2-6 R SP29035 UHM20 HPX
3004-3.2-6 R SP29035 UHM30
3004-3.2-6 R SP29035 UHM30 HX
3004-3.2-6 R SP29075 UHM20
3004-3.2-6 R SP29075 UHM20 HPX
3004-3.2-6 R SP29075 UHM30
3004-3.2-6 R SP29075 UHM30 HX
3004-3.2-6 RV SP29008 UHM20
3004-3.2-6 RV SP29008 UHM20 HPX
3004-3.2-6 RV SP29008 UHM30
3004-3.2-6 RV SP29008 UHM30 HX
3004-3.2-6 RV SP29015 UHM20
3004-3.2-6 RV SP29015 UHM20 HPX
3004-3.2-6 RV SP29015 UHM30
3004-3.2-6 RV SP29015 UHM30 HX
3004-3.2-6 RV SP29035 UHM20
3004-3.2-6 RV SP29035 UHM20 HPX
3004-3.2-6 RV SP29035 UHM30
3004-3.2-6 RV SP29035 UHM30 HX
3004-3.2-6 RV SP29075 UHM20
3004-3.2-6 RV SP29075 UHM20 HPX
3004-3.2-6 RV SP29075 UHM30
3004-3.2-6 RV SP29075 UHM30 HX
3005-0.8-8 L CP UHM20 HPX
3005-0.8-8 R CP UHM20 HPX
3005-1.0-8 L CP UHM20 HPX
3005-1.0-8 R CP UHM20 HPX
3005-1.5-8 L CP R08 UHM20
3005-1.5-8 L CP R08 UHM20 HPX
3005-1.5-8 L CP R08 UHM30
3005-1.5-8 L CP R08 UHM30 HX
3005-1.5-8 L CP UHM20 HPX
3005-1.5-8 R CP R08 UHM20
3005-1.5-8 R CP R08 UHM20 HPX
3005-1.5-8 R CP R08 UHM30
3005-1.5-8 R CP R08 UHM30 HX
3005-1.5-8 R CP UHM20 HPX
3005-2.0-8 L CP R08 UHM20
3005-2.0-8 L CP R08 UHM20 HPX
3005-2.0-8 L CP R08 UHM30
3005-2.0-8 L CP R08 UHM30 HX
3005-2.0-8 L CP R15 UHM20
3005-2.0-8 L CP R15 UHM20 HPX
3005-2.0-8 L CP R15 UHM30
3005-2.0-8 L CP R15 UHM30 HX
3005-2.0-8 L CP UHM20 HPX
3005-2.0-8 R CP R08 UHM20
3005-2.0-8 R CP R08 UHM20 HPX
3005-2.0-8 R CP R08 UHM30
3005-2.0-8 R CP R08 UHM30 HX
3005-2.0-8 R CP R15 UHM20
3005-2.0-8 R CP R15 UHM20 HPX
3005-2.0-8 R CP R15 UHM30
3005-2.0-8 R CP R15 UHM30 HX
3005-2.0-8 R CP UHM20 HPX
3005-2.5-8 L CP R08 UHM20
3005-2.5-8 L CP R08 UHM20 HPX
3005-2.5-8 L CP R08 UHM30
3005-2.5-8 L CP R08 UHM30 HX
3005-2.5-8 L CP R15 UHM20
3005-2.5-8 L CP R15 UHM20 HPX
3005-2.5-8 L CP R15 UHM30
3005-2.5-8 L CP R15 UHM30 HX
3005-2.5-8 L CP UHM20 HPX
3005-2.5-8 R CP R08 UHM20
3005-2.5-8 R CP R08 UHM20 HPX
3005-2.5-8 R CP R08 UHM30
3005-2.5-8 R CP R08 UHM30 HX
3005-2.5-8 R CP R15 UHM20
3005-2.5-8 R CP R15 UHM20 HPX
3005-2.5-8 R CP R15 UHM30
3005-2.5-8 R CP R15 UHM30 HX
3005-2.5-8 R CP UHM20 HPX
3005-3.0-8 L CP R08 UHM20
3005-3.0-8 L CP R08 UHM20 HPX
3005-3.0-8 L CP R08 UHM30
3005-3.0-8 L CP R08 UHM30 HX
3005-3.0-8 L CP R15 UHM20
3005-3.0-8 L CP R15 UHM20 HPX
3005-3.0-8 L CP R15 UHM30
3005-3.0-8 L CP R15 UHM30 HX
3005-3.0-8 L CP UHM20 HPX
3005-3.0-8 R CP R08 UHM20
3005-3.0-8 R CP R08 UHM20 HPX
3005-3.0-8 R CP R08 UHM30
3005-3.0-8 R CP R08 UHM30 HX
3005-3.0-8 R CP R15 UHM20
3005-3.0-8 R CP R15 UHM20 HPX
3005-3.0-8 R CP R15 UHM30
3005-3.0-8 R CP R15 UHM30 HX
3005-3.0-8 R CP UHM20 HPX
3006-0.15-10-60 VP L UHM30
3006-0.15-10-60 VP L UHM30 HX
3006-0.15-10-60 VP R UHM30
3006-0.15-10-60 VP R UHM30 HX
3006-0.175-10-60 VP L UHM30
3006-0.175-10-60 VP L UHM30 HX
3006-0.175-10-60 VP R UHM30
3006-0.175-10-60 VP R UHM30 HX
3006-0.2-10-60 VP L UHM30
3006-0.2-10-60 VP L UHM30 HX
3006-0.2-10-60 VP R UHM30
3006-0.2-10-60 VP R UHM30 HX
3006-0.225-10-60 VP L UHM30
3006-0.225-10-60 VP L UHM30 HX
3006-0.225-10-60 VP R UHM30
3006-0.225-10-60 VP R UHM30 HX
3006-0.25-10-60 VP L UHM20
3006-0.25-10-60 VP L UHM20 HPX
3006-0.25-10-60 VP L UHM30
3006-0.25-10-60 VP L UHM30 HX
3006-0.25-10-60 VP R UHM20
3006-0.25-10-60 VP R UHM20 HPX
3006-0.25-10-60 VP R UHM30
3006-0.25-10-60 VP R UHM30 HX
3006-0.25-60 VP-S L UHM20
3006-0.25-60 VP-S L UHM20 HPX
3006-0.25-60 VP-S R UHM20
3006-0.25-60 VP-S R UHM20 HPX
3006-0.3-10-60 VP L UHM20
3006-0.3-10-60 VP L UHM20 HPX
3006-0.3-10-60 VP L UHM30
3006-0.3-10-60 VP L UHM30 HX
3006-0.3-10-60 VP R UHM20
3006-0.3-10-60 VP R UHM20 HPX
3006-0.3-10-60 VP R UHM30
3006-0.3-10-60 VP R UHM30 HX
3006-0.35-10-60 VP L UHM20
3006-0.35-10-60 VP L UHM20 HPX
3006-0.35-10-60 VP L UHM30
3006-0.35-10-60 VP L UHM30 HX
3006-0.35-10-60 VP R UHM20
3006-0.35-10-60 VP R UHM20 HPX
3006-0.35-10-60 VP R UHM30
3006-0.35-10-60 VP R UHM30 HX
3006-0.35-60 VP-S L UHM20
3006-0.35-60 VP-S L UHM20 HPX
3006-0.35-60 VP-S R UHM20
3006-0.35-60 VP-S R UHM20 HPX
3006-0.3-60 VP-S L UHM20 HPX
3006-0.3-60 VP-S R UHM20 HPX
3006-0.4-10-60 VP L UHM20
3006-0.4-10-60 VP L UHM20 HPX
3006-0.4-10-60 VP L UHM30
3006-0.4-10-60 VP L UHM30 HX
3006-0.4-10-60 VP R UHM20
3006-0.4-10-60 VP R UHM20 HPX
3006-0.4-10-60 VP R UHM30
3006-0.4-10-60 VP R UHM30 HX
3006-0.45-10-60 VP L UHM20
3006-0.45-10-60 VP L UHM20 HPX
3006-0.45-10-60 VP L UHM30
3006-0.45-10-60 VP L UHM30 HX
3006-0.45-10-60 VP R UHM20
3006-0.45-10-60 VP R UHM20 HPX
3006-0.45-10-60 VP R UHM30
3006-0.45-10-60 VP R UHM30 HX
3006-0.45-60 VP-S L UHM20
3006-0.45-60 VP-S L UHM20 HPX
3006-0.45-60 VP-S R UHM20
3006-0.45-60 VP-S R UHM20 HPX
3006-0.4-60 VP-S L UHM20 HPX
3006-0.4-60 VP-S R UHM20 HPX
3006-0.5-10-60 VP L UHM20
3006-0.5-10-60 VP L UHM20 HPX
3006-0.5-10-60 VP L UHM30
3006-0.5-10-60 VP L UHM30 HX
3006-0.5-10-60 VP R UHM20
3006-0.5-10-60 VP R UHM20 HPX
3006-0.5-10-60 VP R UHM30
3006-0.5-10-60 VP R UHM30 HX
3006-0.5-60 VP-S L UHM20 HPX
3006-0.5-60 VP-S R UHM20 HPX
3006-0.6-10-60 VP L UHM30
3006-0.6-10-60 VP L UHM20
3006-0.6-10-60 VP L UHM20 HPX
3006-0.6-10-60 VP L UHM30 HX
3006-0.6-10-60 VP R UHM30
3006-0.6-10-60 VP R UHM20
3006-0.6-10-60 VP R UHM20 HPX
3006-0.6-10-60 VP R UHM30 HX
3006-0.6-60 VP-S L UHM20 HPX
3006-0.6-60 VP-S R UHM20 HPX
3006-0.7-10-60 VP L UHM20
3006-0.7-10-60 VP L UHM20 HPX
3006-0.7-10-60 VP L UHM30
3006-0.7-10-60 VP L UHM30 HX
3006-0.7-10-60 VP R UHM20
3006-0.7-10-60 VP R UHM20 HPX
3006-0.7-10-60 VP R UHM30
3006-0.7-10-60 VP R UHM30 HX
3006-0.75-10-60 VP L UHM20
3006-0.75-10-60 VP L UHM20 HPX
3006-0.75-10-60 VP L UHM30
3006-0.75-10-60 VP L UHM30 HX
3006-0.75-10-60 VP R UHM20
3006-0.75-10-60 VP R UHM20 HPX
3006-0.75-10-60 VP R UHM30
3006-0.75-10-60 VP R UHM30 HX
3006-0.75-60 VP-S L UHM20
3006-0.75-60 VP-S L UHM20 HPX
3006-0.75-60 VP-S R UHM20
3006-0.75-60 VP-S R UHM20 HPX
3006-0.7-60 VP-S L UHM20 HPX
3006-0.7-60 VP-S R UHM20 HPX
3006-0.8-10-60 VP L UHM20
3006-0.8-10-60 VP L UHM20 HPX
3006-0.8-10-60 VP L UHM30
3006-0.8-10-60 VP L UHM30 HX
3006-0.8-10-60 VP R UHM20
3006-0.8-10-60 VP R UHM20 HPX
3006-0.8-10-60 VP R UHM30
3006-0.8-10-60 VP R UHM30 HX
3006-0.8-60 VP-S L UHM20 HPX
3006-0.8-60 VP-S R UHM20 HPX
3006-04-48 UNF 10-60 VP L UHM30
3006-04-48 UNF 10-60 VP L UHM30 HX
3006-04-48 UNF 10-60 VP R UHM30
3006-04-48 UNF 10-60 VP R UHM30 HX
3006-05-40 UNC 10-60 VP L UHM30
3006-05-40 UNC 10-60 VP L UHM30 HX
3006-05-40 UNC 10-60 VP R UHM30
3006-05-40 UNC 10-60 VP R UHM30 HX
3006-06-40 UNF 10-60 VP L UHM30
3006-06-40 UNF 10-60 VP L UHM30 HX
3006-06-40 UNF 10-60 VP R UHM30
3006-06-40 UNF 10-60 VP R UHM30 HX
3006-08-32 UNC 10-60 VP L UHM30
3006-08-32 UNC 10-60 VP L UHM30 HX
3006-08-32 UNC 10-60 VP R UHM30
3006-08-32 UNC 10-60 VP R UHM30 HX
3006-1.0-10-60 VP L UHM20
3006-1.0-10-60 VP L UHM20 HPX
3006-1.0-10-60 VP L UHM30
3006-1.0-10-60 VP L UHM30 HX
3006-1.0-10-60 VP R UHM20
3006-1.0-10-60 VP R UHM20 HPX
3006-1.0-10-60 VP R UHM30
3006-1.0-10-60 VP R UHM30 HX
3006-1.0-60 VP-S L UHM20 HPX
3006-1.0-60 VP-S R UHM20 HPX
3006-1.25-10-60 VP L UHM20
3006-1.25-10-60 VP L UHM20 HPX
3006-1.25-10-60 VP L UHM30
3006-1.25-10-60 VP L UHM30 HX
3006-1.25-10-60 VP R UHM20
3006-1.25-10-60 VP R UHM20 HPX
3006-1.25-10-60 VP R UHM30
3006-1.25-10-60 VP R UHM30 HX
3006-1.25-60 VP-S L UHM20
3006-1.25-60 VP-S L UHM20 HPX
3006-1.25-60 VP-S R UHM20
3006-1.25-60 VP-S R UHM20 HPX
3006-1.5-10-60 VP L UHM20
3006-1.5-10-60 VP L UHM20 HPX
3006-1.5-10-60 VP L UHM30
3006-1.5-10-60 VP L UHM30 HX
3006-1.5-10-60 VP R UHM20
3006-1.5-10-60 VP R UHM20 HPX
3006-1.5-10-60 VP R UHM30
3006-1.5-10-60 VP R UHM30 HX
3006-1.5-60 VP-S L UHM20 HPX
3006-1.5-60 VP-S R UHM20 HPX
3006-1.75-10-60 VP L UHM20
3006-1.75-10-60 VP L UHM20 HPX
3006-1.75-10-60 VP L UHM30
3006-1.75-10-60 VP L UHM30 HX
3006-1.75-10-60 VP R UHM20
3006-1.75-10-60 VP R UHM20 HPX
3006-1.75-10-60 VP R UHM30
3006-1.75-10-60 VP R UHM30 HX
3006-1.75-60 VP-S L UHM20
3006-1.75-60 VP-S L UHM20 HPX
3006-1.75-60 VP-S R UHM20
3006-1.75-60 VP-S R UHM20 HPX
3006-1/2-20 UNF 10-60 VP L UHM30
3006-1/2-20 UNF 10-60 VP L UHM30 HX
3006-1/2-20 UNF 10-60 VP R UHM30
3006-1/2-20 UNF 10-60 VP R UHM30 HX
3006-1/4-28 UNF 10-60 VP L UHM30
3006-1/4-28 UNF 10-60 VP L UHM30 HX
3006-1/4-28 UNF 10-60 VP R UHM30
3006-1/4-28 UNF 10-60 VP R UHM30 HX
3006-10-32 UNF 10-60 VP L UHM30
3006-10-32 UNF 10-60 VP L UHM30 HX
3006-10-32 UNF 10-60 VP R UHM30
3006-10-32 UNF 10-60 VP R UHM30 HX
3006-12-24 UNC 10-60 VP L UHM30
3006-12-24 UNC 10-60 VP L UHM30 HX
3006-12-24 UNC 10-60 VP R UHM30
3006-12-24 UNC 10-60 VP R UHM30 HX
3006-13 UN 10-60 VP L UHM30
3006-13 UN 10-60 VP L UHM30 HX
3006-13 UN 10-60 VP R UHM30
3006-13 UN 10-60 VP R UHM30 HX
3006-14 UN 10-60 VP L UHM30
3006-14 UN 10-60 VP L UHM30 HX
3006-14 UN 10-60 VP R UHM30
3006-14 UN 10-60 VP R UHM30 HX
3006-16 UN 10-60 VP L UHM30
3006-16 UN 10-60 VP L UHM30 HX
3006-16 UN 10-60 VP R UHM30
3006-16 UN 10-60 VP R UHM30 HX
3006-18 UN 10-60 VP L UHM30
3006-18 UN 10-60 VP L UHM30 HX
3006-18 UN 10-60 VP R UHM30
3006-18 UN 10-60 VP R UHM30 HX
3006-2.0-10-60 VP L UHM20
3006-2.0-10-60 VP L UHM30
3006-2.0-10-60 VP R UHM20
3006-2.0-10-60 VP R UHM30
3006-2.0-10-60 VP R UHM30 HX
3006-2.0-60 VP-S L UHM20 HPX
3006-2.0-60 VP-S R UHM20 HPX
3006-2.5-10-60 VP L UHM20
3006-2.5-10-60 VP L UHM30
3006-2.5-10-60 VP R UHM20
3006-2.5-10-60 VP R UHM30
3006-20 UN 10-60 VP L UHM30
3006-20 UN 10-60 VP L UHM30 HX
3006-20 UN 10-60 VP R UHM30
3006-20 UN 10-60 VP R UHM30 HX
3006-24 UN 10-60 VP L UHM30
3006-24 UN 10-60 VP L UHM30 HX
3006-24 UN 10-60 VP R UHM30
3006-24 UN 10-60 VP R UHM30 HX
3006-28 UN 10-60 VP L UHM30
3006-28 UN 10-60 VP L UHM30 HX
3006-28 UN 10-60 VP R UHM30
3006-28 UN 10-60 VP R UHM30 HX
3006-3.0-10-60 VP L UHM20
3006-3.0-10-60 VP L UHM30
3006-3.0-10-60 VP R UHM20
3006-3.0-10-60 VP R UHM30
3006-3/8-24 UNF 10-60 VP L UHM30
3006-3/8-24 UNF 10-60 VP L UHM30 HX
3006-3/8-24 UNF 10-60 VP R UHM30
3006-3/8-24 UNF 10-60 VP R UHM30 HX
3006-32 UN 10-60 VP L UHM30
3006-32 UN 10-60 VP L UHM30 HX
3006-32 UN 10-60 VP R UHM30
3006-32 UN 10-60 VP R UHM30 HX
3006-36 UN 10-60 VP L UHM30
3006-36 UN 10-60 VP L UHM30 HX
3006-36 UN 10-60 VP R UHM30
<