Lemorn Tooling OÜ

,

Estonia

,

Tallinn

,

Lasnamäe linnaosa, Majaka tn 26

,

11412
KYOCERA SGS Precision Tools
KYOCERA SGS Precision Tools
(KSPT) is an ISO-certified manufacturer of industry leading round solid carbide cutting tools. KSPT is proud to have pioneered some of the world's most advanced cutting tool technologies resulting from rigorous product, coating, and material testing within its Global Innovation Center.
It is this commitment to innovation that has launched patented products and technologies like the Z-Carb with its variable geometry and cutting edge preparation, Series 43 APR and APF ultra high performance aluminum cutting tools, and JetStream coolant technology. KSPT Technical Sales Engineers, Application Specialists, and Distribution Partners blanket the globe, delivering reliable service and support to all market segments. It is these people and products that drive innovative application strategies and cutting tool technologies into the end user, continually exceeding expectations and providing the most value at the spindle.
KYOCERA
SGS Precision Tools is committed to continual improvement for environmental concerns through an effective environmental management system. KSPT implements environmental controls and pollution prevention programs while complying and maintaining accuracy of reporting requirements as required by federal, state and local regulations.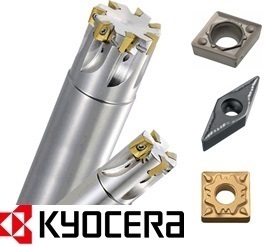 Kyocera

product includes:
— Regrind Service for Cutting Tools
— Solid Carbide Milling Tool
2FEKM030-100-06 CARBIDE ENDMILL
2FEKM035-100-06 CARBIDE ENDMILL
2FEKM040-110-06 CARBIDE ENDMILL
2FEKM045-110-06 CARBIDE ENDMILL
2FEKM050-130-06 CARBIDE ENDMILL
2FEKM055-130-06 CARBIDE ENDMILL
2FEKM060-130-06 CARBIDE ENDMILL
2FEKM065-160-08 CARBIDE ENDMILL
2FEKM070-160-08 CARBIDE ENDMILL
2FEKM075-190-08 CARBIDE ENDMILL
2FEKM080-190-08 CARBIDE ENDMILL
2FEKM085-190-10 CARBIDE ENDMILL
2FEKM090-190-10 CARBIDE ENDMILL
2FEKM095-190-10 CARBIDE ENDMILL
2FEKM100-220-10 CARBIDE ENDMILL
2FEKM110-220-12 CARBIDE ENDMILL
2FEKM120-260-12 CARBIDE ENDMILL
2FEKM130-260-16 CARBIDE ENDMILL
2FEKM140-260-16 CARBIDE ENDMILL
2FEKM150-300-16 CARBIDE ENDMILL
2FEKM160-320-16 CARBIDE ENDMILL
2FEKS030-045-06 CARBIDE ENDMILL
2FEKS035-052-06 CARBIDE ENDMILL
2FEKS040-060-06 CARBIDE ENDMILL
2FEKS045-067-06 CARBIDE ENDMILL
2FEKS050-075-06 CARBIDE ENDMILL
2FEKS055-082-06 CARBIDE ENDMILL
2FEKS060-090-06 CARBIDE ENDMILL
2FEKS080-120-08 CARBIDE ENDMILL
2FEKS100-150-10 CARBIDE ENDMILL
2FEKS120-180-12 CARBIDE ENDMILL
2FEKS140-210-16 CARBIDE ENDMILL
2FEKS150-230-16 CARBIDE ENDMILL
2FEKS160-240-16 CARBIDE ENDMILL
2FESL010-040-04 CARBIDE ENDMILL
2FESL015-060-04 CARBIDE ENDMILL
2FESL020-090-04 CARBIDE ENDMILL
2FESL025-120-04 CARBIDE ENDMILL
2FESL030-140-06 CARBIDE ENDMILL
2FESL040-170-06 CARBIDE ENDMILL
2FESL050-200-06 CARBIDE ENDMILL
2FESL060-240-06 CARBIDE ENDMILL
2FESL080-280-08 CARBIDE ENDMILL
2FESL100-340-10 CARBIDE ENDMILL
2FESL120-400-12 CARBIDE ENDMILL
2FESL160-480-16 CARBIDE ENDMILL
2FESM002-004-04 CARBIDE ENDMILL
2FESM003-006-04 CARBIDE ENDMILL
2FESM004-008-04 CARBIDE ENDMILL
2FESM005-010-04 CARBIDE ENDMILL
2FESM006-012-04 CARBIDE ENDMILL
2FESM007-014-04 CARBIDE ENDMILL
2FESM008-016-04 CARBIDE ENDMILL
2FESM009-020-04 CARBIDE ENDMILL
2FESM010-025-04 CARBIDE ENDMILL
2FESM011-025-04 CARBIDE ENDMILL
2FESM012-040-04 CARBIDE ENDMILL
2FESM013-040-04 CARBIDE ENDMILL
2FESM014-040-04 CARBIDE ENDMILL
2FESM015-040-04 CARBIDE ENDMILL
2FESM016-050-04 CARBIDE ENDMILL
2FESM017-050-04 CARBIDE ENDMILL
2FESM018-050-04 CARBIDE ENDMILL
2FESM019-050-04 CARBIDE ENDMILL
2FESM020-060-04 CARBIDE ENDMILL
2FESM021-060-04 CARBIDE ENDMILL
2FESM022-060-04 CARBIDE ENDMILL
2FESM023-060-04 CARBIDE ENDMILL
2FESM024-080-04 CARBIDE ENDMILL
2FESM025-080-04 CARBIDE ENDMILL
2FESM026-080-04 CARBIDE ENDMILL
2FESM027-080-04 CARBIDE ENDMILL
2FESM028-080-04 CARBIDE ENDMILL
2FESM029-080-04 CARBIDE ENDMILL
2FESM030-100-06 CARBIDE ENDMILL
2FESM031-100-06 CARBIDE ENDMILL
2FESM032-100-06 CARBIDE ENDMILL
2FESM033-100-06 CARBIDE ENDMILL
2FESM034-100-06 CARBIDE ENDMILL
2FESM035-100-06 CARBIDE ENDMILL
2FESM036-100-06 CARBIDE ENDMILL
2FESM037-100-06 CARBIDE ENDMILL
2FESM038-110-06 CARBIDE ENDMILL
2FESM039-110-06 CARBIDE ENDMILL
2FESM040-110-06 CARBIDE ENDMILL
2FESM041-110-06 CARBIDE ENDMILL
2FESM042-110-06 CARBIDE ENDMILL
2FESM043-110-06 CARBIDE ENDMILL
2FESM044-110-06 CARBIDE ENDMILL
2FESM045-110-06 CARBIDE ENDMILL
2FESM046-110-06 CARBIDE ENDMILL
2FESM047-110-06 CARBIDE ENDMILL
2FESM048-130-06 CARBIDE ENDMILL
2FESM049-130-06 CARBIDE ENDMILL
2FESM050-130-06 CARBIDE ENDMILL
2FESM051-130-06 CARBIDE ENDMILL
2FESM052-130-06 CARBIDE ENDMILL
2FESM053-130-06 CARBIDE ENDMILL
2FESM054-130-06 CARBIDE ENDMILL
2FESM055-130-06 CARBIDE ENDMILL
2FESM056-130-06 CARBIDE ENDMILL
2FESM057-130-06 CARBIDE ENDMILL
2FESM058-130-06 CARBIDE ENDMILL
2FESM059-130-06 CARBIDE ENDMILL
2FESM060-130-06 CARBIDE ENDMILL
2FESM060-150-06 CARBIDE ENDMILL
2FESM061-160-08 CARBIDE ENDMILL
2FESM062-160-08 CARBIDE ENDMILL
2FESM063-160-08 CARBIDE ENDMILL
2FESM064-160-08 CARBIDE ENDMILL
2FESM065-160-08 CARBIDE ENDMILL
2FESM066-160-08 CARBIDE ENDMILL
2FESM067-160-08 CARBIDE ENDMILL
2FESM068-160-08 CARBIDE ENDMILL
2FESM069-160-08 CARBIDE ENDMILL
2FESM070-160-08 CARBIDE ENDMILL
2FESM071-160-08 CARBIDE ENDMILL
2FESM072-160-08 CARBIDE ENDMILL
2FESM073-160-08 CARBIDE ENDMILL
2FESM074-160-08 CARBIDE ENDMILL
2FESM075-190-08 CARBIDE ENDMILL
2FESM076-190-08 CARBIDE ENDMILL
2FESM077-190-08 CARBIDE ENDMILL
2FESM078-190-08 CARBIDE ENDMILL
2FESM079-190-08 CARBIDE ENDMILL
2FESM080-190-08 CARBIDE ENDMILL
2FESM080-200-08 CARBIDE ENDMILL
2FESM081-190-10 CARBIDE ENDMILL
2FESM082-190-10 CARBIDE ENDMILL
2FESM083-190-10 CARBIDE ENDMILL
2FESM084-190-10 CARBIDE ENDMILL
2FESM085-190-10 CARBIDE ENDMILL
2FESM086-190-10 CARBIDE ENDMILL
2FESM087-190-10 CARBIDE ENDMILL
2FESM088-190-10 CARBIDE ENDMILL
2FESM089-190-10 CARBIDE ENDMILL
2FESM090-190-10 CARBIDE ENDMILL
2FESM091-190-10 CARBIDE ENDMILL
2FESM092-190-10 CARBIDE ENDMILL
2FESM093-190-10 CARBIDE ENDMILL
2FESM094-190-10 CARBIDE ENDMILL
2FESM095-190-10 CARBIDE ENDMILL
2FESM096-220-10 CARBIDE ENDMILL
2FESM097-220-10 CARBIDE ENDMILL
2FESM098-220-10 CARBIDE ENDMILL
2FESM099-220-10 CARBIDE ENDMILL
2FESM100-220-10 CARBIDE ENDMILL
2FESM100-250-10 CARBIDE ENDMILL
2FESM105-220-12 CARBIDE ENDMILL
2FESM110-220-12 CARBIDE ENDMILL
2FESM115-220-12 CARBIDE ENDMILL
2FESM120-260-12 CARBIDE ENDMILL
2FESM130-260-16 CARBIDE ENDMILL
2FESM140-260-16 CARBIDE ENDMILL
2FESM150-300-16 CARBIDE ENDMILL
2FESM160-320-16 CARBIDE ENDMILL
2FESS010-015-04 CARBIDE ENDMILL
2FESS015-023-04 CARBIDE ENDMILL
2FESS020-030-04 CARBIDE ENDMILL
2FESS025-037-04 CARBIDE ENDMILL
2FESS030-045-06 CARBIDE ENDMILL
2FESS035-052-06 CARBIDE ENDMILL
2FESS040-060-06 CARBIDE ENDMILL
2FESS045-067-06 CARBIDE ENDMILL
2FESS050-075-06 CARBIDE ENDMILL
2FESS055-082-06 CARBIDE ENDMILL
2FESS060-090-06 CARBIDE ENDMILL
2FESS070-105-08 CARBIDE ENDMILL
2FESS080-120-08 CARBIDE ENDMILL
2FESS090-135-10 CARBIDE ENDMILL
2FESS100-150-10 CARBIDE ENDMILL
2FESS120-180-12 CARBIDE ENDMILL
2FESS140-210-16 CARBIDE ENDMILL
2FESS150-230-16 CARBIDE ENDMILL
2FESS160-240-16 CARBIDE ENDMILL
2FESW030-030-04 CARBIDE ENDMILL
2FESW035-035-04 CARBIDE ENDMILL
2FESW040-040-04 CARBIDE ENDMILL
2FESW050-050-06 CARBIDE ENDMILL
2FESW060-060-06 CARBIDE ENDMILL
2FESW070-070-07 CARBIDE ENDMILL
2FESW080-080-07 CARBIDE ENDMILL
2FESW080-080-08 CARBIDE ENDMILL
2FESW100-080-07 CARBIDE ENDMILL
2FESW100-080-10 CARBIDE ENDMILL
2FESW120-080-10 CARBIDE ENDMILL
2NFSM010-040-04 CARBIDE ENDMILL
2NFSM015-060-04 CARBIDE ENDMILL
2NFSM020-080-04 CARBIDE ENDMILL
2NFSM025-080-04 CARBIDE ENDMILL
2NFSM030-080-06 CARBIDE ENDMILL
2NFSM040-080-06 CARBIDE ENDMILL
2NFSM050-140-06 CARBIDE ENDMILL
2NFSM060-160-06 CARBIDE ENDMILL
2NFSM080-200-08 CARBIDE ENDMILL
2NFSM100-220-10 CARBIDE ENDMILL
2NFSM120-250-12 CARBIDE ENDMILL
2NFSM160-320-16 CARBIDE ENDMILL
2NFSM200-380-20 CARBIDE ENDMILL
2UEBS010-030-04 CARBIDE ENDMILL
2UEBS020-030-04 CARBIDE ENDMILL
2UEBS030-095-06 CARBIDE ENDMILL
2UEBS040-120-06 CARBIDE ENDMILL
2UEBS050-140-06 CARBIDE ENDMILL
2UEBS060-160-06 CARBIDE ENDMILL
2UEBS080-200-08 CARBIDE ENDMILL
2UEBS100-220-10 CARBIDE ENDMILL
2UEBS120-250-12 CARBIDE ENDMILL
2UEBS160-320-16 CARBIDE ENDMILL
2UEBS200-380-20 CARBIDE ENDMILL
2ZDK060S-P CARBIDE ENDMILL
3AESL060-240-06 CARBIDE ENDMILL
3AESL080-280-08 CARBIDE ENDMILL
3AESL100-340-10 CARBIDE ENDMILL
3AESL120-450-12 CARBIDE ENDMILL
3AESL160-560-16 CARBIDE ENDMILL
3AESL200-600-20 CARBIDE ENDMILL
3AESL250-800-25 CARBIDE ENDMILL
3AESM060-130-06 CARBIDE ENDMILL
3AESM080-160-08 CARBIDE ENDMILL
3AESM100-220-10 CARBIDE ENDMILL
3AESM120-260-12 CARBIDE ENDMILL
3AESM160-320-16 CARBIDE ENDMILL
3AESM200-380-20 CARBIDE ENDMILL
3AESM250-450-25 CARBIDE ENDMILL
3FESW030-030-04 CARBIDE ENDMILL
3FESW035-035-04 CARBIDE ENDMILL
3FESW040-040-04 CARBIDE ENDMILL
3FESW050-050-06 CARBIDE ENDMILL
3FESW060-060-06 CARBIDE ENDMILL
3FESW070-070-07 CARBIDE ENDMILL
3FESW080-080-07 CARBIDE ENDMILL
3FESW080-080-08 CARBIDE ENDMILL
3FESW100-080-07 CARBIDE ENDMILL
3FESW100-080-10 CARBIDE ENDMILL
3FESW120-080-10 CARBIDE ENDMILL
3NESM030-120-06 CARBIDE ENDMILL
3NESM040-120-06 CARBIDE ENDMILL
3NESM050-140-06 CARBIDE ENDMILL
3NESM060-160-06 CARBIDE ENDMILL
3NESM080-200-08 CARBIDE ENDMILL
3NESM100-220-10 CARBIDE ENDMILL
3NESM120-250-12 CARBIDE ENDMILL
3NESM160-320-16 CARBIDE ENDMILL
3NESM200-380-20 CARBIDE ENDMILL
3NFSL030-190-06 CARBIDE ENDMILL
3NFSL040-190-06 CARBIDE ENDMILL
3NFSL050-200-06 CARBIDE ENDMILL
3NFSL060-280-06 CARBIDE ENDMILL
3NFSL080-300-08 CARBIDE ENDMILL
3NFSL100-340-10 CARBIDE ENDMILL
3NFSL120-450-12 CARBIDE ENDMILL
3NFSL160-560-16 CARBIDE ENDMILL
3NFSL200-600-20 CARBIDE ENDMILL
3NFSM030-120-06 CARBIDE ENDMILL
3NFSM040-120-06 CARBIDE ENDMILL
3NFSM050-140-06 CARBIDE ENDMILL
3NFSM060-160-06 CARBIDE ENDMILL
3NFSM080-200-08 CARBIDE ENDMILL
3NFSM100-220-10 CARBIDE ENDMILL
3NFSM120-250-12 CARBIDE ENDMILL
3NFSM160-320-16 CARBIDE ENDMILL
3NFSM200-380-20 CARBIDE ENDMILL
3RDSL060-240-06 CARBIDE ENDMILL
3RDSL080-280-08 CARBIDE ENDMILL
3RDSM040-110-06 CARBIDE ENDMILL
3RDSM050-130-06 CARBIDE ENDMILL
3RDSM060-130-06 CARBIDE ENDMILL
3RDSM080-160-08 CARBIDE ENDMILL
3RFRS040-040-06-R075 CARBIDE ENDMILL
3RFRS050-050-06-R075 CARBIDE ENDMILL
3UEBS030-070-06 CARBIDE ENDMILL
3UEBS040-080-06 CARBIDE ENDMILL
3UEBS050-100-06 CARBIDE ENDMILL
3UEBS060-100-06 CARBIDE ENDMILL
3UEBS080-160-08 CARBIDE ENDMILL
3UEBS100-190-10 CARBIDE ENDMILL
3UEBS120-220-12 CARBIDE ENDMILL
3UFSM010-030-04 CARBIDE ENDMILL
3UFSM015-030-04 CARBIDE ENDMILL
3UFSM020-030-04 CARBIDE ENDMILL
3UFSM025-040-04 CARBIDE ENDMILL
3UFSM030-080-06 CARBIDE ENDMILL
3UFSM040-120-06 CARBIDE ENDMILL
3UFSM050-140-06 CARBIDE ENDMILL
3UFSM060-160-06 CARBIDE ENDMILL
3UFSM080-200-08 CARBIDE ENDMILL
3UFSM100-220-10 CARBIDE ENDMILL
3UFSM120-250-12 CARBIDE ENDMILL
3UFSM160-320-16 CARBIDE ENDMILL
3UFSM200-380-20 CARBIDE ENDMILL
3ZFKM030-060-06 CARBIDE ENDMILL
3ZFKM030-080-06 CARBIDE ENDMILL
3ZFKM040-080-06 CARBIDE ENDMILL
3ZFKM040-120-06 CARBIDE ENDMILL
3ZFKM050-100-06 CARBIDE ENDMILL
3ZFKM050-130-06 CARBIDE ENDMILL
3ZFKM060-130-06 CARBIDE ENDMILL
3ZFKM070-160-08 CARBIDE ENDMILL
3ZFKM080-190-08 CARBIDE ENDMILL
3ZFKM100-220-10 CARBIDE ENDMILL
3ZFKM120-260-12 CARBIDE ENDMILL
3ZFKM160-350-16 CARBIDE ENDMILL
3ZFKS060-090-06 CARBIDE ENDMILL
3ZFKS070-105-08 CARBIDE ENDMILL
3ZFKS080-120-08 CARBIDE ENDMILL
3ZFKS100-150-10 CARBIDE ENDMILL
3ZFKS120-180-12 CARBIDE ENDMILL
4FEKM030-100-06 CARBIDE ENDMILL
4FEKM035-100-06 CARBIDE ENDMILL
4FEKM040-110-06 CARBIDE ENDMILL
4FEKM045-110-06 CARBIDE ENDMILL
4FEKM050-130-06 CARBIDE ENDMILL
4FEKM055-130-06 CARBIDE ENDMILL
4FEKM060-130-06 CARBIDE ENDMILL
4FEKM080-190-08 CARBIDE ENDMILL
4FEKM100-220-10 CARBIDE ENDMILL
4FEKM120-260-12 CARBIDE ENDMILL
4FEKM140-260-16 CARBIDE ENDMILL
4FEKM150-300-16 CARBIDE ENDMILL
4FEKM160-320-16 CARBIDE ENDMILL
4FESM010-025-04 CARBIDE ENDMILL
4FESM015-040-04 CARBIDE ENDMILL
4FESM020-060-04 CARBIDE ENDMILL
4FESM025-080-04 CARBIDE ENDMILL
4FESM030-100-06 CARBIDE ENDMILL
4FESM035-100-06 CARBIDE ENDMILL
4FESM040-110-06 CARBIDE ENDMILL
4FESM045-110-06 CARBIDE ENDMILL
4FESM050-130-06 CARBIDE ENDMILL
4FESM055-130-06 CARBIDE ENDMILL
4FESM060-130-06 CARBIDE ENDMILL
4FESM060-150-06 CARBIDE ENDMILL
4FESM070-160-08 CARBIDE ENDMILL
4FESM080-190-08 CARBIDE ENDMILL
4FESM080-200-08 CARBIDE ENDMILL
4FESM090-190-10 CARBIDE ENDMILL
4FESM100-220-10 CARBIDE ENDMILL
4FESM100-250-10 CARBIDE ENDMILL
4FESM120-260-12 CARBIDE ENDMILL
4FESM140-260-16 CARBIDE ENDMILL
4FESM150-300-16 CARBIDE ENDMILL
4FESM160-320-16 CARBIDE ENDMILL
4FESW030-030-04 CARBIDE ENDMILL
4FESW035-035-04 CARBIDE ENDMILL
4FESW040-040-04 CARBIDE ENDMILL
4FESW050-050-06 CARBIDE ENDMILL
4FESW060-060-06 CARBIDE ENDMILL
4FESW070-070-07 CARBIDE ENDMILL
4FESW080-080-07 CARBIDE ENDMILL
4FESW080-080-08 CARBIDE ENDMILL
4FESW100-080-07 CARBIDE ENDMILL
4FESW100-080-10 CARBIDE ENDMILL
4FESW120-080-10 CARBIDE ENDMILL
4HFSM010-050-06 CARBIDE ENDMILL
4HFSM020-090-06 CARBIDE ENDMILL
4HFSM030-120-06 CARBIDE ENDMILL
4HFSM040-140-06 CARBIDE ENDMILL
4HFSM050-170-06 CARBIDE ENDMILL
4HFSS010-040-06 CARBIDE ENDMILL
4HFSS020-060-06 CARBIDE ENDMILL
4HFSS030-080-06 CARBIDE ENDMILL
4HFSS040-100-06 CARBIDE ENDMILL
4HFSS050-120-06 CARBIDE ENDMILL
4MFK030-045 CARBIDE ENDMILL
4MFK030-080 CARBIDE ENDMILL
4MFK030-120 CARBIDE ENDMILL
4MFK040-060 CARBIDE ENDMILL
4MFK040-110 CARBIDE ENDMILL
4MFK040-120 CARBIDE ENDMILL
4MFK040-160 CARBIDE ENDMILL
4MFK050-075 CARBIDE ENDMILL
4MFK050-130 CARBIDE ENDMILL
4MFK050-200 CARBIDE ENDMILL
4MFK060-090 CARBIDE ENDMILL
4MFK060-130 CARBIDE ENDMILL
4MFK060-150 CARBIDE ENDMILL
4MFK060-220 CARBIDE ENDMILL
4MFK070-105 CARBIDE ENDMILL
4MFK070-160 CARBIDE ENDMILL
4MFK070-250 CARBIDE ENDMILL
4MFK080-120 CARBIDE ENDMILL
4MFK080-190 CARBIDE ENDMILL
4MFK080-200 CARBIDE ENDMILL
4MFK080-280 CARBIDE ENDMILL
4MFK090-135 CARBIDE ENDMILL
4MFK090-205 CARBIDE ENDMILL
4MFK100-150 CARBIDE ENDMILL
4MFK100-220 CARBIDE ENDMILL
4MFK100-250 CARBIDE ENDMILL
4MFK100-330 CARBIDE ENDMILL
4MFK120-180 CARBIDE ENDMILL
4MFK120-260 CARBIDE ENDMILL
4MFK120-360 CARBIDE ENDMILL
4MFK160-240 CARBIDE ENDMILL
4MFK160-350 CARBIDE ENDMILL
4MFK160-480 CARBIDE ENDMILL
4MFR030-080-R02 CARBIDE ENDMILL
4MFR030-080-R03 CARBIDE ENDMILL
4MFR030-080-R05 CARBIDE ENDMILL
4MFR040-110-R02 CARBIDE ENDMILL
4MFR040-110-R03 CARBIDE ENDMILL
4MFR040-110-R05 CARBIDE ENDMILL
4MFR040-110-R10 CARBIDE ENDMILL
4MFR050-130-R02 CARBIDE ENDMILL
4MFR050-130-R03 CARBIDE ENDMILL
4MFR050-130-R05 CARBIDE ENDMILL
4MFR050-130-R10 CARBIDE ENDMILL
4MFR060-130-R03 CARBIDE ENDMILL
4MFR060-130-R05 CARBIDE ENDMILL
4MFR060-130-R10 CARBIDE ENDMILL
4MFR060-130-R15 CARBIDE ENDMILL
4MFR080-190-R03 CARBIDE ENDMILL
4MFR080-190-R05 CARBIDE ENDMILL
4MFR080-190-R10 CARBIDE ENDMILL
4MFR080-190-R15 CARBIDE ENDMILL
4MFR080-190-R20 CARBIDE ENDMILL
4MFR080-190-R30 CARBIDE ENDMILL
4MFR100-220-R03 CARBIDE ENDMILL
4MFR100-220-R05 CARBIDE ENDMILL
4MFR100-220-R10 CARBIDE ENDMILL
4MFR100-220-R15 CARBIDE ENDMILL
4MFR100-220-R20 CARBIDE ENDMILL
4MFR100-220-R30 CARBIDE ENDMILL
4MFR120-260-R05 CARBIDE ENDMILL
4MFR120-260-R10 CARBIDE ENDMILL
4MFR120-260-R15 CARBIDE ENDMILL
4MFR120-260-R20 CARBIDE ENDMILL
4MFR120-260-R30 CARBIDE ENDMILL
4MFR160-350-R10 CARBIDE ENDMILL
4MFR160-350-R15 CARBIDE ENDMILL
4MFR160-350-R20 CARBIDE ENDMILL
4MFR160-350-R30 CARBIDE ENDMILL
4PGRM030-045-06-R025 CARBIDE ENDMILL
4PGRM030-045-06-R050 CARBIDE ENDMILL
4PGRM040-060-06-R025 CARBIDE ENDMILL
4PGRM040-060-06-R050 CARBIDE ENDMILL
4PGRM050-075-06-R025 CARBIDE ENDMILL
4PGRM050-075-06-R050 CARBIDE ENDMILL
4PGRM060-090-06-R025 CARBIDE ENDMILL
4PGRM060-090-06-R050 CARBIDE ENDMILL
4PGRM060-090-06-R075 CARBIDE ENDMILL
4PGRM060-090-06-R100 CARBIDE ENDMILL
4PGRM080-120-08-R050 CARBIDE ENDMILL
4PGRM080-120-08-R100 CARBIDE ENDMILL
4PGRM080-120-08-R150 CARBIDE ENDMILL
4PGRM080-120-08-R200 CARBIDE ENDMILL
4PGRM100-150-10-R050 CARBIDE ENDMILL
4PGRM100-150-10-R100 CARBIDE ENDMILL
4PGRM100-150-10-R150 CARBIDE ENDMILL
4PGRM100-150-10-R200 CARBIDE ENDMILL
4PGRM120-180-12-R050 CARBIDE ENDMILL
4PGRM120-180-12-R100 CARBIDE ENDMILL
4PGRM120-180-12-R150 CARBIDE ENDMILL
4PGRM120-180-12-R200 CARBIDE ENDMILL
4PGRM160-240-16-R050 CARBIDE ENDMILL
4PGRM160-240-16-R150 CARBIDE ENDMILL
4PGRM200-300-20-R050 CARBIDE ENDMILL
4PGRM200-300-20-R200 CARBIDE ENDMILL
4PGSL060-210-06 CARBIDE ENDMILL
4PGSL080-280-08 CARBIDE ENDMILL
4PGSM060-150-06 CARBIDE ENDMILL
4PGSM080-200-08 CARBIDE ENDMILL
4PGSS030-045-06 CARBIDE ENDMILL
4PGSS040-060-06 CARBIDE ENDMILL
4PGSS050-075-06 CARBIDE ENDMILL
4PGSS060-090-06 CARBIDE ENDMILL
4PGSS080-120-08 CARBIDE ENDMILL
4PGSS100-150-10 CARBIDE ENDMILL
4PGSS120-180-12 CARBIDE ENDMILL
4PGSS160-240-16 CARBIDE ENDMILL
4PGSS200-300-20 CARBIDE ENDMILL
4RDSL100-340-10 CARBIDE ENDMILL
4RDSL120-450-12 CARBIDE ENDMILL
4RDSL160-560-16 CARBIDE ENDMILL
4RDSL200-600-20 CARBIDE ENDMILL
4RDSM100-220-10 CARBIDE ENDMILL
4RDSM120-260-12 CARBIDE ENDMILL
4RDSM160-320-16 CARBIDE ENDMILL
4RDSM200-380-20 CARBIDE ENDMILL
4RFRS060-060-10-R075 CARBIDE ENDMILL
4RFRS080-080-10-R075 CARBIDE ENDMILL
4RFRS100-100-12-R075 CARBIDE ENDMILL
4RFRS120-120-16-R100 CARBIDE ENDMILL
4RFSM060-130-06 CARBIDE ENDMILL
4RFSM080-160-08 CARBIDE ENDMILL
4RFSM100-220-10 CARBIDE ENDMILL
4RFSM120-260-12 CARBIDE ENDMILL
4RFSM160-320-16 CARBIDE ENDMILL
4RFSM200-380-20 CARBIDE ENDMILL
4TFK030-045 CARBIDE ENDMILL
4TFK030-080 CARBIDE ENDMILL
4TFK030-120 CARBIDE ENDMILL
4TFK040-060 CARBIDE ENDMILL
4TFK040-120 CARBIDE ENDMILL
4TFK040-160 CARBIDE ENDMILL
4TFK050-075 CARBIDE ENDMILL
4TFK050-130 CARBIDE ENDMILL
4TFK050-200 CARBIDE ENDMILL
4TFK060-090 CARBIDE ENDMILL
4TFK060-150 CARBIDE ENDMILL
4TFK060-220 CARBIDE ENDMILL
4TFK070-105 CARBIDE ENDMILL
4TFK070-160 CARBIDE ENDMILL
4TFK070-250 CARBIDE ENDMILL
4TFK080-120 CARBIDE ENDMILL
4TFK080-200 CARBIDE ENDMILL
4TFK080-280 CARBIDE ENDMILL
4TFK090-135 CARBIDE ENDMILL
4TFK090-205 CARBIDE ENDMILL
4TFK100-150 CARBIDE ENDMILL
4TFK100-250 CARBIDE ENDMILL
4TFK100-330 CARBIDE ENDMILL
4TFK120-180 CARBIDE ENDMILL
4TFK120-260 CARBIDE ENDMILL
4TFK120-360 CARBIDE ENDMILL
4TFK160-240 CARBIDE ENDMILL
4TFK160-350 CARBIDE ENDMILL
4TFK160-480 CARBIDE ENDMILL
4TFK200-300 CARBIDE ENDMILL
4TFK200-450 CARBIDE ENDMILL
4UGSM030-080-06 CARBIDE ENDMILL
4UGSM040-120-06 CARBIDE ENDMILL
4UGSM050-130-06 CARBIDE ENDMILL
4YEBM050-090-06 CARBIDE ENDMILL
4YEBM060-100-06 CARBIDE ENDMILL
4YEBM080-120-08 CARBIDE ENDMILL
4YEBM100-140-10 CARBIDE ENDMILL
4YEBM120-160-12 CARBIDE ENDMILL
4YEBM160-220-16 CARBIDE ENDMILL
4YEBM200-260-20 CARBIDE ENDMILL
4YECM040-120-06-C04 CARBIDE ENDMILL
4YECM050-130-06-C04 CARBIDE ENDMILL
4YECM060-130-06-C04 CARBIDE ENDMILL
4YECM080-160-08-C04 CARBIDE ENDMILL
4YECM090-190-10-C05 CARBIDE ENDMILL
4YECM100-220-10-C05 CARBIDE ENDMILL
4YECM120-260-12-C05 CARBIDE ENDMILL
4YECM160-320-16-C05 CARBIDE ENDMILL
4YECM200-380-20-C05 CARBIDE ENDMILL
4YECM250-450-25-C05 CARBIDE ENDMILL
4YEKM040-120-06 CARBIDE ENDMILL
4YEKM050-130-06 CARBIDE ENDMILL
4YEKM060-130-06 CARBIDE ENDMILL
4YEKM080-160-08 CARBIDE ENDMILL
4YEKM090-190-10 CARBIDE ENDMILL
4YEKM100-220-10 CARBIDE ENDMILL
4YEKM120-260-12 CARBIDE ENDMILL
4YEKM160-320-16 CARBIDE ENDMILL
4YEKM200-380-20 CARBIDE ENDMILL
4YEKM250-450-25 CARBIDE ENDMILL
4YERM040-120-06-R020 CARBIDE ENDMILL
4YERM050-130-06-R020 CARBIDE ENDMILL
4YERM060-130-06-R020 CARBIDE ENDMILL
4YERM080-160-08-R020 CARBIDE ENDMILL
4YERM090-190-10-R020 CARBIDE ENDMILL
4YERM100-220-10-R030 CARBIDE ENDMILL
4YERM120-260-12-R030 CARBIDE ENDMILL
4YERM160-320-16-R030 CARBIDE ENDMILL
4YERM200-380-20-R030 CARBIDE ENDMILL
4YERM250-450-25-R030 CARBIDE ENDMILL
4YFSM040-130-06 CARBIDE ENDMILL
4YFSM050-130-06 CARBIDE ENDMILL
5DEKM040-120-06 CARBIDE ENDMILL
5DEKM050-130-06 CARBIDE ENDMILL
5DEKM060-130-06 CARBIDE ENDMILL
5DEKM080-160-08 CARBIDE ENDMILL
5DEKM090-190-10 CARBIDE ENDMILL
5DEKM100-220-10 CARBIDE ENDMILL
5DEKM120-260-12 CARBIDE ENDMILL
5DEKM160-320-16 CARBIDE ENDMILL
5DEKM200-380-20 CARBIDE ENDMILL
5DEKM250-450-25 CARBIDE ENDMILL
5DERM040-120-06-R025 CARBIDE ENDMILL
5DERM050-130-06-R025 CARBIDE ENDMILL
5DERM060-130-06-R040 CARBIDE ENDMILL
5DERM080-160-08-R050 CARBIDE ENDMILL
5DERM090-190-10-R050 CARBIDE ENDMILL
5DERM100-220-10-R050 CARBIDE ENDMILL
5DERM120-260-12-R075 CARBIDE ENDMILL
5DERM160-320-16-R075 CARBIDE ENDMILL
5DERM200-380-20-R075 CARBIDE ENDMILL
5DERM250-450-25-R075 CARBIDE ENDMILL
5HFSM040-140-06 CARBIDE ENDMILL
5HFSS040-100-06 CARBIDE ENDMILL
5PGSL100-350-10 CARBIDE ENDMILL
5PGSM100-250-10 CARBIDE ENDMILL
5PGSS250-380-25 CARBIDE ENDMILL
5RDSL250-800-25 CARBIDE ENDMILL
5RDSM250-450-25 CARBIDE ENDMILL
6HFSM060-170-06 CARBIDE ENDMILL
6HFSM070-200-08 CARBIDE ENDMILL
6HFSM080-230-08 CARBIDE ENDMILL
6HFSM100-280-10 CARBIDE ENDMILL
6HFSM120-330-12 CARBIDE ENDMILL
6HFSM140-370-16 CARBIDE ENDMILL
6HFSM150-420-16 CARBIDE ENDMILL
6HFSM160-420-16 CARBIDE ENDMILL
6HFSS060-140-06 CARBIDE ENDMILL
6HFSS080-180-08 CARBIDE ENDMILL
6HFSS100-220-10 CARBIDE ENDMILL
6HFSS120-260-12 CARBIDE ENDMILL
6PDRS060-045-06 CARBIDE ENDMILL
6PDRS080-060-08 CARBIDE ENDMILL
6PDRS100-075-10 CARBIDE ENDMILL
6PDRS120-090-12 CARBIDE ENDMILL
6PFK060-150 CARBIDE ENDMILL
6PFK060-250 CARBIDE ENDMILL
6PFK080-200 CARBIDE ENDMILL
6PFK080-350 CARBIDE ENDMILL
6PFK100-250 CARBIDE ENDMILL
6PFK100-450 CARBIDE ENDMILL
6PFK120-300 CARBIDE ENDMILL
6PFK120-550 CARBIDE ENDMILL
6PFK160-400 CARBIDE ENDMILL
6PFK160-650 CARBIDE ENDMILL
6PFK200-1000 CARBIDE ENDMILL
6PFK200-450 CARBIDE ENDMILL
6PFK200-750 CARBIDE ENDMILL
6PGSL120-420-12 CARBIDE ENDMILL
6PGSL160-560-16 CARBIDE ENDMILL
6PGSL200-700-20 CARBIDE ENDMILL
6PGSL250-880-25 CARBIDE ENDMILL
6PGSM120-300-12 CARBIDE ENDMILL
6PGSM160-400-16 CARBIDE ENDMILL
6PGSM200-500-20 CARBIDE ENDMILL
6PGSM250-630-25 CARBIDE ENDMILL
6RFSM160-320-16 CARBIDE ENDMILL
6RFSM200-380-20 CARBIDE ENDMILL
6RFSM250-450-25 CARBIDE ENDMILL
6UGSM060-150-06 CARBIDE ENDMILL
6UGSM080-200-08 CARBIDE ENDMILL
6UGSM100-250-10 CARBIDE ENDMILL
6UGSM120-300-12 CARBIDE ENDMILL
6UGSM160-400-16 CARBIDE ENDMILL
6YFSM060-130-06 CARBIDE ENDMILL
6YFSM080-190-08 CARBIDE ENDMILL
6YFSM100-220-10 CARBIDE ENDMILL
6YFSM120-260-12 CARBIDE ENDMILL
6YFSM160-320-16 CARBIDE ENDMILL
6YFSM200-380-20 CARBIDE ENDMILL
7HFSM060-170-06 CARBIDE ENDMILL
7HFSM080-230-08 CARBIDE ENDMILL
7HFSM100-280-10 CARBIDE ENDMILL
7HFSM120-330-12 CARBIDE ENDMILL
7HFSM160-420-16 CARBIDE ENDMILL
7HFSS060-140-06 CARBIDE ENDMILL
7HFSS080-180-08 CARBIDE ENDMILL
7HFSS100-220-10 CARBIDE ENDMILL
7HFSS120-260-12 CARBIDE ENDMILL
8PFK250-1000 CARBIDE ENDMILL
8PFK250-500 CARBIDE ENDMILL
CCET0602005MFL-USF PR1025
CCET0602005MFL-USF PR1225
CCET0602005MFR-USF PR1025
CCET0602005MFR-USF PR1225
CCET09T3005MFL-USF PR1025
CCET09T3005MFL-USF PR1225
CCET09T3005MFR-USF PR1025
CCET09T3005MFR-USF PR1225
CCMW030102S01035SET KBN10M
CCMW030102S01035SET KBN25M
CCMW030102T00815SE KBN10M
CCMW030102T00815SE KBN25M
CCMW030102T00815SE KBN510
CCMW030102T00815SE KBN525
CCMW030104S01035SET KBN10M
CCMW030104S01035SET KBN25M
CCMW030104S01035SET KBN525
CCMW030104T00815SE KBN10M
CCMW030104T00815SE KBN25M
CCMW030104T00815SE KBN510
CCMW030104T00815SE KBN525
CCMW040102S01035SET KBN10M
CCMW040102S01035SET KBN25M
CCMW040102T00815SE KBN10M
CCMW040102T00815SE KBN25M
CCMW040102T00815SE KBN510
CCMW040102T00815SE KBN525
CCMW040104S01035SET KBN10M
CCMW040104S01035SET KBN25M
CCMW040104S01035SET KBN525
CCMW040104T00815SE KBN10M
CCMW040104T00815SE KBN25M
CCMW040104T00815SE KBN510
CCMW040104T00815SE KBN525
CCMW060202T00815ME KBN05M
CCMW060202T00815ME KBN10M
CCMW060202T00815ME KBN25M
CCMW060202T00815ME KBN35M
CCMW060202T00815ME KBN510
CCMW060202T00815ME KBN525
CCMW060202T00815SE KBN510
CCMW060202T00815SE KBN525
CCMW060204S01035SET KBN525
CCMW060204S01225MES KBN05M
CCMW060204T00815ME KBN05M
CCMW060204T00815ME KBN10M
CCMW060204T00815ME KBN25M
CCMW060204T00815ME KBN35M
CCMW060204T00815ME KBN510
CCMW060204T00815ME KBN525
CCMW060204T00815ME KBN60M
CCMW060204T00815SE KBN25M
CCMW060204T00815SE KBN510
CCMW060204T00815SE KBN525
CCMW060208S01225MES KBN05M
CCMW060208T00815ME KBN05M
CCMW060208T00815ME KBN10M
CCMW060208T00815ME KBN25M
CCMW060208T00815ME KBN35M
CCMW060208T00815ME KBN510
CCMW060208T00815ME KBN60M
CCMW09T302T00815ME KBN05M
CCMW09T302T00815ME KBN10M
CCMW09T302T00815ME KBN25M
CCMW09T302T00815ME KBN35M
CCMW09T302T00815ME KBN510
CCMW09T302T00815ME KBN525
CCMW09T302T00815ME KBN60M
CCMW09T302T00815SE KBN10M
CCMW09T302T00815SE KBN510
CCMW09T302T00815SE KBN525
CCMW09T304S01035MET KBN05M
CCMW09T304S01035MET KBN10M
CCMW09T304S01035MET KBN25M
CCMW09T304S01035MET KBN35M
CCMW09T304S01035MET KBN525
CCMW09T304S01035SET KBN525
CCMW09T304S01225MES KBN05M
CCMW09T304T00815ME KBN05M
CCMW09T304T00815ME KBN10M
CCMW09T304T00815ME KBN25M
CCMW09T304T00815ME KBN30M
CCMW09T304T00815ME KBN35M
CCMW09T304T00815ME KBN510
CCMW09T304T00815ME KBN525
CCMW09T304T00815ME KBN60M
CCMW09T304T00815ME KBN65M
CCMW09T304T00815ME KBN70M
CCMW09T304T00815SE KBN10M
CCMW09T304T00815SE KBN510
CCMW09T304T00815SE KBN525
CCMW09T308S01035MET KBN05M
CCMW09T308S01035MET KBN10M
CCMW09T308S01035MET KBN25M
CCMW09T308S01035MET KBN35M
CCMW09T308S01225MES KBN05M
CCMW09T308T00815ME KBN05M
CCMW09T308T00815ME KBN10M
CCMW09T308T00815ME KBN25M
CCMW09T308T00815ME KBN30M
CCMW09T308T00815ME KBN35M
CCMW09T308T00815ME KBN510
CCMW09T308T00815ME KBN525
CCMW09T308T00815ME KBN60M
CCMW09T308T00815ME KBN65M
CCMW09T308T00815ME KBN70M
CNGA120402S01225ME KBN05M
CNGA120402S01225ME KBN10M
CNGA120402S01225ME KBN25M
CNGA120402S01225ME KBN35M
CNGA120402S01225ME KBN510
CNGA120402S01225ME KBN525
CNGA120402S01225ME KBN60M
CNGA120402S01225SE KBN10M
CNGA120402S01225SE KBN25M
CNGA120402S01225SE KBN525
CNGA120404S00545MEP KBN05M
CNGA120404S01215MEW KBN05M
CNGA120404S01215MEW KBN10M
CNGA120404S01215MEW KBN25M
CNGA120404S01215MEW KBN30M
CNGA120404S01215MEW KBN35M
CNGA120404S01215MEW KBN510
CNGA120404S01215MEW KBN525
CNGA120404S01225ME KBN05M
CNGA120404S01225ME KBN10M
CNGA120404S01225ME KBN25M
CNGA120404S01225ME KBN30M
CNGA120404S01225ME KBN35M
CNGA120404S01225ME KBN510
CNGA120404S01225ME KBN525
CNGA120404S01225ME KBN60M
CNGA120404S01225SE KBN10M
CNGA120404S01225SE KBN25M
CNGA120404S01225SE KBN510
CNGA120404S01225SE KBN525
CNGA120404S01730MET KBN05M
CNGA120404S01730MET KBN10M
CNGA120404S01730MET KBN25M
CNGA120404S01730MET KBN30M
CNGA120404S01730MET KBN35M
CNGA120404S01730MET KBN525
CNGA120404S01730SET KBN25M
CNGA120404S01730SET KBN525
CNGA120404S04030MEH KBN05M
CNGA120404T01215ME KBN65M
CNGA120404T01215ME KBN70M
CNGA120404T01215SE KBN65B
CNGA120408S00545MEP KBN05M
CNGA120408S01215MEW KBN05M
CNGA120408S01215MEW KBN10M
CNGA120408S01215MEW KBN25M
CNGA120408S01215MEW KBN30M
CNGA120408S01215MEW KBN35M
CNGA120408S01215MEW KBN510
CNGA120408S01215MEW KBN525
CNGA120408S01225ME KBN05M
CNGA120408S01225ME KBN10M
CNGA120408S01225ME KBN25M
CNGA120408S01225ME KBN30M
CNGA120408S01225ME KBN35M
CNGA120408S01225ME KBN510
CNGA120408S01225ME KBN525
CNGA120408S01225ME KBN60M
CNGA120408S01225SE KBN10M
CNGA120408S01225SE KBN25M
CNGA120408S01225SE KBN510
CNGA120408S01225SE KBN525
CNGA120408S01730MET KBN05M
CNGA120408S01730MET KBN10M
CNGA120408S01730MET KBN25M
CNGA120408S01730MET KBN30M
CNGA120408S01730MET KBN35M
CNGA120408S01730MET KBN525
CNGA120408S01730SET KBN25M
CNGA120408S01730SET KBN525
CNGA120408S04030MEH KBN05M
CNGA120408T01215ME KBN65M
CNGA120408T01215ME KBN70M
CNGA120408T01215SE KBN65B
CNGA120412S00545MEP KBN05M