Lemorn Tooling OÜ

,

Estonia

,

Tallinn

,

Lasnamäe linnaosa, Majaka tn 26

,

11412
PRECITOOL
Präzisionswerkzeuge offers over 60.000 items, especially tools for turning, milling, drilling, production of threads, clamping technology, measuring devices, grinding technology or hand tools and complete workshop and operation equipment.
Especially pay attention to the brand HighQ, where you can find the best products, that we can currently offer. To this brand belong high-performance carbide cutters, wafer drills, precision chucks and adjusting devices of the PRECIset-serie. Thanks to constant expansion of product lines we can offer our customers the best products. Our main goal is to save customers funds and production capacity and to increase their labour productivity. And we all do our best to meet this target without any exceptions.
Our customers can minimize their inventory and leave us to take care about their supplies. In our central warehouse in Neuenstein in Germany we have more than 98% offered storage products. Most of the items are delivered within 24 or 48 hours. We deliver everything, what your company needs – quckly and precisely.
PRECITOOL product includes:
—Cutting Tools.
Drill, Dimpling/deburring cutter, Reamer, Tap, Mater, Blade, cutter sets, HSS-/HSSE-S Mills, VHM Vertical milling cutter, Knurling knife, Turning tool
Brands: PRECITOOL, HighQ, PROJAHN, ROLLIER, BECК, ВILZ, RITTER, JBO, HeliCoil, Rekord, DRESS, WETEC, CERATIZIT, KOMET, ZEUS, LEICO, KOMET.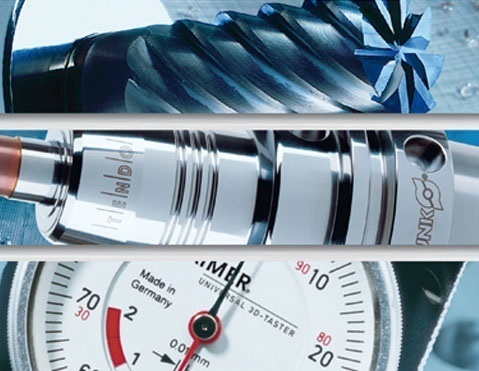 —Fixture Tools:
Taper bushing, Drill chuck, Lathe centers / pin, Workholder, Tool presetting / spindle tool, Lathe centers / chuck, Vise / fastening device, Fastening sets / sucker, Tensioning member
Brands: PFERD, RHODIUS, TYROLIT, LUCAS, VSM, FRIATEC, MIRKA, 3M, LESSMANN, BAHCO, LENOX, KULLEN, LIPPERT UNIPOL, KLINGSPOR, BOSCH, OSBORN, KOMET, Rekord, ROLLIER, Dress, WIKUS, BDS, PROJAHN.
—Measuring Tools.
Calipers, Micrometer, Dial indicator / length measuring instrument, Plane table, Measuring plate / marking instrument, Angle gauge / protractor, Ruler / measuring tape, Level, Block gauge / gauge, Optical measuring instrument
Brands: PRECITOOL, Marh, NOGA, STABILA, ZEUSS, BMI, LEICA, JBO, PREISSER, Kafer, HAIMER, KROEPLIN, BENZING, MYTRI, Ticom, STANLEY, SCHWENK, ROCKLE, KOBA, JBO ESCHENBACH, HIPP, Starrett, Testo.
—Grinding Sawing File Type Tool.
Workshop with file, Precision file, Special file/file handle, Diamond file, Rotate the file, Grinding head/sharpener, Grinding wheel/finisher, Emery cloth/grinding down, Industrial brush, Saw blade/hacksaw
—Hand Tool.
Wrench, Socket wrench, Torque wrench, A screwdriver, Batch of head/group, Pliers/tools/installation tools, Percussion instruments, The hammer, Scissors/clamping tools, Lamar/metal processing tools
Brands: PRECITOOL, PROJAHN, KNIPEX, FACOM, AMPCO, STAHLWILLE, GEDORE, RAHSOL DREMOTEC, HAZET, NOGA, BESSEY, ROLLER, BAHCO, KUKKO, WERA, WIHA, WALTER, KOKON, ROTHENBERGER, RIDGID, STANLEY, TURNUS, BILZ , SB, BENNING, AMF, RENNSTEIG WERKZEUGE, Weidmuller, VBW, Hellermann Tyton, JOKARI, GESIPA, MasterFix MFX, Intrama, DYMO, GRATTEC, HALDER, Erdi, HEUER, KARNASCH.
Brands: PRECITOOL, KELCH, ROHM, EWS, FAHRION, EROGLU, SAV, ALLMATIC, ALBRECHT, AMF, BAYER, TAPMATIC, BILZ, REGO-FIX, WTE, Tobler, Original Multi Suisse, Swiss Flex, HAIMER, SCHUNK, Pub Swiss, Buna, Robert Koch, Hainbuch, Marh, CEKABA, Hilma, BFS, Bessey, IBT, SAV.