Lemorn Tooling OÜ

,

Estonia

,

Tallinn

,

Lasnamäe linnaosa, Majaka tn 26

,

11412
VARGUS. Инструмент VARGUS (Варгус)
VARGUS
is a world-leading manufacturer of high-quality cutting, grooving and deburring tools for the metals and plastics industries.
Established in 1960 in Nahariya, Israel, VARGUS is the tooling division of the NEUMO Ehrenberg Group, one of Europe's largest privately owned manufacturers and distributors of stainless steel products and metal cutting tools.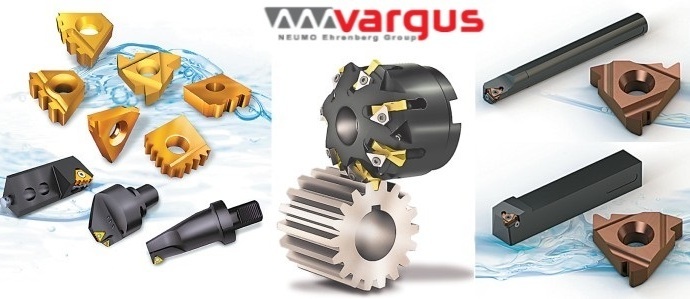 Since the company's inception, VARGUS engineers have pioneered breakthrough tooling solutions such as the first triangular laydown threading insert; the first indexable thread milling system; and the original hand-deburring system.
This tradition of innovation continues with industry-leading solutions from the company's three main product lines - VARDEX advanced threading solutions, GROOVEX innovative grooving and turning solutions, and SHAVIV leading hand-deburring solutions.
Vargus Ltd. has been at the forefront of the tooling industry for 60 years with its internationally recognized products. Today VARDEX boasts the undisputed market leading threading program, and has an impressive line of micromachining tools. Vargus also recently launched GROOVEX, an innovative line of tools for grooving turning, groove milling and micro machining applications for industrial use. The SHAVIV line of hand-deburring tools rounds out the company's offerings with professional solutions for finishing metal and plastic components.
Products are developed and manufactured in the company's advanced ISO 9001:2000 certified facilities and marketed and supported worldwide through more than 100 representatives and independent agencies.
VARDEX is the prominent product line for Thread Turning, Thread Milling, and Gear Milling Solutions.
The GROOVEX product line provides a complete range of solutions for grooving, boring and turning in a wide range of applications.
The SHAVIV product line is a world leader in hand-deburring solutions for a wide range of metal, plastic & wood materials.
001-00189 NVRC10-2-156/001
001-00190 NVRC11-3-156/005
001-00191 NVRC11-3LH-156/025
001-00197 NVRC17-4-156/007
001-00198 NVRC17-4LH-156/023
001-00199 NVRC20-4-156/008
001-00200 NVRC20-4LH-156/024
001-00201 NVRC25-5-156/012
001-00202 NVRC25-5LH-156/017
001-00203 NVRC28-5-156/010
001-00593 NVRC28-5LH-156/034
001-00632 NVRC10-2LH-156/036
001-00644 AVRC 40-4 5BUT/API
001-00645 AL 40-4 5BUT/API
001-00646 AL 32-4 5BUT/API
001-00898 NVRC17-4-156/039
001-66410 NVRC13-3-156/006
001-66411 NVRC13-3-156/016
001-66412 NVRC13-3LH-156/026
001-66413 NVRC13-3LH-156/028
001-66414 NVRC20-4-156/009
001-66415 NVRC20-4LH-156/033
002-00034 NVRC10-2U-156/004
002-00036 NVRC11-3U-156/020
002-00037 NVRC11-2U-156/002
002-00038 NVRC14-3ULH-156/030
002-00039 NVRC15-3U-156/019
002-00040 NVRC20-4U-156/011
002-00041 NVRC20-4ULH-156/021
002-00042 NVRC25-4U-156/013
002-00043 NVRC25-4ULH-156/032
002-00044 NVRC32-4U-156/014
002-00045 NVRC32-4ULH-156/022
002-00046 NVRC32-5U-156/015
002-00047 NVRC32-5ULH-156/027
002-00048 NVRC8-6.0U-156/003
002-00077 NVRC11-3ULH-156/029
002-00079 NVRC15-3ULH-156/031
002-00084 NVRC11-2ULH-156/035
002-00087 NVRC10-2ULH-156/038
002-00092 NVRC8-6.0ULH-156/037
002-00104 NVRC8-6.0KU-156/003
002-66317 NVRC14-3U-156/018
008-00031 SNVRC12U-6.0KLH
008-00033 BNVRC10S-6.0KLH
008-00035 BNVRC10M-6.0KLH
008-00037 BNVRC10L-6.0KLH
008-00055 BNVRC8.0T-6.0KLH
009-00043 BNVRC6.2T-5LKLH
013-00549 Y14DEIR-10APIRD
013-00559 Y14DEIR-5BUT-0.4N
013-00561 Y14DEIR10APIRD-3+
013-00587 ANVIL YEI4-5BUT
013-00695 Y14DIR-10APIRD-3+
013-00704 Y14DER-10APIRD-3+
013-00706 ANVIL YEI4-API-F
013-00739 Y14DER-5BUT-0.4N
013-00740 Y14DIR-5BUT-0.4N
013-00787 Tork Key F20IP with logo
013-00816 Screw SM3.5X14-T15
013-00817 Screw SM4.0X18-T20
013-00818 Screw M6x1.0x25
013-00819 Screw SM4x14 T15
013-00820 Screw SM5x18 T20
013-00821 Screw SM4x10.5 T15
013-00823 Screw SM5x13.5 T20
013-00928 K7MT T7 Torx Key
015-00001 NVRC13-3-206/001
015-00002 NVRC16-3206/002
015-00003 NVRC16D-3206/003
021-02383 4EL5.0RD20400VKX
021-02395 4EL6.0RD20400VKX
021-02396 4EL6.0RD20400VTX
021-02664 4ER3.0RD20400VKX
021-02665 4ER3.0RD20400VTX
021-02701 4ER4.0RD20400VKX
021-02702 4ER4.0RD20400VTX
021-02755 4ER5.0RD20400VKX
021-02756 4ER5.0RD20400VTX
021-03083 3IL4.0TR158/015VTX
021-03412 4IL4.0RD20400VKX
021-03413 4IL4.0RD20400VTX
021-03422 4IL5.0RD20400VKX
021-03423 4IL5.0RD20400VTX
021-03429 4IL6.0RD20400VKX
021-03430 4IL6.0RD20400VTX
021-03506 4IR3.0RD20400VTX
021-03536 4IR4.0RD20400VKX
021-03537 4IR4.0RD20400VTX
021-03590 4IR5.0RD20400VKX
021-03591 4IR5.0RD20400VTX
021-04020 4IR6.0RD20400VK2
021-04023 4IR6.0RD20400VKX
021-04283 3IR4.0TR158/012VTX
021-04492 2IR12UN158/002VKX
021-05231 4EL5.0RD20400VTX
021-05249 4EL4.0RD20400VTX
021-05472 4IL3.0RD20400VTX
021-05473 4EL3.0RD20400VTX
021-05713 4ER5.0RD20400VK2
021-06117 4ER6.0RD20400VM7
021-06591 3IR4.0TR158/012VK2
021-07616 4IL5ACME158/019VM7
021-07617 4IR5ACME158/018VM7
021-07629 3ER10ACME-2GVTX
021-07632 3IR10ACME-2GVTX
021-07772 3JIR11.5NPTFVRX
021-07828 4IR5ACME158/018VTX