Lemorn Tooling OÜ

,

Estonia

,

Tallinn

,

Lasnamäe linnaosa, Majaka tn 26

,

11412
MIRCONA AB
is a Swedish company with its head office situated in the town of Gävle, Sweden. The main activity since the company was founded in 1948, has been design, manufacturing, marketing and sales of carbide cutting tools for metal removal machining. Originally the product range solely consisted of special tools made in accordance with customers design. Today a complete range of turning and milling tools with related inserts in carbide, ceramics or ultra-hard materials are being offered. Almost 90% of MIRCONAs total production volume is being exported to approximately twenty different markets world-wide, with Japan as the single largest export market. Remaining exports markets are Europe, and The Middle and Far East Area. The MIRCONA name is synonymous with parting-off and grooving tools, an area in which the company offers the largest standard tool range on the world market. MIRCONA can however also offer unique cutting tools for other applications for metal removal machining. See for yourself by studying the presented information below regarding the MIRCONA product range.
Mircona AB manufactures a range of over 3000 standard toolholders for parting-off and execution of internal, external and front radial grooves.
Toolholder for parting off and external radial grooves with shanks from 10x10 to 50x40 mm. with cutting depth up to 50 mm.

Toolholder for internal radial grooves, starting from a minimum diameter of 10 mm., With round shanks from diam.16 to 40 mm. and square shanks from 10x10 to 50x40 mm.

Toolholder for execution of front grooves with a minimum diameter of 14 mm to infinity. with shanks from 16x16 to 40x32 mm.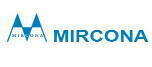 Inserts with cutting widths from 1.1 to 12 mm. coated and non-coated carbide, cermet, ceramic, CBN and PDE with different cutting geometries for various applications in different materials.

Full radius inserts starting from R. 1 mm. at 4 mm.

Inserts for Seeger Ring and O-Ring.

Heads for the execution of front grooves, drilling and boring on milling machines, CNC machining centers and radial drills.

Tailor Made Tools and inserts for special applications.
MIRCONA product includes:
— Turning Tools: General turning to ISO. Parting-off and grooving. Tools for micro-lubrication.
— Milling Tools, End mills