Lemorn Tooling OÜ

,

Estonia

,

Tallinn

,

Lasnamäe linnaosa, Majaka tn 26

,

11412
OSG Tap & Die Inc.
operates independent manufacturing facilities worldwide, including three in North America. OSG is dedicated to precision manufacturing of taps, end mills, drills, thread-making tools, and indexable cutting tools. OSG's world-class R&D facilities and laboratories are staffed by highly trained engineers, all dedicated to developing the highest quality products using environmentally friendly processes.
OSG's extensive line of high technology cutting tools features exclusive metallurgy, cutting geometries and proprietary surface treatments to help increase productivity, reliability and tool life. OSG also serves the fastener industry by offering a complete line of thread rolling, flat, cylindrical, planetary, rack and trim dies.
All of OSG's standard products include features offered as premium products by our competition. Our cutting tools last longer, hold closer tolerances, and stand up to abrasion and galling. OSG also offers an extensive line of High Technology cutting tools designed for use in today's most aggressive conditions. These premium tools feature exclusive metallurgy, cutting geometries and unique surface treatments. The surface treatments help to increase productivity, reliability, and tool life while reducing machining time, scrap, and down time. OSG also offers a complete line of thread-rolling, flat, cylindrical, planetary, and trim dies which are made of the best available die steel in the world. Special tool steels are also used. More than 700 styles and sizes are available for immediate delivery.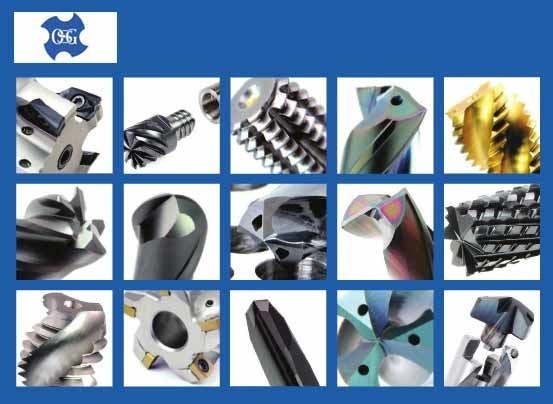 Since 1981, more than $200,000,000 has been reinvested into developing advanced cutting tool technology. The company's advancements in cutting tool design and production have produced very high quality tools that are setting new standards for productivity and performance in the cutting of alloys, stainless steels, and exotic space-age materials. As part of this commitment to quality, OSG machines over three miles of material and removes over two tons of material per month in the testing of end mills alone. The commitment to quality includes a bank of CNC machining centers maintained for the single purpose of testing end mills. Through these facilities and our corporate commitment to excellence, we are able to continuously refine our cutting tool technology, improve product quality, and reduce cost to our customers, while at the same time preserving the environment.
—
THREADING
SPIRAL FLUTE. SPIRAL POINT. STRAIGHT FLUTE. FORMING. PIPE. ROUND DIES
—
DRILLING
STUB (2D - 3D). JOBBER (4D - 7D). TAPER (8D - 50D). COOLANT-FED. MICRO. OTHERS
—
MILLING
SQUARE. ROUGHING. BALL NOSE. CORNER RADIUS. TAPERED. DOUBLE END. ROUTERS. BURS
—
INDEXABLE
FACE MILLING CUTTERS. SHOULDER MILLING CUTTERS. RADIUS. MILLING CUTTERS. FINISHING END MILLS. SCREW FIT END MILLS. REPLACEABLE HEAD END MILLS. INDEXABLE DRILLS. REPLACEABLE HEAD DRILLS
—
FASTENER PRODUCTS
FLAT DIES. PLANETARY DIES. CYLINDRICAL DIES. RACK DIES. TRIM DIES. BENT & NIB TAPS. DRILL POINT DIES. DIE RECONDITIONING. HEADER PROCESS MONITORS