Lemorn Tooling OÜ

,

Estonia

,

Tallinn

,

Lasnamäe linnaosa, Majaka tn 26

,

11412
Mitsubishi Materials Corporation
(MMC) was created by a merger of Mitsubishi Metal Corporation and Mitsubishi Mining and Cement Company in 1990. Today, MMC has become one of Japan's largest diversified materials companies.
In addition to producing many unique products, MMC also produces a comprehensive range of cemented carbide tools (Mitsubishi Carbide), heat and corrosion resistant alloys, sintered machine parts, precision molding dies, casting products, and aluminum cans. These products are vital elements in the use and production of automobiles, electronic parts, machine tools, consumer electronic equipment, and plant and home construction.
Mitsubishi Carbide Metal Cutting Tools have been produced since the early 1930's. Investing huge amounts of money into cutting tool research and development, MMC has gained world acclaim for its advanced multi-phase CVD coating technology, and its carbide, cermet, and cubic boron nitride grade developments.
MMC has earned an international reputation as a first-class manufacturer of high quality turning, milling, and drilling products.
Over many years Mitsubishi has developed a premium range of metal working tools that covers milling, drilling, turning, grooving, parting, reaming and burnishing applications. Indexable tooling utilising economical throw away insert to solid carbide tools that can be reground are available. Their development of high hardness and high toughness carbide, cermet, CBN and diamond grades cover all applications from high speed finishing to heavy interrupted cutting.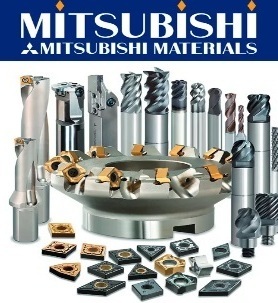 The Mitsubishi Materials range of metal cutting tools is one of the forerunners in the world market due to the Japanese attitude towards research and development. Mitsubishi Materials focus is on innovation at the highest quality.
Mitsubishi are renowned for their leading technology in PVD and CVD coatings which enhances cutting performance above beyond.
Mitsubishi Carbide is the answers for all your turning, milling, threading, drilling and grooving applications.
Mitsubishi 

product includes:
Turning Inserts, CBN & PCD Inserts, External Turning, Small Tools, Boring Bars, Grooving, Threading, HSK-T Tools
Solid End Mills, Exchangeable Head End Mills, Milling Inserts, Milling, Indexable insert milling